How to decorate Grandmillennial Style
I was not paid to write this post, however, it may contain affiliate links. If you make a purchase through one of my links, I may make a small profit at no expense to you. For further information, please view my policies.
the Grandmillennial Interior design trend
Grandmillennial style has been growing in popularity in recent years as people are looking for ways to add personality and character to their homes. Grandmillennial is one of the many design counter movements developing as a reaction to the stark, all-white interiors and the mid-century modern interiors that have been dominating the design world for the greater part of a decade.
What is Grandmillennial Style?
Think back to the good old days of your granny's living room, filled with trinkets, floral walls and patterned upholstery… but, with a modern twist. That is the essence of the Grandmillennial decorating style: it's a nod to the past, but without any of the stuffiness!
The term 'grandmillennial' was coined in a 2019 article published by House Beautiful, but the style now also goes by a few other names such as Granny Chic or Grandma Chic. Apparently "Grandmillennial" is a combination of the words grandma + millennial, the latter being the age group that is primarily embracing this design trend.
The grandmillennial style mixes traditional elements with a few modern elements and is a style that feels cozy and nostalgic without being kitsch. Grandmillennial pulls from the traditional styles that your grandmother may have loved 30 years ago but gives it a fresh and youthful twist.
5 Key Features of a Grandmillennial Design Scheme
No Grandmillennial design is complete without these 5 key features!
1. Floral Wallpaper
Floral wallpaper is an absolute MUST HAVE element for granny chic design. If you don't have a chintzy floral pattern adorning your walls, then you are missing out. Traditional, visually accurate floral designs are more popular with particular attention to detailed designs which incorporate foliage. Try not to be too bold or bright with your colours though, muted greens and browns with dusky pinks will suit the scheme best. If colour isn't your thing, then a two tone floral pattern of blue on white or beige will also help to add some grandmillennial style to the room.
2. Antiques and Vintage
Dark, rich woods and antique crockery are all the rage for a grandmillennial look. As we mentioned earlier, mahogany, cherry and walnut furniture is particularly in keeping, making sure to add as many pieces of antique furniture to the room as possible (but don't forget to mix in some bright and fun contemporary elements as well!)
Antique lighting is also very fitting with standing lamps and pleated lampshades being an easy way to incorporate lighting into the granny chic style. If you are shopping for antiques, try to aim for 40 to 70 years old.
3. Traditional Crafts
Grandmillennial decor is all about the detail, and nothing says detail more than embroidery, lacework or cross stitch. But don't panic, you won't need to hand craft these items yourself (if you don't want to). Many thrift stores and indie sellers will sell these items. Try searching for this type of thing on Etsy or of course in your local thrift stores, as well.
4. Collections
Displaying beautiful collections such as china collections or silverware can really add a personal touch to the room and help bring together the grandmillennial look. If you don't have any family collections, try collecting items that fit the style such as vintage tea cups, saucers, and plates.
One way to display collections is to use open shelving. This will allow your visitors to see all of your beautiful pieces at once and will help to add visual interest to your space. Or of course a cabinet solution with glass doors, like in the photo above, to keep the dust at bay. Another option is to use a hutch or a built in cabinet to store your collections. This will keep them organized and out of sight when not in use.
As tempting as it may be to show off all of the things, it's important to edit your collections down and accessorize selectively in order to avoid creating a cluttered looking space.
If you do want to embrace this trend, don't forget to ask your family if they have any family heirlooms that you could display.
5. Textiles Everywhere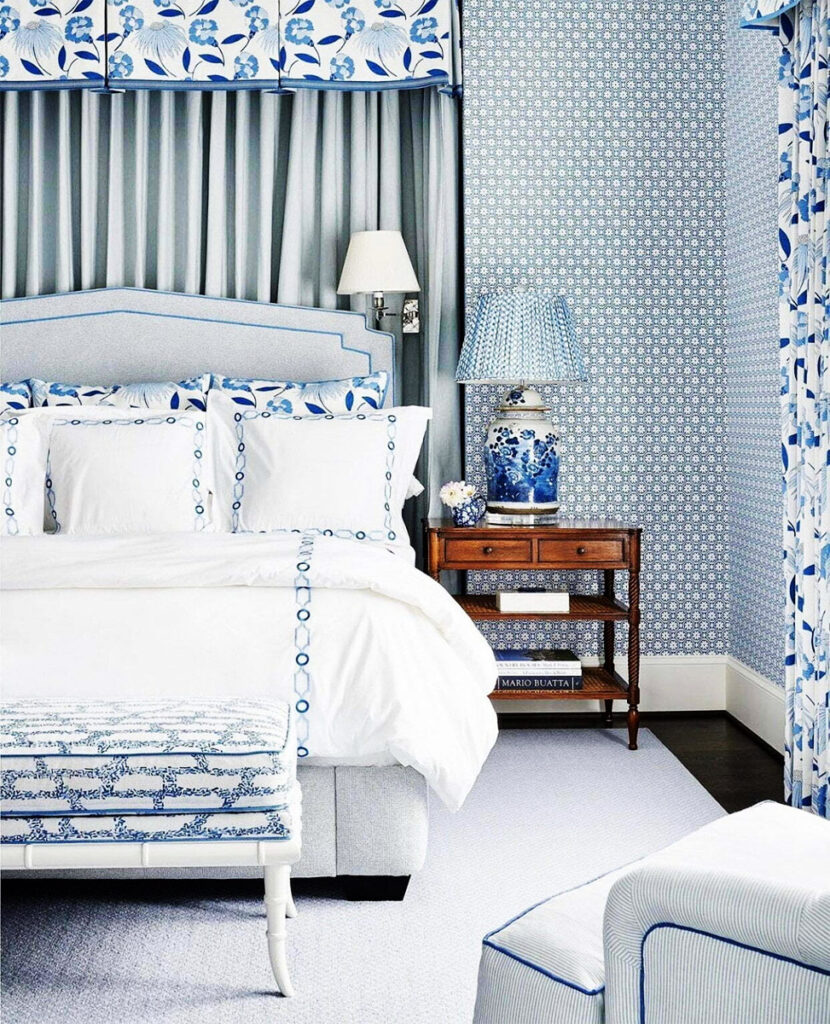 If you don't have enough ornaments, embroidered samplers or pretty collections to display, then textiles are a fantastic replacement.
Cloth napkins, tablecloths, bedspreads, towels, dishcloths; if it's made of fabric and you can find a way to display it, then it will work in your grandmillennial style scheme. Textiles are a great way to add extra pops of color and pattern to your space, as well.
More Key Grandmillennial design elements
blue and white pottery – primarily ginger jars
skirted tables
lace
needlepoint pillows
embroidered linens
mixed patterns
monograms
ornate chandeliers
collections (like silver, china and crystal)
pleated lampshades
rattan, wicker & bamboo
chintz, toile & plaid
ruffles, pleats & fringe
slipcovers
chinoiserie
vintage brass
boxwood topiaries
Grandmillennial Furniture
Grandmillennial furniture uses a lot of darker woods such as mahogany, cherry, and walnut. The depth of the color and the richness of wood furniture is a big part of the grandmillennial look. But if you are using your current furniture and it's white, don't throw it out! Instead, try pairing it with a fun and bold floral textile.
You will also find wicker and cane furniture used, and those fit nicely into a grandmillennial design scheme too.
Most of the main furniture pieces in Grandmillennial rooms will lean heavily traditional. The modern touches are generally brought in through artwork and other decor pieces.
In terms of upholstery, elaborate patterns are used frequently. Granny chic tends to lend itself to blue and beiges, but pastel greens, dusky pinks and all arrays of beige and browns work just as well too. Try not to go for opulent fabrics such as velvet; the pattern should be able to give enough depth to the scheme without the added texture.
How to keep Grandmillennial looking more "millennial" and less Granny
Don't get me wrong, there's nothing wrong with Granny's house, but the goal with grandmillennial is to keep things looking a little more updated!
The key to keeping the grandmillennial style fresh is by incorporating some contemporary splashes. For example, try adding a contemporary sculptural piece of decor, or an abstract piece of art, paired next to a vintage piece of furniture.
For example, look at how this traditional vignette is made more contemporary by the choice of artwork, the side table and the base of the table lamp:
If you are looking for some grandmillennial design inspiration, then definitely go check out the following talented grandmillennial designers:
Where to Shop for Your Granny Chic Look
The first place you are going to want to look for your granny chic purchases are thrift stores, garage sales and Facebook marketplace. Not only are you going to find everything you need from embroidered tablecloths to chintzy lampshades, but you are also going to be shopping from the actual era. There is such a wild discrepancy between the prices of new and used furniture, so you can save yourself a lot of money by shopping second hand.
Secondly, they are costlier than thrift stores, but antique stores are a great source of both furniture and decor, with many specialising in lighting and artwork as well. When choosing furniture be sure to ask the provenance of the pieces and the heritage behind them. A good antique store will be able to tell you all about each item they have in their store so tap into that knowledge base and aim for any furniture from the 1950s up to the early 80s.
Finally, we have recently seen a big rise in the number of independent businesses offering hand crafted items which focus on traditional crafts such as tapestry and lacework. By buying from these sellers, you not only have an item that is individual, but you also have something in your home that is continuing to keep traditional crafts thriving. As mentioned earlier, try starting out by shopping on Etsy for this kind of thing.
Still Not Convinced? Try These Interior Design Trends Instead
Not too far from grandmillennial chic, maximalist is an approach where more is more. The maximalist design scheme doesn't favor chintzy designs or fussy textiles but rather blends prints and bold colors for a "more is more" look. Combining antique pieces with bright pops of color and quirky artwork that take up half the wall all help to bring this design style together and makes for maximum impact. Neutral color schemes are banned in maximalist homes!
Farmhouse chic is a scheme that embodies the natural materials that would traditionally be found in a farmhouse and combines it with natural tones and warming textiles. Not every house is suited to the farmhouse design style as big windows and lots of light is a must. Favoring wood over any other material, the furniture is usually rustic with a "used" look and the design overall is intended to appear "lived in". If you are partial to a more streamlined farmhouse look, try modern farmhouse, instead.
Cottage core is designed to emulate the little English cottage in the country. Filled with flowers that have been picked the day before from the garden and adorned with blankets you've spent hours crocheting, the cottage core look should always consist of a bookcase filled with first editions and an enormous armchair by a window that you sink into at the end of a day, sipping herbal tea from a hand thrown cup. Wow, that was a long sentence.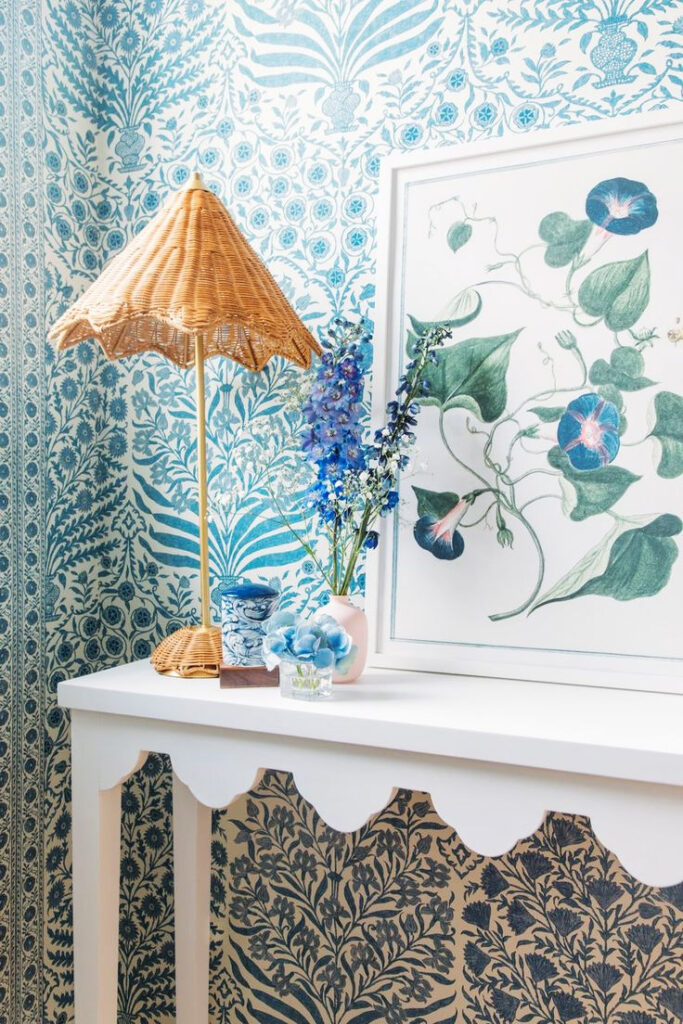 ---
So what do you think? Are you on board with Grandmillennial? Or is it just an updated, less frilly version of shabby chic? Tell me what you think!
If you do decide to adopt the grandmillennial decor style, I hope that your new design scheme will bring joy to your home and to your life!!