9 Best Large White Planters – Sculptural & Stunning!
This post may contain affiliate links. If you make a purchase through one of my links, I may make a small profit at no expense to you. For further information, please view my policies.
I'm not sure what I love more: plants or finding the planters to put them in!
What I DO know though, is that large white modern planters are the PERFECT EXTRA CHIC addition to virtually any home! 😍
Best large white planters
We all know that the simple act of adding plants to the home in and of itself is already such a fantastic way to enhance the overall vibe of a space. But you can really take the look of your green besties to the next level by picking out the perfect planter pot for them.
SO!! I've been scouring the internet looking for some of the best white sculptural planters on the market so that you don't have to.
ALSO! All the white planters on this list are safe for both INDOOR and OUTDOORS! I love that because it gives you total flexibility and the best of both worlds. I'm all about flexibility.
(Or is that just another way of saying I have decorating commitment issues?)
Here is a list of my 9 favorite white modern planters on the market!
1. Areaware Tall Stacking Planter
This stacking planter from Urban Outfitters is one of my favorites and it's the smallest of the planters I'm showcasing today. The clever design features a planter and a dish that nestle into each other to form rings stacking one on the other.
I've had my eye on this one for a veeery long time, and I've even DIY'd a version of it! Yes, I am obsessed!
(check out the quick clip below as video evidence!)
The Areaware stacking planter comes in two colors: white or terracotta. And, it also comes in 2 sizes: a larger 8″ diameter size and a mini version, which is 4″ in diameter (would be great for smaller potted plants, like those succulents you might have been propagating!).
Being made out of stoneware, of course this planter can be used both indoors and outdoors!
---
2. Archer Planter
Another one from Urban Outfitters definitely worth the mention is the Archer Planter. This versatile white concrete vessel can either act as a planter and stand or as a minimalist lidded storage piece. I LOVE IT.
The semispherical vessel features a cylindrical lid with a divot for transitioning to a base stand.
There is a drainage hole at the base, so no worries about your plants getting too wet and potentially getting root rot!
This gorgeous planter comes in two sizes. The larger one measures 16.5" in diameter and is 11.5" high, so it would look great holding a houseplant that is on the bigger size. The smaller one has a 12.25″ diameter and is 10.75″ tall, so it's smaller, but still substantial! I would get one of each size and pair them for a super striking effect 😍.
This modern planter's material is solid white concrete, so these planters are safe both inside and outside. If they are kept outside long-term in a rainy climate, you may need to clean them every now and then to keep them looking like new.
---
3. Flatform Planters
The white Flatform planters from CB2 are a similar concept to the Archer Planter shown above, but the CB2 planters have a bit more of a softness to them. The edges are a little more rounded and the planter itself is bit more elongated.
There's a slight speckle to the finish as the planters are made of a sand and cement material. There is one drainage hole at the base of the planter.
The available sizes of this planter are medium, wide and tall: perfect for leveling and layering indoors or out.
---
4. Lineal Planters
Another one of my CB2 favorites is the lineal planter. This white cylindrical planter has a fluted-like surface that provides stunning texture. The lineal planter comes in 2 sizes: small and large, but both are a generous size (10″ and 12″ diameters respectively).
Keep in mind that these planters are watertight, in that they do not have drainage holes. So make sure that when you water, you don't leave your plants standing in water for long periods of time!
They are made out of earthenware with white cracked paint and suitable for both inside and outside.
---
5. Blox High Gloss Glavanized Planters
I've been obsessed with these super chic planters for the longest time!! I love how sleek these look. If you're looking for a really clean design, these contemporary planter boxes are perfect.
They come in matte charcoal too, and I've actually seen in the reviews that the charcoal version of these planters are actually more of a grey than black, so several people took to spray painting them black to get the color they wanted. I'm a fan of the high gloss white ones myself 🙂 but I thought I would let you know in case you're interested the dark ones.
I could see these planters looking beyond amazing in a modern patio setting. You could also place some bamboo plants in them and create a beautiful green privacy wall.
These super modern planters come in 6 different size varieties, so be sure to check them all out! A drainage hole is provided and the planters are suitable for indoor and out. They're made out of galvanized powder-coated steel so they should last a long time, but you can always get in touch with CB2 if they start to weather (they shouldn't!).
(As a side note: these planters also have RAVE reviews on the CB2 website!)
---
6. Sphere White Indoor/Outdoor Planters
Ok here are some more planters that I've been obsessing over for months. If you want contemporary but you aren't digging the rectilinear planters I just shared above, then how about these spherical wonders?! I actually think these are my favorite on this list. But ssh, don't tell the others 🤐
Made from fiberglass, cement and sand, these round planters come in two sizes. The smaller size is 16.5″ in diameter and the larger size is 22″ in diameter. They are safe for outdoors but Crate & Barrel advises to protect them from freezing temperatures – so it'd best to bring them in if it drops below freezing in your neck of the woods!
The three colors available are dark gray, light gray and white. (My favorite being of course the white version 😅)
I think pairing the larger and smaller sizes together looks stunning, but these modern spherical beauties would look amazing paired with other simple shapes as well (like in the very first image at the top of the page!)
---
7. 24″ Deer Horn Planter
For a more classical look, you might like this planter from One Kings Lane. There's not much info about it online but one thing's for sure: it's pretty huge, coming in at 24″ tall!!
This traditional planter is made to look like antiqued stone but it's actually made of fiberglass, so in reality, it's much lighter than stone and it's more durable.
It's really pretty, especially if maybe you're going for a traditional cottage look in your landscaping or garden and you're trying to bring in some elements that have some patina.
---
8. Cecilia Indoor/Outdoor Planter
This one from West Elm is an EXTRA large white outdoor planter! Well, it comes in three sizes, but the biggest one is BIG, coming in at a whopping 27″ diameter by 26″ in height!
The texture on this planter makes me happy, and I could picture my big money tree living very happily ever after in this gorgeous HUGE white planter!
---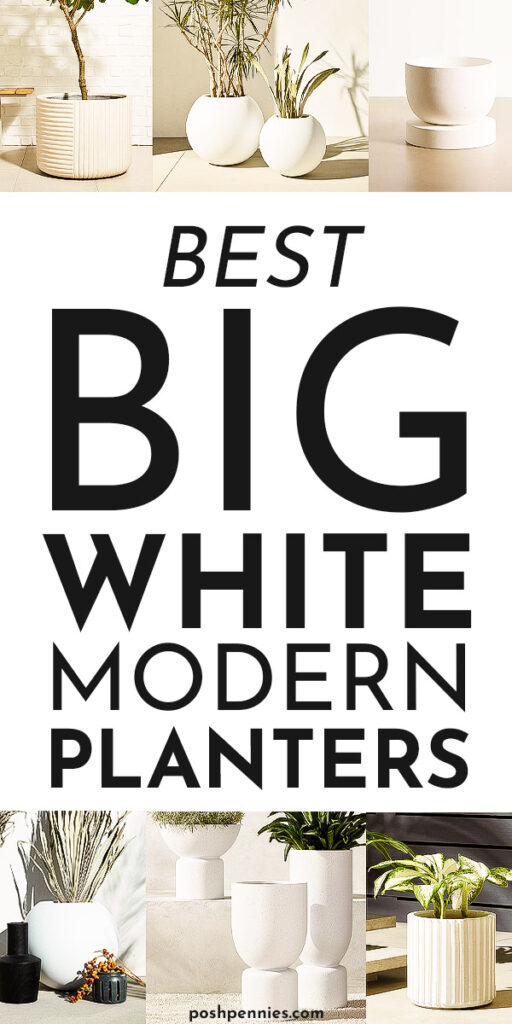 I hope you found your dream statement white planter today – but if you didn't, don't forget that you can also buy planters in other colors and just paint them. That's exactly what I ended up doing recently when I found these huge, gorgeous but VERY YELLOW planters at Homegoods (Homesense in Canada)!
Before:
And here's the after!
If you have any planters that you think I absolutely need to see, don't forget to drop me a comment below!! I'd be happy to add them to this list 😊