The Best Places to Buy Unlacquered Brass Hardware
I was not paid to write this post, however, it may contain affiliate links. If you make a purchase through one of my links, I may make a small profit at no expense to you. For further information, please view my policies.
When it comes to designing your home, one element that can make a huge impact is the hardware we use. These little pieces bring in color and shape, and can define a style in a space.
The hardware in a home should not be overlooked; often referred to as "jewelry", it can be a real feature and really tie together your room or entire home's style.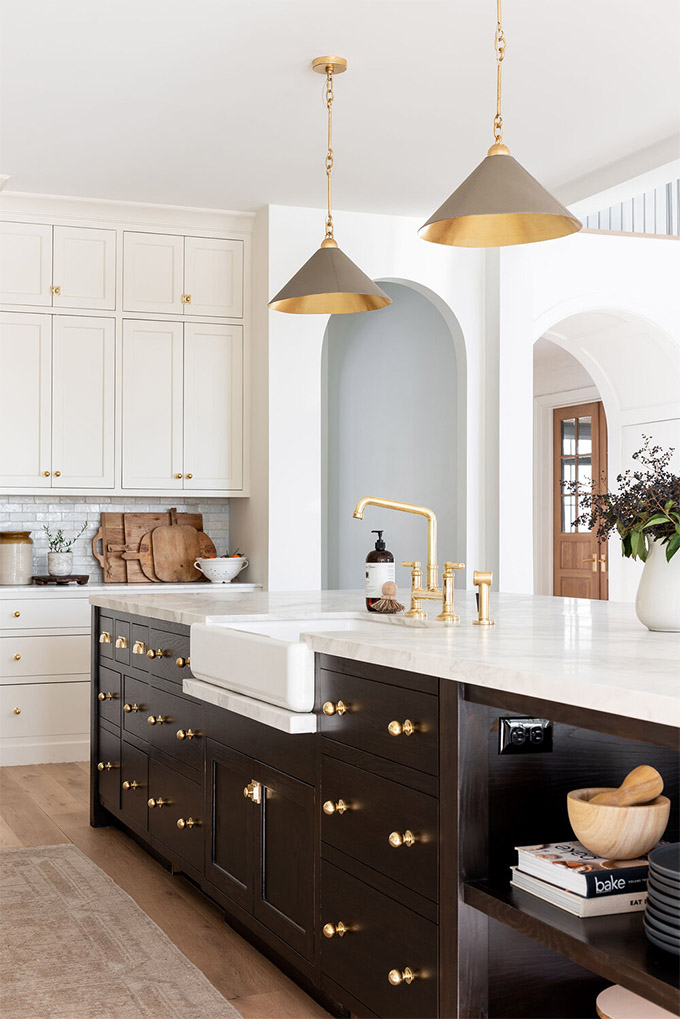 One popular finish that is getting a lot of attention in the design world is unlacquered brass. Check out the beautiful example of a kitchen designed by Studio McGee that is quite literally gleaming with brass accents!
What is Unlacquered Brass and why should you use it?
The brass trend has caught like wildfire, so it can be a little confusing when shopping for this finish due to the many options available on the market. There are many different types of brass, ranging anywhere from brushed to aged brass.
Unlacquered brass is a brass finish that does not include a lacquered finish to protect the metal. The lack of a protective coating means that your unlacquered brass fixtures will patina over time thanks to the oils from your skin.
This creates a gorgeous, aged look for your fixtures, which adds an additional layer of character to your home.
Here is an excellent representation from Kallista (Kohler's sister brand), of how unlacquered brass will patina over the span of 2 years (results of course may vary!):
Of course, you can always polish your brass back to its original luster if you tire of the patina by using a product like Brasso!
Unlacquered brass has a rich history that dates back to the Victorian era and will provide a timeless finish to your home. Unlacquered brass faucets, hinges and cabinet hardware are suitable for modern and traditional style settings alike.
Where to buy unlacquered brass fixtures
If you are wanting to add more of this beautiful brass finish into your home, particularly through your hardware, then read on to check out my recommendations for the best places to shop for unlacquered brass.
CB2
This furniture mogul is mostly known for its modern sofas and sleek dining tables, but a lesser known fact is that CB2 also carries hardware. Their selection may be small, but it is nonetheless still stunning. You will find small knobs, streamlined pulls, and the occasional cup pull.
They offer more modern and trendy finishes, like brass, matte black, and polished chrome, and of course, unlacquered brass. Fixtures from CB2 can be a great addition to your cabinets and drawers if you are wanting a bit more of a unique pull or knob.
Rejuvenation
Did you know that Rejuvenation is actually a brand of William Sonoma (the company that owns Pottery Barn and West Elm)? While each company has its specialty, Rejuvenation is known for hardware and fixtures.
Made in Portland, Oregon, they pride themselves on quality and craftsmanship. Rooted in timeless designs, their products are classic, elegant, and can blend in any design style. Focusing on sustainability as well, their factory has plans to be carbon neutral by 2025, meaning that your hardware can be a little more eco-friendly.
Forge Hardware Studio
Focusing specifically on hardware, Forge is a US based company that offers its products in states, but ships worldwide.
They value craftsmanship and quality hardware, offering unique pulls and knobs that will be the finishing detail for your cabinetry. They also offer free shipping for orders over $100, so why not splurge!
Build Hardware
Well-loved by contractors and builders in the industry, Build.com is an online source for all of the fixtures that go into a home. From plumbing fixtures to doors, they carry a wide variety of brands and finishes, including unlacquered brass cabinet hardware.
A perk of using Build.com is their customer account platform. Shoppers can create an account, start different project folders, and save fixtures and products into each one of these organized tabs, making shopping for your home products a breeze.
The Hardware Hut
Since 1945, The Hardware Hut has been manufacturing hardware and has a rich backstory to their business, showcasing the growth and development of this family owned company. Today, they offer hardware to both residential and commercial buyers and have a wide variety of styles and finishes. They are a member of the NKBA, National Kitchen and Bath Association, so you can be sure that their products are reputable and great for these applications.
My Knobs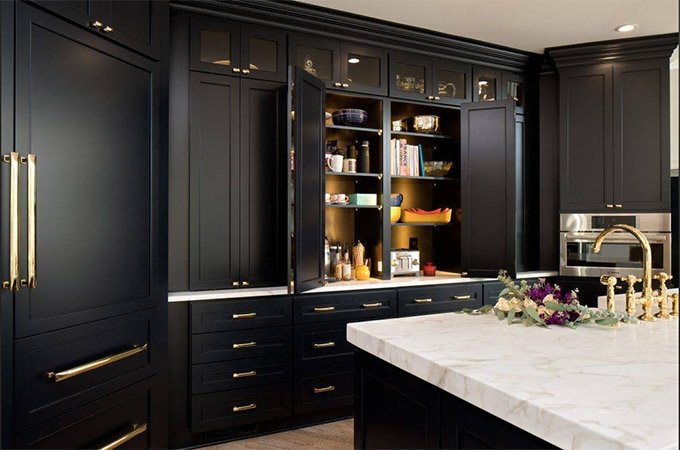 Boasting themselves as 'the largest selection of decorative hardware', My Knobs is your standard one-stop-online-shop for all your hardware needs. From drawer cups to appliance pulls, they have a wide selection of styles, finishes, and products to choose from.
They offer live customer support and a helpful FAQ to learn about the different finishes and how to take care of them.
House of Antique Hardware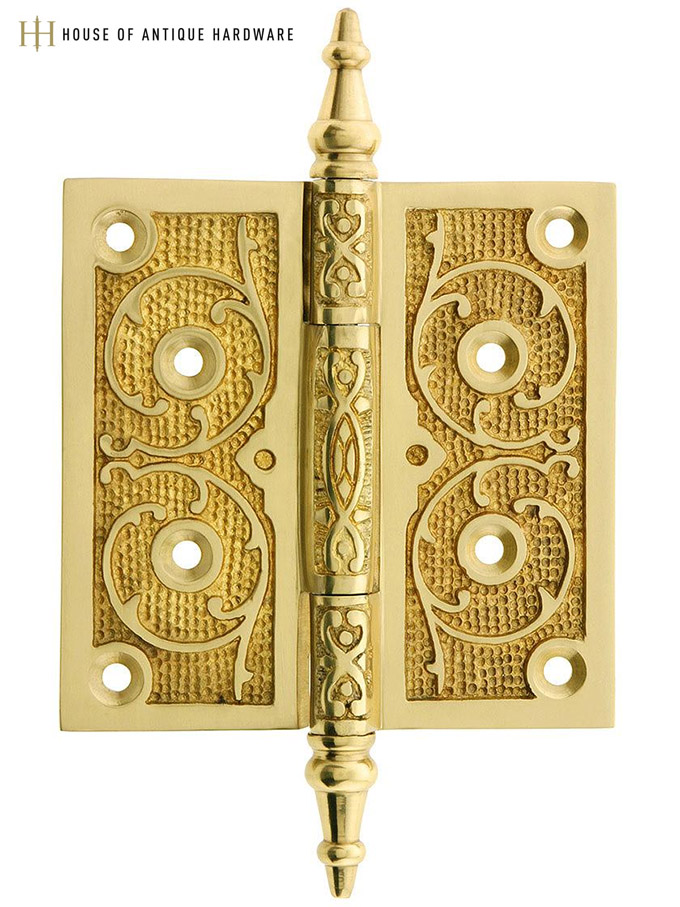 With a name such as House of Antique Hardware, you have a pretty good guess what this company offers. It is the perfect store for vintage inspired, traditional, and elegant hardware, from crystal pulls to Unlacquered brass knobs.
They offer free shipping on orders of $100 and have been doing so since 1999. Their mission is quality, craftsmanship, preserving history through restoration, and delivering quality replicas. They help in supporting this mission by delivering beautiful hardware but also by partnering with non-profit groups that focus on educating about home restoration.
Shop House of Antique Hardware
Perigold
If your design style is more traditional and classic, Perigold is the perfect store for getting those classic details done right. While a fairly new company, founded in 2017, Perigold's five founding members have grown this small business to be featured in some of the top design magazines, from Elle Décor to Architectural Digest.
They value quality, elegance, and craftsmanship, delivering beautiful and durable hardware to their customers. You can find a variety of stunning unlacquered brass hardware that offers a more timeless and traditional style.
Unlacquered brass hardware considerations
when you're shopping for unlacquered brass, be very careful about making sure you are purchasing the real thing! As brass is really on trend right now, there are many imitations out there. Buyer beware!
one benefit to buying true ULB is that you will never need to worry about your finishes not matching. There may be an oxidation mismatch if you're buying things at different stages, but over time things will equalize. And of course, you can always polish things back to their original shiny state if you want.
if you're wondering how to clean unlacquered brass- it's not recommended to use chemicals when cleaning unlacquered brass. Just use natural soap and a soft cloth. That being said, there are many suggestions out there as to how to care for your solid unlacquered brass, so pick whichever method you feel most comfortable with.
if you have a piece of brass but you suspect it's lacquered, you can test it by dipping it in acetone for a minute or two. If a film starts to separate from the piece, that's the lacquer coming off. Leave the piece submerged a little longer to de-lacquer it entirely – when it's gummy it should come off with a bit of a rinse. Repeat if needed!
---
Unlacquered brass hardware often comes with a hefty price tag, but it's a timeless finish that will last you a lifetime. Hopefully, with these helpful resources, you won't have to stress about finding the perfect unlacquered hardware piece to enhance your space!