How to Make Your Kitchen Look Expensive (on a budget!)
I was not paid to write this post, however, it may contain affiliate links. If you make a purchase through one of my links, I may make a small profit at no expense to you. For further information, please view my policies.
13 Ways to Make Your Kitchen Look Like a Million Bucks!
If you've spent any amount of time looking at beautifully designed kitchens, then you'll know that having a luxury, expensive-looking kitchen can sometimes feel completely unattainable!
The enormous, light-filled kitchens that we often see online, decked out in marble with integrated appliances, double stoves, triple dishwashers and more storage than the size of the average apartment, are for many of us, just a far-away dream.
Watch my video instead!
But, don't despair! We can actually learn a lot from these pictures and about what goes into achieving the look of a million dollar kitchen. Turns out we can apply a lot of the same principles to our own, more modest spaces, to make them look just as amazing, without spending nearly as much money.
So, grab a drink, get comfy and read on for 13 ways to make your kitchen look more expensive on a budget!
1. Upgrade Your Hardware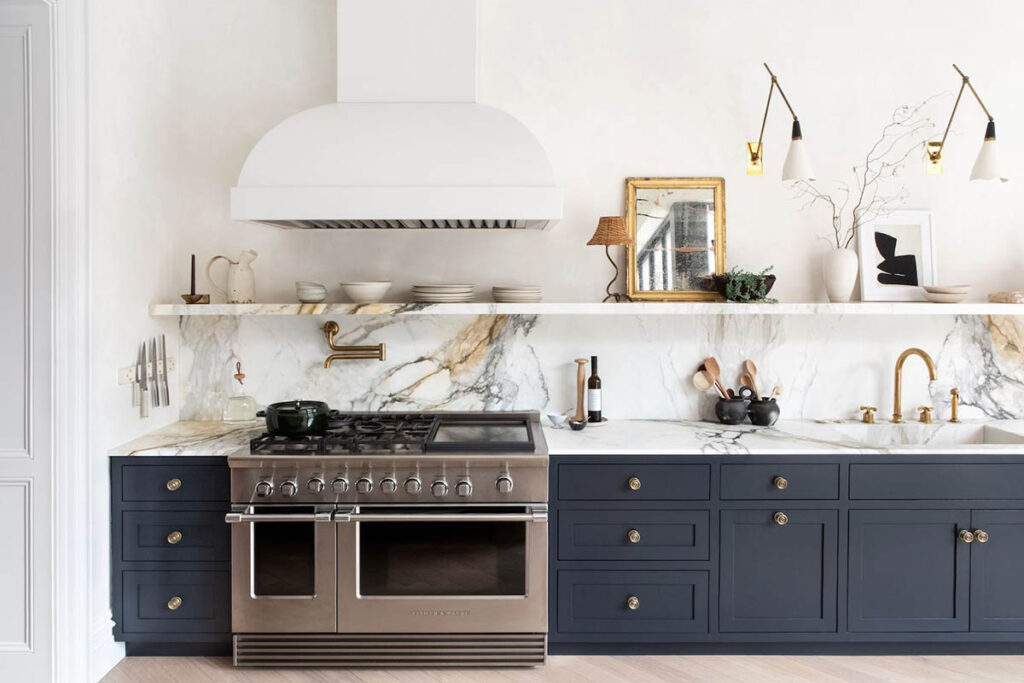 If your cabinets are looking a bit tired, one of the quickest and simplest ways to give them an upgrade is to replace the hardware. New drawer pulls and cabinet knobs can completely change the look of your cabinetry, and it's a budget-friendly project.
Remember that your faucets can also easily be replaced – a new faucet doesn't have to cost a lot of money and it can give your sink area a whole new lease on life.
2. Add a runner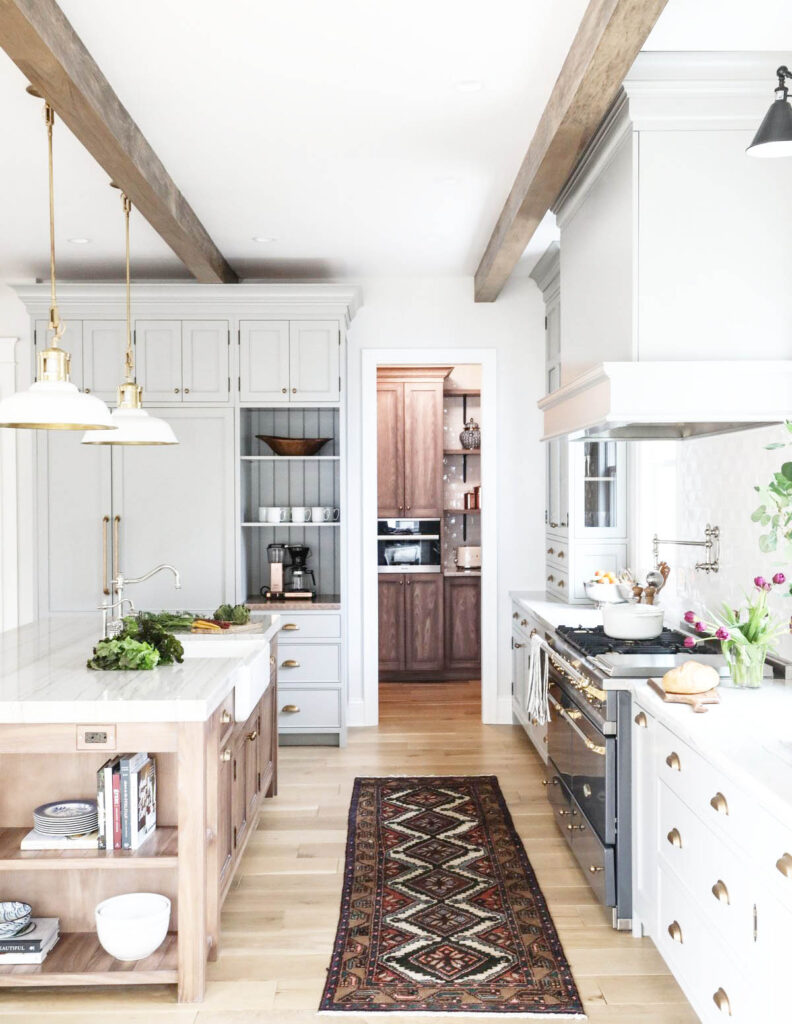 Adding a runner rug is an easy way to make your kitchen feel more luxurious. Rugs add personality, color, depth and character to any space.
Choose a rug with some texture or pattern for an added visual interest. You'll want to be sure to coordinate with your dish towels or other elements that already contain color in your kitchen.
3. Decant everything!
One thing that can bring the look of a kitchen down is having a million different tubs, tins, boxes and packets.
So I recommend investing in some pretty glass jars and decanting your dry goods – things like your sugar, flour, oats and coffee beans. This simple step will make your kitchen look more polished and high-end.
I like these ones from IKEA with bamboo lids. But if you're on a super tight budget you could even just save the mason jars from things like pasta sauces and jams and use those. You can also get a label maker like this one which makes embossed labels or this one which makes simple white labels and create labels for your jars if you want.
If you want to buy pre-made labels, I absolutely love and recommend these simple, minimalist spice jar labels from Etsy:
The cohesion created by placing everything in similar vessels will make the inside of your cabinets look 100x better. Plus, it'll be easier to find what you're looking for when everything is organized in see-through containers.
4. Use baskets
Another great way to corral items inside the cabinets and outside, is by using baskets in the kitchen. Baskets are an inexpensive way to add some storage to your kitchen. If you've got a lot of steel and glass and shiny polished surfaces in your kitchen, baskets can also help to bring back some warmth and add textural interest.
5. Keep it clean and decluttered
Clean, uncluttered surfaces are essential in a kitchen!
If your kitchen looks and feels dirty, it won't look or feel high end.
Of course nobody's going to lose their mind over a couple of crumbs, but if you have a tendency to put off wiping down your surfaces after cooking, and letting dirty dishes stack up because the dishwasher hasn't been unloaded (we're guilty of this one) this is not helping your cause.
So first, make sure to stay on top of keeping all your surfaces clean.
If you have an island and it's become a catch all area for mail, keys and sunglasses or whatever else – 👏 clear 👏 it 👏 off!
Declutter your island and add a couple of decorative elements to it that you actually enjoy looking at, like a tray with candles or a centerpiece with some flowers. Not only will it look 10x better, but if you limit your island decor to just a couple of items, it's easy to remove them and put them back when you need to use your island as a prep space while you cook.
6. Bye-bye small appliances!
When it comes to your counters, aim to only keep out the small appliances that you use every single day. This will of course be different for all of you, so for example for me the small appliances i use daily are my coffee machine, the kettle and the toaster, those are the only things I use daily. And I've even been thinking about giving my toaster the axe lately.
Anything else gets put away and brought out only when it's needed. We don't even keep the microwave in the kitchen, since we only use it like once a week. But again, this will look different for you.
I think each and every one of us needs to find a balance in our kitchen between beautiful and practical. Everyone also has different levels of what they can tolerate looking at on a surface. Whatever level you land on, the rule should be: anything that needs to stay out, should look as nice as you can possibly make it look.
7. Invest in small appliances that look beautiful
Now that you've decided which small appliances deserve a permanent place on your countertops, go a step further and consider investing, perhaps over time, in versions of those appliances that look beautiful.
Whatever "more beautiful" means to you. For example I recently upgraded to this kettle and I'm completely in love every time I look at it 😍
Is the cost higher? Usually… yes. But you don't have to upgrade everything all at once! Use tools like Karma or Honey to track when things go on sale and acquire your favorite pieces over time.
I find that whenever you can bring beauty into your everyday tasks, it makes life that much more enjoyable. You've got one life, you deserve to treat yourself to something that brings you joy!
8. Create a pretty vignette with art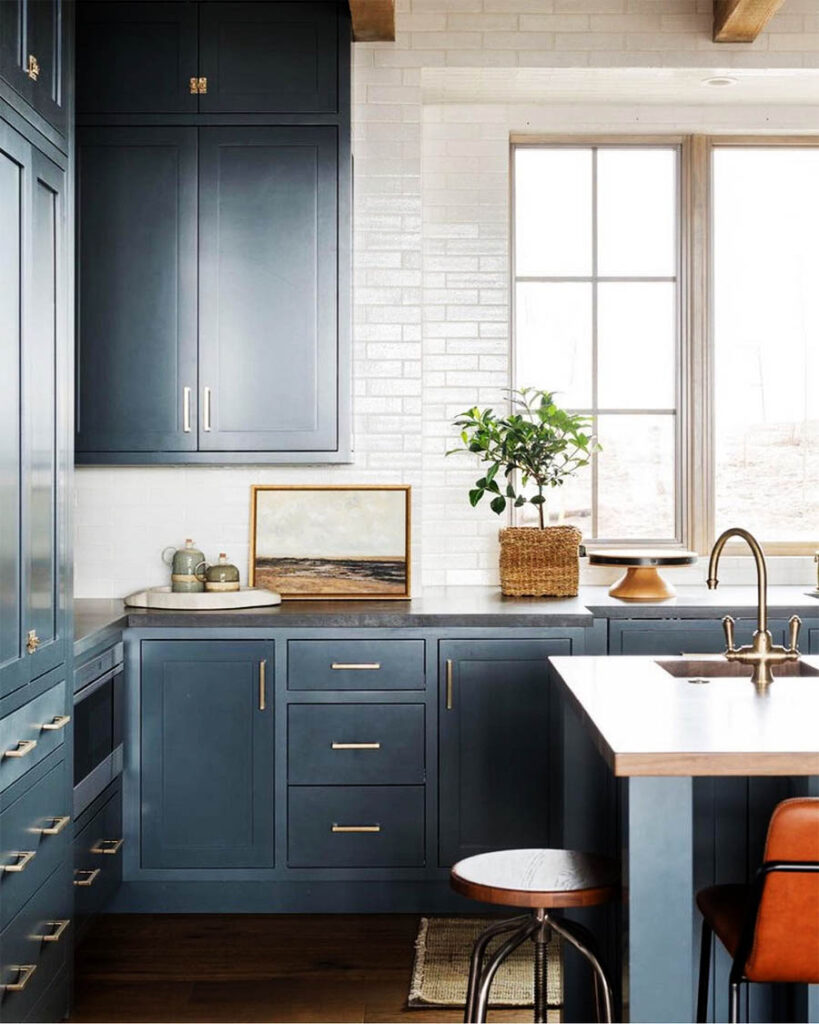 Adding a vignette with a piece of framed art is a fantastic way to make your kitchen look more expensive and intentional.
Art can be expensive, but you don't have to spend a lot of money on it. You can make your own, frame your kids art, buy prints or find great quirky little pieces at thrift stores.
TIP ➡️ If you're bringing in artwork that is of any value to you, just make sure that you're protecting it behind a sheet of glass or plexiglass! The last thing you want is a splash of spaghetti sauce on your favorite painting 🙂
Take your counter styling one step further by adding a little lamp to the mix. It'll add some ambiance and make your kitchen look not only super cozy but much more like a high-end designer space.
You don't have to put the art directly on your countertop – although many do – you can hang it up on the wall or place it on a shelf.
If the only spot you have to hang art in your kitchen is on a tiled backsplash, you can use adhesive command strip hooks to hang your art.
9. Upgrade your day to day items
If you replace the items that have to remain on out display with attractive yet functional pieces, the overall look of your kitchen will 100 percent benefit from it.
Items that stay out that you use for cooking every single day, like olive oil and salt for example, you'll want to try and display those with intention. Search for lovely (and of course practical) vessels to store these things in. Consider decanting them (see tip above!), and corralling them on a tray.
Those little wooden pedestals are very in now too, and bring warmth and a hint of rustic into a kitchen.
Some examples of day to day items that you might want to consider upgrading over time:
Cutting boards:
If you've got an old plastic cutting board with knife slices all over it, and the corner is melted because you left it on the stove, and it used to be white but now it's permanently stained orange… I'm not saying you need to chuck it out, but maybe demote that cutting board to being a backup only that stays hidden.
And treat yourself to a nice new solid wood cutting board that you can display and enjoy every day!
Dish towels:
It goes without saying that your dish towels should be lovely and not look like rags. Wash them regularly, and invest in some that you actually enjoy looking at, and make sure to hang them up in a way that looks intentional.
Dish soap holder & dish brush:
There is nothing less chic than the blue bottle of dishwashing liquid that lives beside your sink. 😂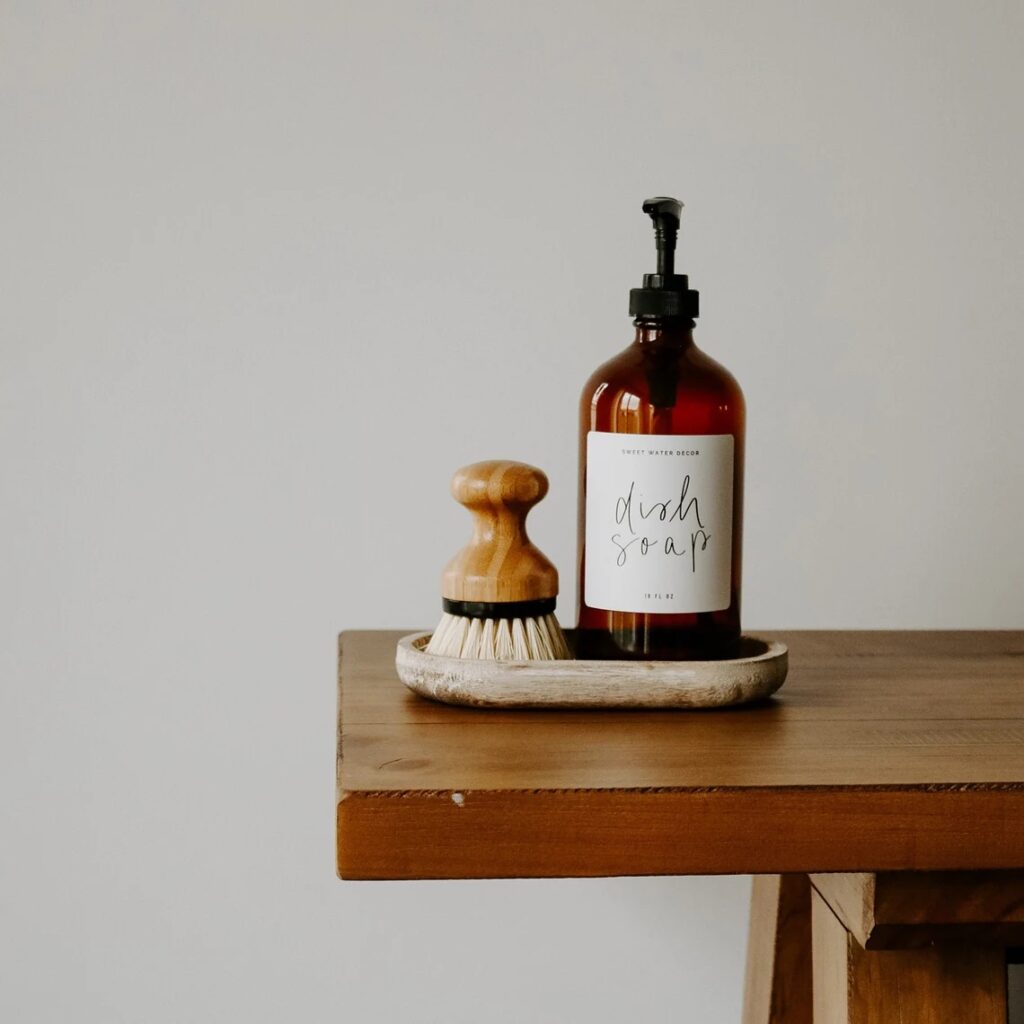 Your soap dispenser and dish brush can be upgraded for just a few dollars.
Buy an amber glass jar and a cute little dish brush from AliExpress and your sink will have had an instant facelift!
I like this dish brush, you can't beat $2.50! I've bought several of them. ☺️
Drying rack:
Instead of a drying rack, try using drying mats instead – they take up way less storage space and can be washed, and brought out and put away as needed. I will neeeeverrrrrr use a drying rack again!
I like to look out for small vessels to use in my kitchen and around the house at thrift stores. I seldom buy brand new decor, but that's also because I like to mix a lot of handmade vintage items into my home.
10. Mix high & low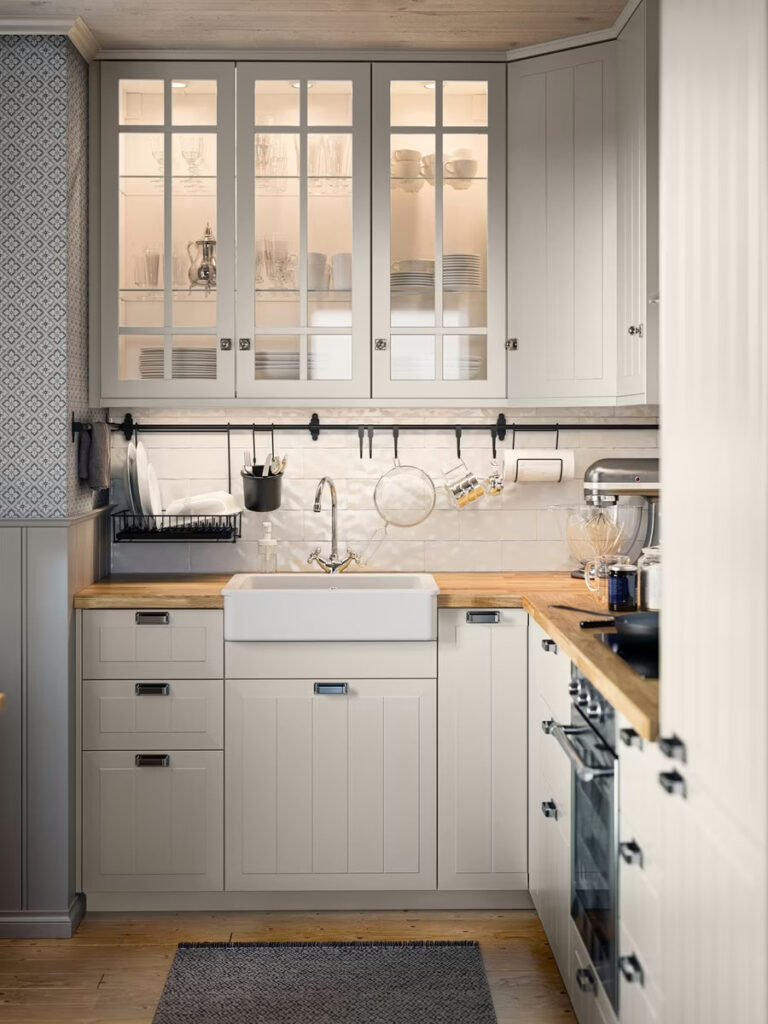 One genius way to make it look like you have a more expensive kitchen is to have one beautiful higher end item that acts as a focal point, and then style it with budget items. The higher end item will elevate everything else around it.
This is a trick that so many stylists and designers use and yet so few people realize it! And you can do it anywhere in your home, not just the kitchen.
It can be a piece of art, some beautiful glassware, whatever you have that you think will elevate the other items that you place around it. Try it, you'll be amazed!!
11. Peel and stick backsplash
If you have a dated backsplash that's killing the vibe of your kitchen, I definitely recommend going the peel and stick route. Especially if you're not in a place where you can retile at the moment.
It's not a permanent fix, but if you're saving up to retile, they're a great way to bridge the gap and make your kitchen look a lot more expensive in the meantime.
Peel and stick backsplash are budget-friendly, super easy to install and they come in a ton of different colors and styles.
These ones from Wayfair are cute!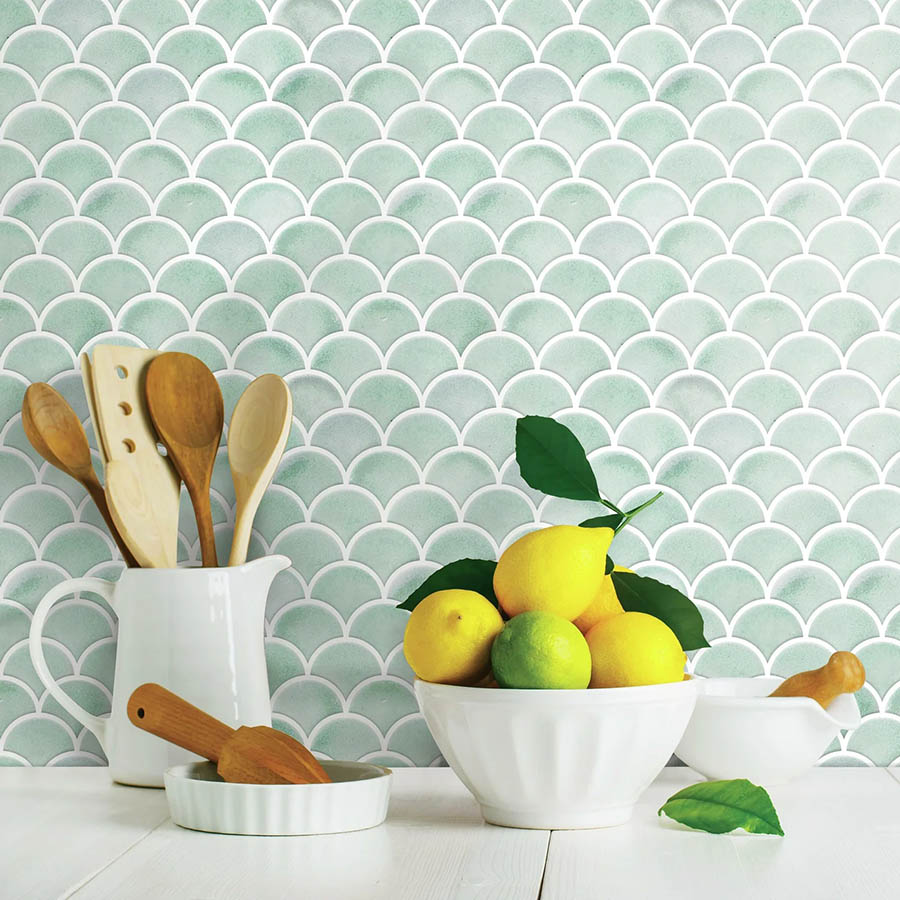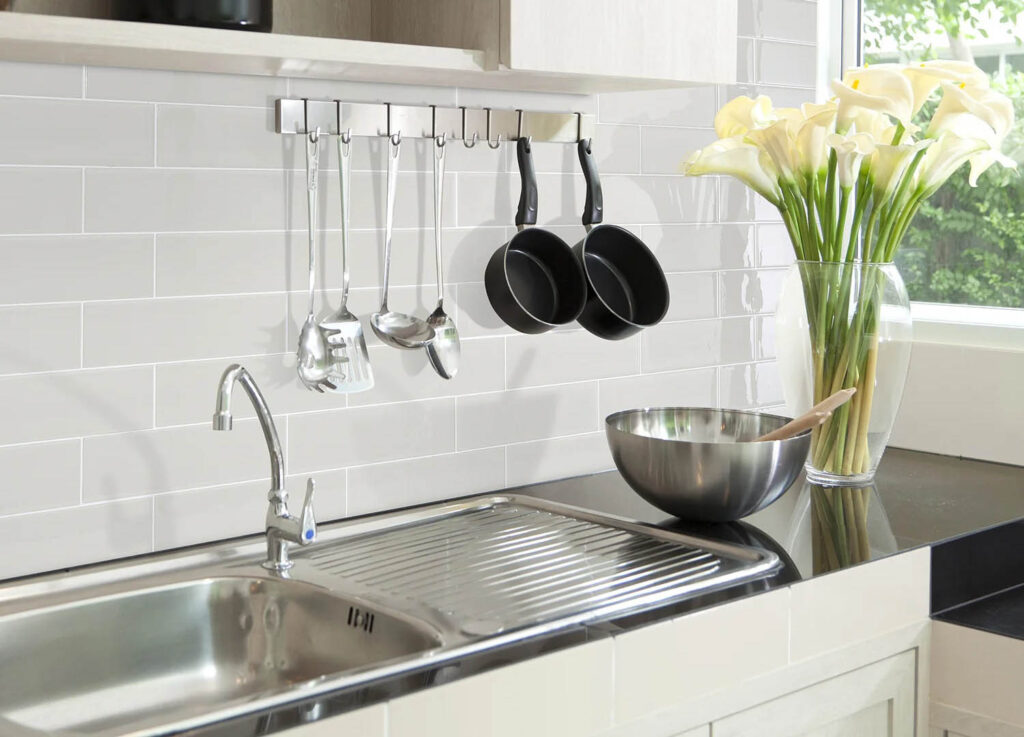 12. Keep the fridge clear
Keep your fridge clear of magnets, pictures and drawings. If your kid brings home a lot of art and you like displaying it, perhaps just choose one favorite piece. Then rotate through them every so often.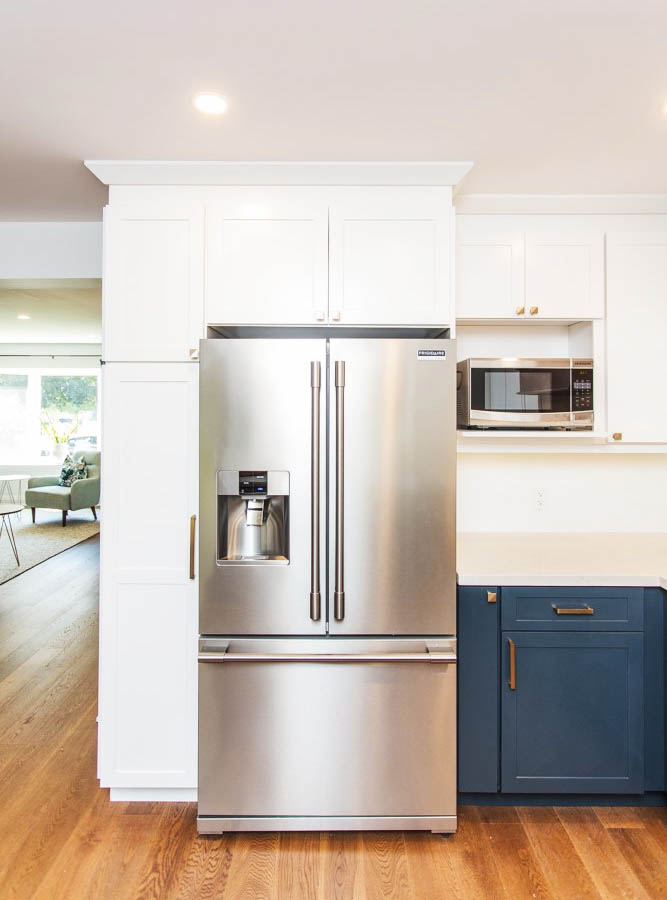 If you like the look of a fridge full of memorabilia then that's ok, you should keep it!
But I think that keeping the fridge clear of magnets and bits of paper will create a lot less visual clutter and will help make your kitchen instantly look more put together and expensive.
13. Add under cabinet lighting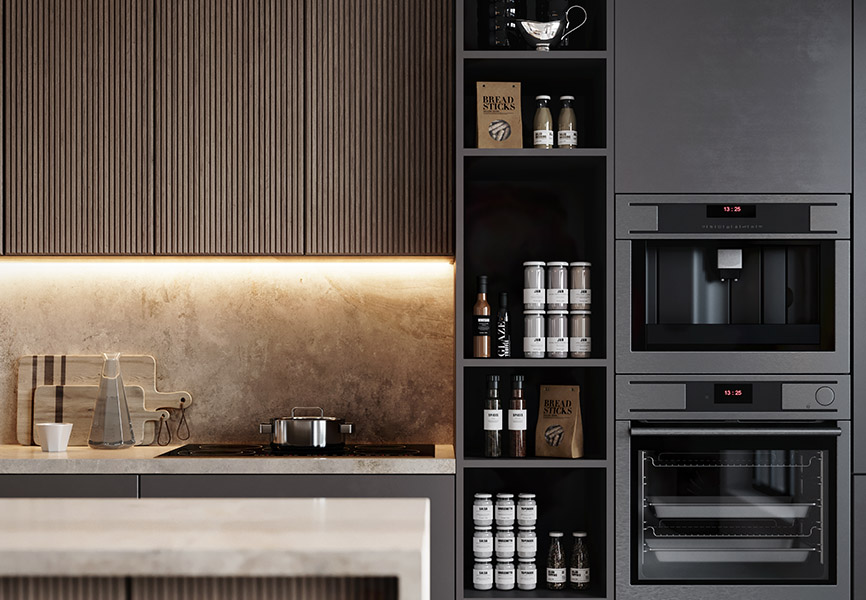 Under cabinet lighting is one of those things that can take your kitchen from budget to high end in minutes. It's a super affordable upgrade and it makes such a big difference to the overall look of your kitchen.
Just grab an adhesive strip light or light bar, stick it on the underside of your cabinet so that it's hidden from view, and you've got instant indirect, classy kitchen task lighting! There's no need to call an electrician or even plug anything in, as you can get motion sensor light strips and bars that are battery operated.
You can also use the same method to do toe-kick lighting.
This motion sensor light bar is really popular and has great reviews:
---
By decluttering surfaces, investing in a few key pieces over time, and making sure your space looks intentional, you can transform your tired kitchen into a space you love a whole lot more, without breaking the bank.
What are some budget-friendly ways you've made your kitchen look more expensive? Share in the comments below!