Get The Look: Elegant Black And White Bedroom
This post may contain affiliate links. If you make a purchase through one of my links, I may make a small profit at no expense to you. For further information, please view my policies.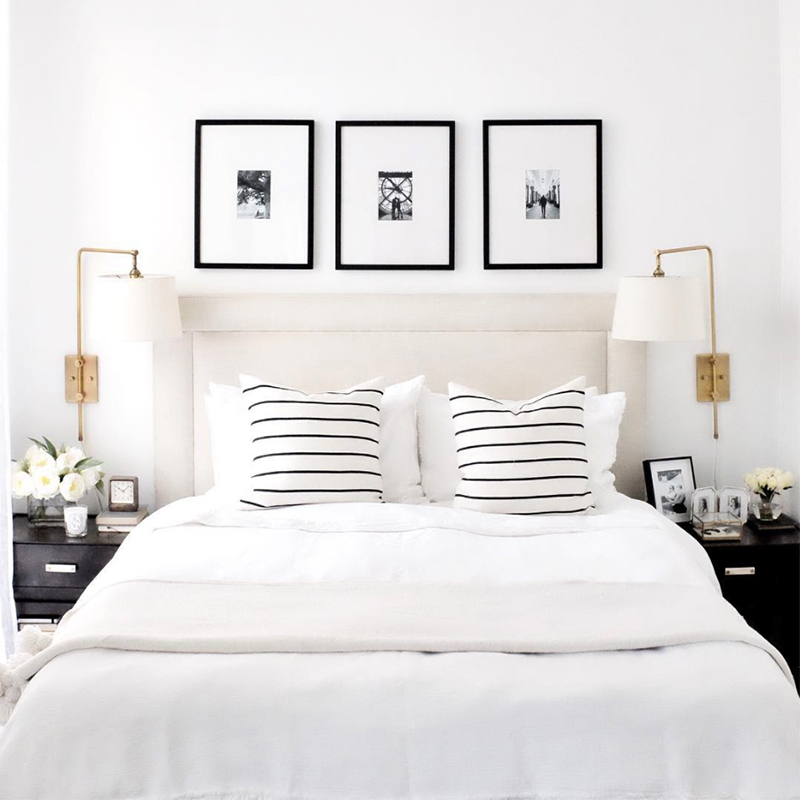 GET THE LOOK WITH THESE ITEMS ↓
TOTAL: $ 1837.50
Ever since we moved back to Vancouver from London (the London in England, not Ontario…) and into our new apartment, this photo has been my sole inspiration for how I'd like to decorate our new bedroom (let's just pretend we're not still sleeping on a mattress on the floor, k thanks).
The original bedroom pictured belongs to Alaina Kaczmarski, co-founder and co-owner of the everygirl.com. Of course, she also has her own blog which you should definitely check out.
I think it's the simplicity of this black and white bedroom that really speaks to me.
It's so strikingly beautiful, simple and elegant ALL AT ONCE.
The things to ♥ love ♥ about this bedroom
The very first thing my eyes go to are those freaking AMAZING black and white graphic striped pillows. Those throw pillows are so simple and yet so effective in drawing your eye right into the room!
Then I look up at the clean, sleek frames with the abundant white matting. I'm pretty confident those are 11″ x 14″ frames matted to 5″ x 7″.
Another element of this bedroom that I am deeply in love with are the sconces.
Those puppies are one of a kind, I have literally not been able to find ANY lookalike sconces, and I've scoured the internet for hours.
If you know of any lookalikes to those sconces, please do let me know!!! Thanks ♥
So, once I am done losing my mind over the pillows and the sconces, my attention shifts to the headboard.
Let's crush on the headboard for a sec
Friends, how beautiful is that upholstered headboard from 1 to 10? 346?
Yep, probably about 346.
And I'll tell you straight away why I love this headboard:
because it's not tufted with crazy buttons or rivets all over the place.
that deep and subtle single stitching all around the edge. This is just SUCH a pretty touch as opposed to not having that detail at all.
the soft ivory of the headboard is neutral and restful against the white paint in the room
you can easily change up the accent color in your bedroom with such a neutral headboard as a backdrop, which to me translates into keeping that bed for a very long time without having to repurchase one when I decide to redecorate. Which translates to saving money. Yes!
By the way, in case you were wondering where to get the original headboard, you can find it over at One Kings Lane.
Since I've already found all the things I think I need to recreate the look of this bedroom, I thought I would share everything with you here!
As always, you are cordially invited to stick around and check out my other room redos if ya like this one!