How to Stage a Picture-Perfect Background for Your Zoom Meetings
This post may contain affiliate links. If you make a purchase through one of my links, I may make a small profit at no expense to you. For further information, please view my policies.
Working from home has its pros for sure: no need to commute to the office, meetings always seem shorter, and you can sneakily turn the camera off if you're having a bad hair day!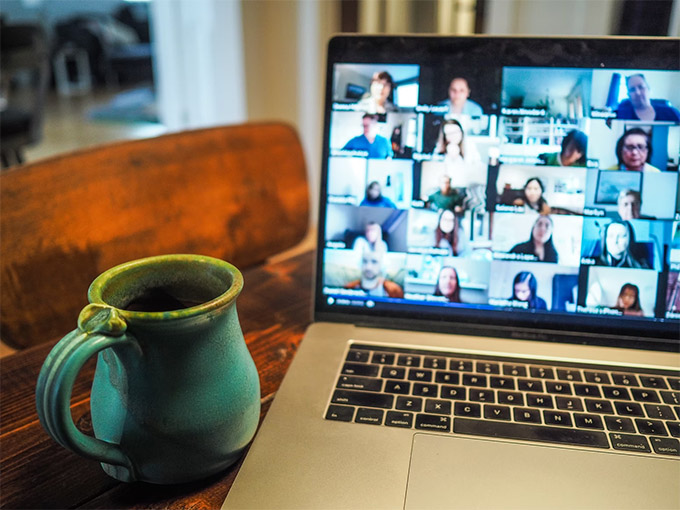 However, there is one distinct disadvantage to meetings over Zoom, Google Hangouts and Microsoft Teams. There's always that tiny niggle of doubt that colleagues are silently judging your home.
Overflowing laundry baskets, dusty bookshelves and piles of paper can make your teammates think you live in a state of constant disarray.
(Let's take a moment to remember the poor woman who was spotted with a sex toy in the background of a Zoom interview. 🤣🤣🤣 Yikes!)
If you're looking for a way to design your office space to look great on Zoom meetings, you're in the right place! This guide will give you some great hints and tips to style your Zoom background, quicker than you can say 'you're on mute.'
Pick one spot and stick with it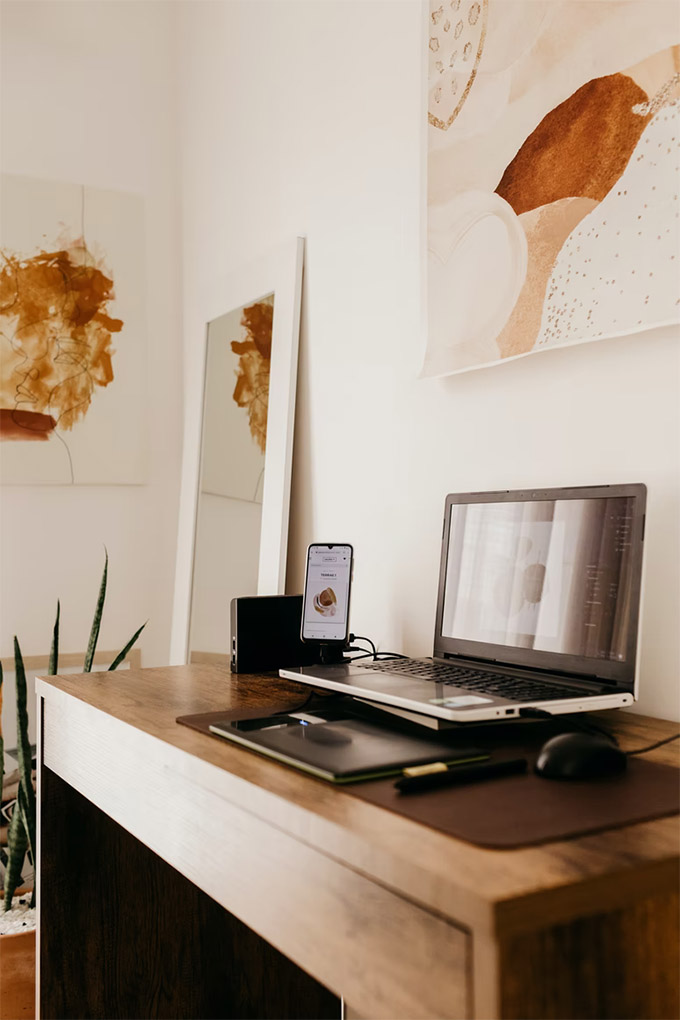 It may seem obvious, but in this age of hot desks, mobile workstations and laptops it's worth saying: if you want to make your life easier, then it's important to pick one spot in your house to use as your designated zoom background. And then stick with it!
This will ensure that your conference call background is a backdrop that is always ready to go whenever you hit "join meeting", and there will never be any last minute scrambling. Last minute scrambling stresses us out!
Once you've decided where your picture-perfect zoom background is going to be, you can stop stressing about where to place your computer every time you jump on a call, and focusing on beautifying it instead! The continuity behind you is also more important than you might think – after using the same background for a few meetings, people will know it's you even if need to step away from your camera momentarily.
I use this exact same principle for my YouTube video background – it takes the stress out of asking myself where I'm going to shoot before every video. The added bonus is that I can focus on decorating just that little portion of background space to make it more personal, without having to worry about what the rest of the room looks like (since it won't be on camera).
If you work from a desktop computer, then you'll want to choose an orientation for your desk that's favorable in terms of what's behind you. This can be a little more complicated because you don't always have a lot of options in a room. Don't stress though, you can always make whatever is in your room work for you!
Focus on your lighting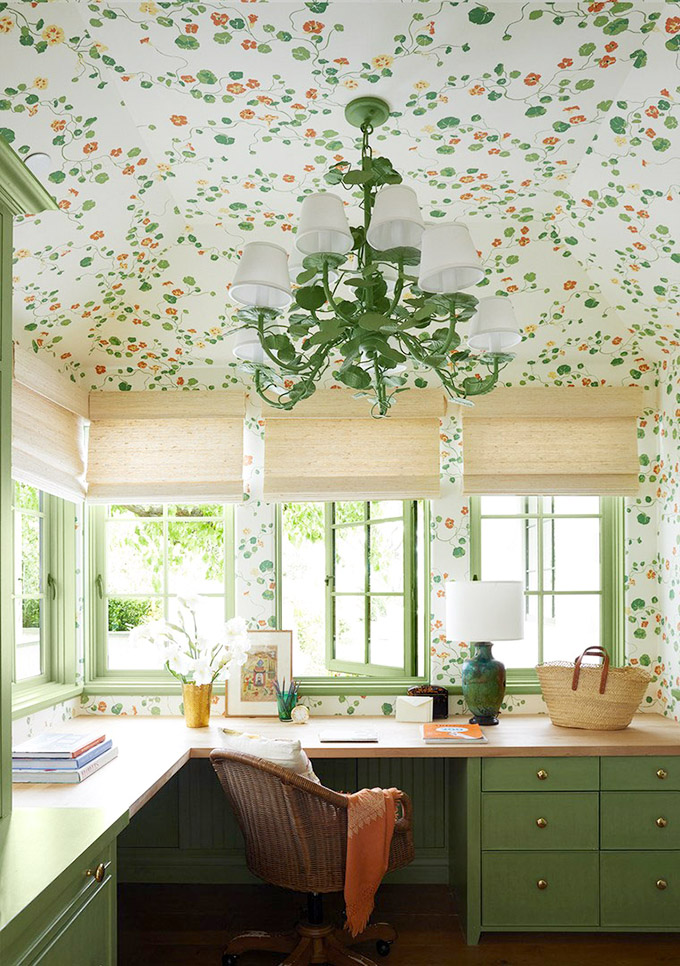 Ever been on a Zoom call where everyone's rooms are so dark, you have to squint to figure out who people are? This is where great lighting can turn a good Zoom background into a great Zoom background.
If you have it, natural lighting is great. Light from a window or skylight diffuses through your room, illuminating your entire working space and ensuring everyone can see you.
Ideally, the best position for your window is in front of you.
If your window is behind you that's ok too – you just need to do a few things to keep things looking good:
try to avoid direct, bright sunlight streaming in through your window if your window is directly behind you. If this is happening a lot, you should try to diffuse the light via something like a sheer curtain panel.
make sure to have a light on your face to counter the backlight, so that you don't end up completely in shadow.
If you don't have much in the way of natural light or windows in your room, a subtle overhead lighting source can work well (so long as it's well diffused so it doesn't cause harsh shadows), or a lamp positioned behind your screen.
Regardless of whether or not you have windows in your room, I highly recommend investing in a cheap ring light for a really effective quick fix! I like to use this one, it's affordable and comes with a tripod so it's perfect to pop on your desk, even if you're short on space!
Here is a great example of lighting problems commonly seen in video conference calls:
Be sure to check out this article for more in depth info on how to get the perfect conference call lighting!
Of course light on your face is important, people need to be able to see you. But if you *really* want to up your zoom background game, then you'll want to have some lights illuminating your background as well.
It will create for a much more dimensional and interesting looking space. This is only really applicable if you have a certain amount of distance between you and your background. If you have a wall directly behind your chair, you could try adding strip lights to the base of the wall behind you to create a cool dimensional uplit effect.
> GOOD LIGHTING: FACE A WINDOW WITH NATURAL LIGHT
> GREAT LIGHTING: NATURAL LIGHT + EXTRA ADDITIONAL LIGHTING BESIDE YOUR CAMERA
> BEST LIGHTING: 3 POINT LIGHTING: 2 LIGHTS POINTING AT YOU ON EACH SIDE OF YOUR CAMERA, PLUS A LIGHT ON THE BACKGROUND
In summary:
try not sit with your back to a bright window, and if you do have a window behind you, diffuse any bright sunlight and add additional lighting on your face
natural light is great but don't be afraid to artificially enhance your lighting (with a ring light or similar)
add lights to your background as well
It doesn't matter how good your zoom background is, if the lighting is bad, no-one will ever be able to appreciate it!
Liven up your space with carefully-selected props
Props are important! Most people use a plain white walls as their zoom background. That's totally fine, but why not try to make things a little more interesting and personal?
If you're unsure where to start, statement photo frames and indoor plants are always a winner. Choose a plant that is easy to look after like a spider plant or monstera. If your office space doesn't have a ton of light, you should check out this list of all my favorite low light plants!
Or, you don't have the greenest of thumbs, buy a faux fiddle leaf fig – those always look great on camera!
You can also add other pieces that show off your personality, like fresh flowers, your favourite books and candles. Place your props on either side of your chair so they're not hidden away when you're on a call.
On that note, let's talk about the positioning of objects behind you: anything behind you, particularly things that may be hanging on the wall, should be carefully considered in terms of how they will appear on camera in relation to your head. Why? Because it can look like things are popping out of your head or like you're wearing a strange hat. Depending on what's hanging behind you, this effect can range anywhere from distracting to hilarious – probably not exactly what you're hoping for on a zoom call.

Ideally the items behind you are framing you nicely, rather than competing with you, which means you'll want to have them on the sides of the frame, perhaps breaking frame to create an interesting shot.
For example:
Check your camera angle
If your camera angle is all wrong, all your hard work staging your zoom background will go to waste!
Often you'll see that when someone's laptop is too low, most of what you end up seeing is the ceiling! And you may also be looking right up their nose…
To avoid this, you may need to prop your laptop up with a few books to show the full potential of your backdrop. Same with if you're using a webcam attached to your monitor (ie a camera that's not built in directly to your laptop or computer). Books and monitor stands can really help with this.
Ideally, your camera's lens should be at eyelevel or a little higher than you for the best angle.
You'll also want to try and keep any lines in the background straight. What I mean by this is you don't want the perspective of the walls or other large objects in the background to look all distorted. Tweak your camera so that the major lines you see in camera are as straight as possible.
For example: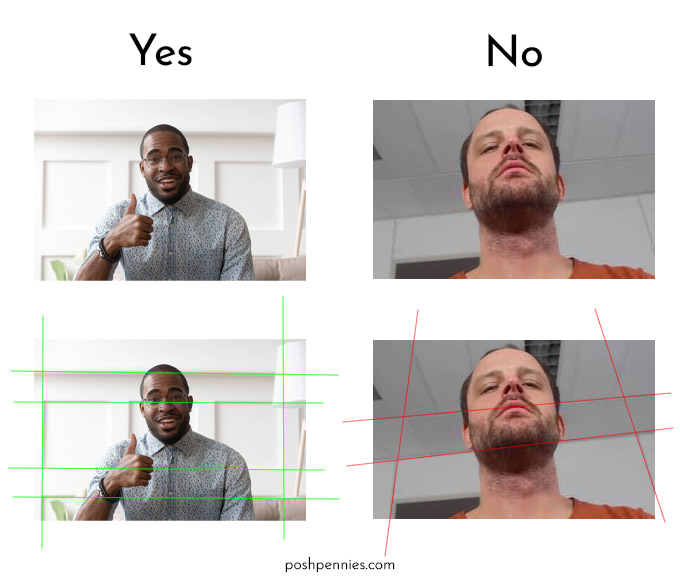 Also keep in mind that what works in real life may not necessarily translate to a computer screen, so try arranging your props and decor, and then looking at it through the camera to see how it looks.
You can also call a friend or family member and show them your Zoom background before you go live with it.
Keep your background simple
A simple background in a solid colour looks professional, and means your co-workers will focus more on your Q1 report than your wallpaper.
Of course, simple doesn't mean that you have to stick to whites, creams and ivories. A painted wall in a fashionable colour will look amazing: grey-green, golden yellows and light blues are all on-trend for 2022! And blush pink is known to be a universally flattering color so that's always a good choice for a wall color!
Remember that you don't have to paint your entire room or office. You can just paint the wall that's immediately in camera behind you. That means a lot less work, and you can switch it up a lot more often (which may even encourage you to try some daring things!).
If you do want to go with an accent wall with a bold wallpaper, you can, but try to keep the rest of the background pretty pared back. Otherwise you'll risk your background looking chaotic instead of chic!
You can also liven up your wall with artwork and well-placed objects. A large canvas or a small collection of art pieces looks great and brings a little character to your Zoom background.
Alternatively, a bookshelf can give your Zoom backdrop a warm and cozy feeling. Plus, your colleagues can have fun trying to read the book titles on your shelves while waiting for the meeting to start!
Clean up the clutter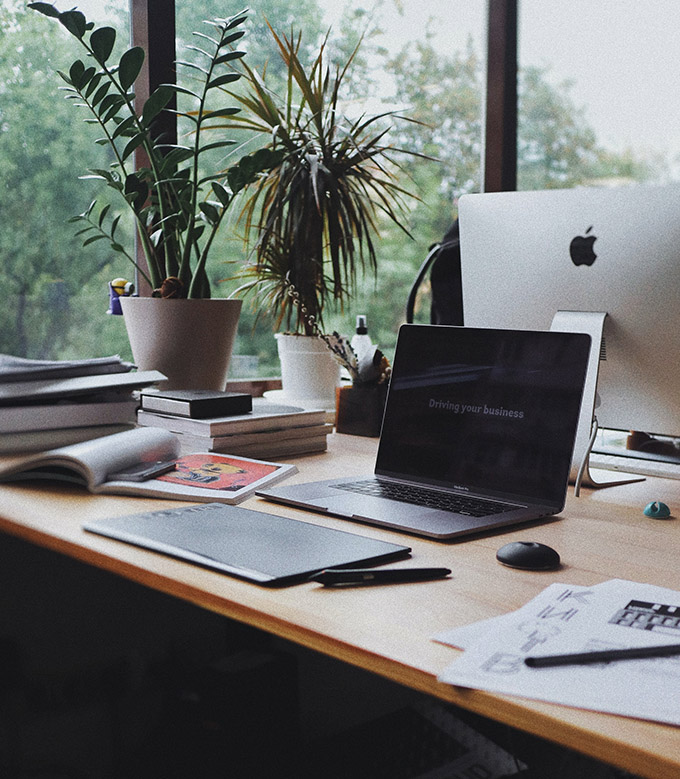 As lovely as it would be to have a background exclusively for Zoom meetings, your working space is also a living space.
This means dirty carpets, clothes on chairs, and this morning's cereal bowl (you know who you are) can turn your pristine Zoom background into a bit of a mess.
The fewer pieces of furniture and items you have in your Zoom background, the easier they will be to keep clean and free from clutter.
Before going live on your Zoom call, set a two-minute reminder on your phone to move any mess out of sight. Your room may still be cluttered, but at least your co-workers won't be able to see!
If in doubt… fake it!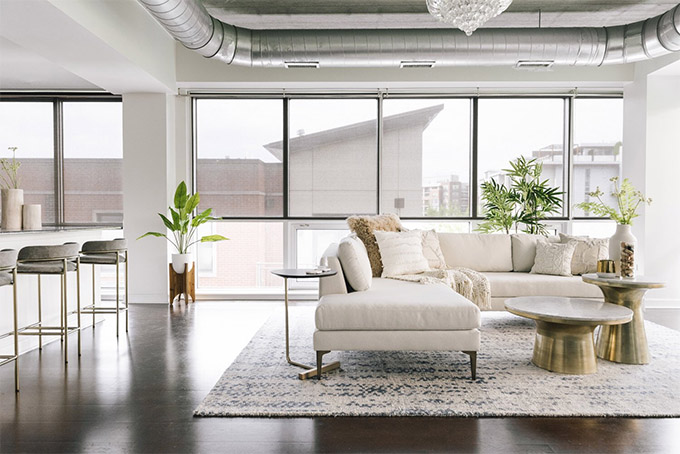 If your home office needs a little bit of TLC, that's okay. You can use a virtual background instead!
For example, West Elm has put together a carefully curated collection of video backgrounds for you to use on your calls.
Just find a virtual background you like, upload it to your account, and you're good to go.
Will your colleagues know you're pretending? More than likely. However, they'll definitely commend you on your creative thinking!
Examples of great zoom backgrounds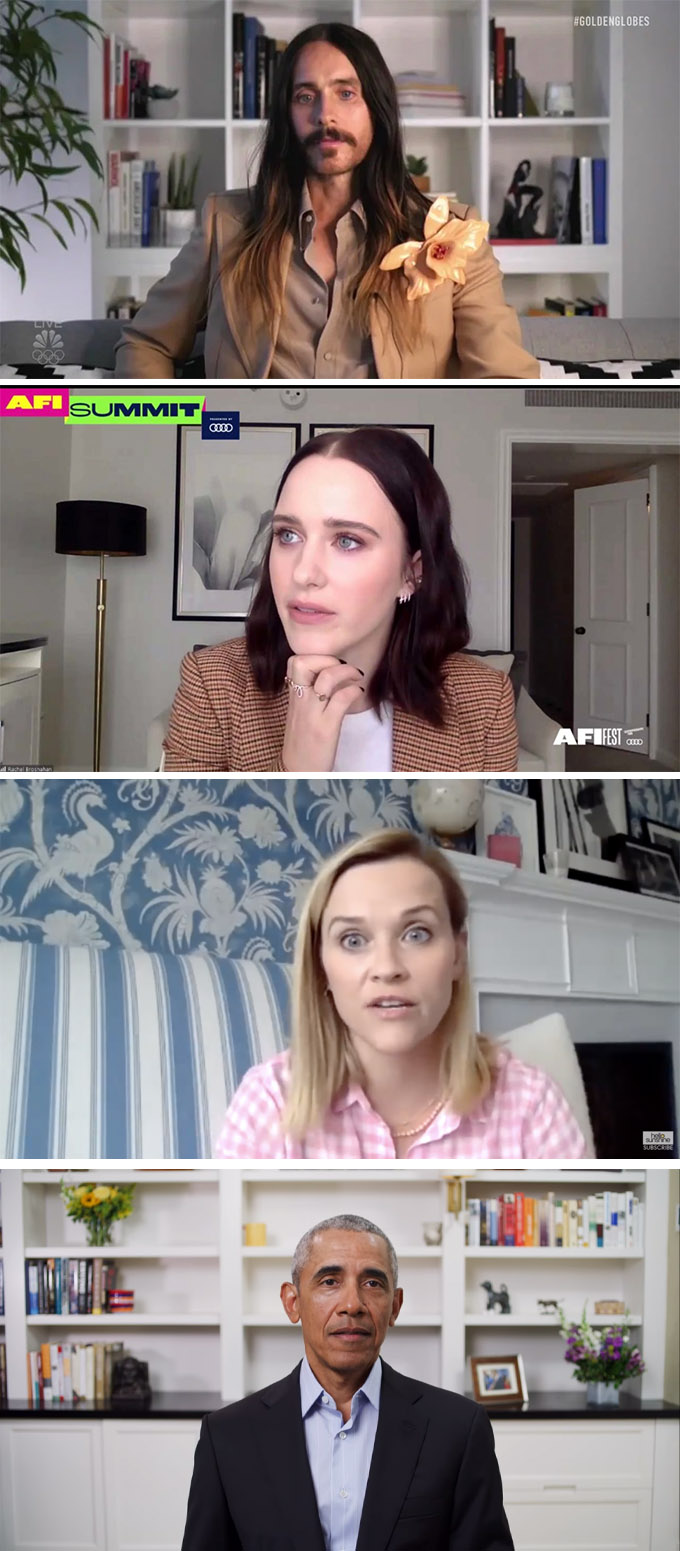 After taking a moment to appreciate the hair, moustache and the flower pin, shift your attention to Jared Leto's gorgeous and carefully styled bookcase. I love the large plant on the left breaking frame and the soft lighting. Also notice the uplighting on the lower left side really adding dimension to the shot. Great example of how to light the background of your background! lol
Rachel Brosnahan's background looks clean and simple, almost hotel-like. The background could have used a little more light as it's falling a little flat but overall it still looks really nice.
Reese Witherspoon's background is bright and fresh with the blue and white wallpaper, blue and white chair, and the white mantel. I'll admit it's a lot of pattern going on but I think it works! Not so sure about the angle, it looks a little chaotic, but a part from that this is working great! It looks like she is sitting next to a window and is using natural light only.
Obama's white bookcase is styled beautifully, with the right balance of negative space, and pops of color framing his face. Also notice how the shelves immediately behind him are all empty so we can really focus on his face! What I would have changed? I am not a fan of the colorful granny bouquets – I would have opted for big, green plants to make it look more modern and less "bitty" and stuffy. There is already enough color in the books!
---
If you want a laugh, check out this Twitter account called ROOM RATER which takes screengrabs of celebrities' zoom backgrounds and rates them. Or, check out this article which tells you what your Zoom background says about you 🙂 Happy reading!
I hope this guide has given you some ideas and inspiration on how to style the perfect Zoom background!
Remember – keep it simple, show off some personality and don't forget to make sure your lighting is on point.
I'd love to see how you've styled your meeting background, tag me on Insta @poshpennies!!