Get The Look: Pink And Mustard Boho Bedroom
I was not paid to write this post, however, it may contain affiliate links. If you make a purchase through one of my links, I may make a small profit at no expense to you. For further information, please view my policies.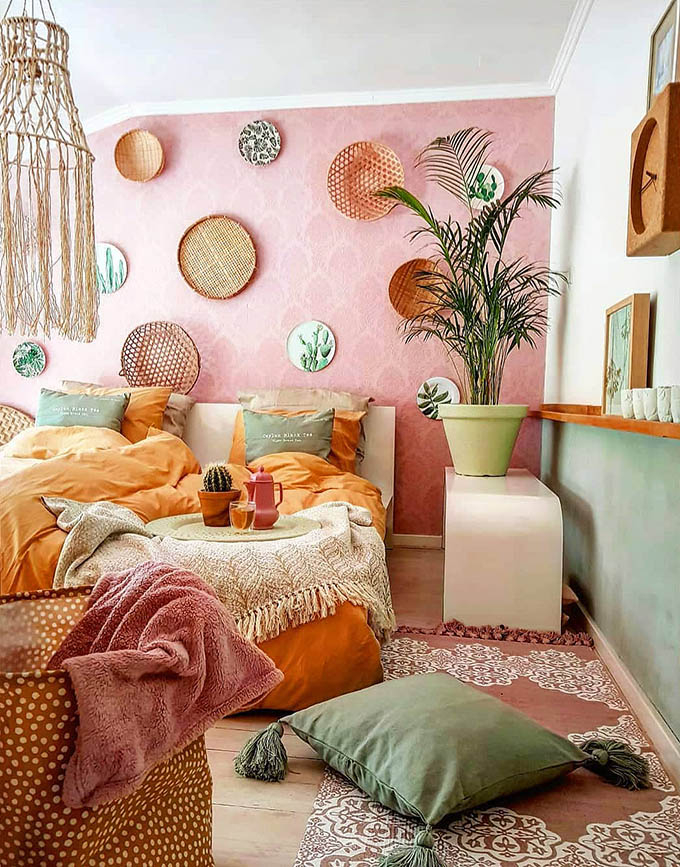 GET THE LOOK WITH THESE ITEMS ↓
TOTAL: $826
To me, this bright and cheery pink bohemian bedroom basically feels like a summer bouquet – it's wonderful!
The combination of pinks, greens and oranges are giving me all the warm weather fruit sorbet feels. Because it IS still summer right now!
This beautiful boho bedroom belongs to the Instagrammer Ilonka Dekkers. She shares photos pretty much daily of her gorgeous space and I just can't get enough of her style! Pink definitely abounds, combined with a fresh jungley feeling.
There is actually very little white used in this space! And with all the pinks and oranges bouncing all over, the whites of the bed and the waterfall console table almost look more cream.
Fun fact, Ilonka actually has a pink bed in this bedroom now – I think she may have painted her existing bed, but I'm not sure! And the green wall you see on the right has now been replaced with (faux?) brick. I love how people are constantly changing up their spaces to keep things interesting!
Erm … about that palm …
In the suggested products, I went for a faux palm only because I speak from personal experience … I have a majesty palm and she's not doin' so hot. She's still alive, but has gotten progressively worse since I brought her home. I didn't realize how tricky palms were to keep alive (especially in cooler climates), so I would definitely recommend going for the faux version of this plant if you're not feeling super confident!
If you love getting the look for less, be sure to check out other Posh Pennies room redos here!
And to learn how to put together a boho chic bedroom from scratch, check out this post!