How To Create The Perfect Boho Chic Bedroom
This post may contain affiliate links. If you make a purchase through one of my links, I may make a small profit at no expense to you. For further information, please view my policies.
When it comes to boho bedrooms, there is no shortage of inspiring imagery on the internet. That's all very well, but the question is: if you want to create a boho bedroom of your own, where do you start?
How do you create a beautiful boho bedroom? How do you take boho from looking like a college dorm to sophisticated and boho-chic?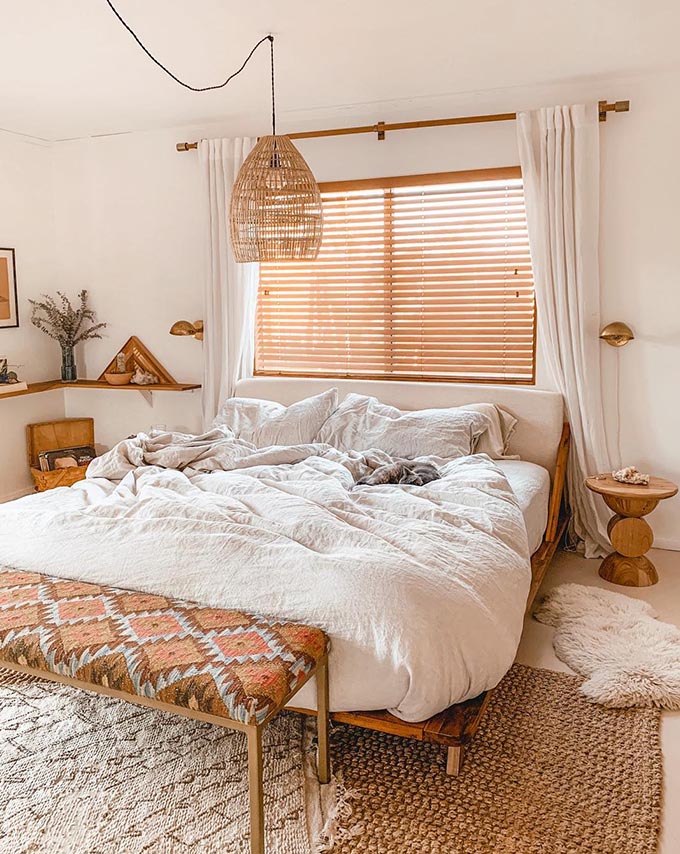 My goal today is to break down the elements that will help you create a beautiful, modern boho bedroom.
What can be actually quite intimidating about boho decor is that there are many ways to approach the bohemian decorating style; I cover this in a more general sense in my boho decor tips article.
The gist of it is that boho decor isn't just for teenagers and college dorm rooms – boho decor can be incredibly chic (hence the birth of the term "boho-chic"). It can also be as wild as you want it to be. There are no fixed rules when it comes to boho decor. That's also what can make it a little tricky.
So let's break it down and find how exactly how to create the boho bedroom of your dreams!
Wall color
Hey, you can paint your walls annnyyyy color you want. This is boho style, after all, there aren't any strict rules to follow.
But if you're going for a modern boho bedroom look, then I would recommend giving your bedroom white walls. Particularly if your bedroom gets a lot of nice natural light.
A clean, fresh white room is always going to be a beautiful backdrop for wood, textiles and patterned rugs and pillows. In the case of a bohemian bedroom, I would probably opt for a pure white, or a white with slightly warm undertones. Especially if you're going to be incorporating a lot of wood accents in your room; the hint of warmth in the white will make your wood accents sing!
Here are a few go-to white paint colors that top designers swear by:
Super White by Benjamin Moore (this white is considered to be completely pure white with no undertones, although some designers claim it has cool undertones)
Simply White by Benjamin Moore (soft white with warm undertones)
Dune White by Benjamin Moore (warm undertones)
White Dove by Benjamin Moore (slight warm undertones)
(read all about paint undertones right here!)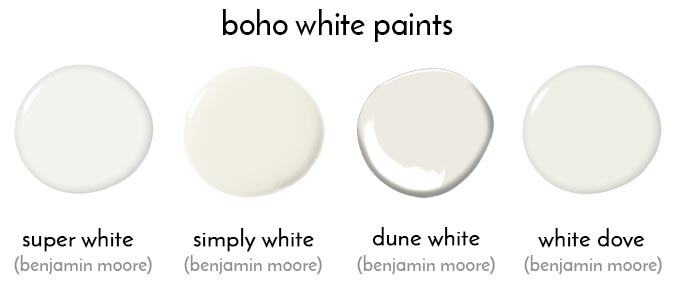 For a full list of 35+ different shades of designer recommended white paints, check out this post from Elle Decor.
If you're averse to white walls, consider a warm color that would pair well with wood tones. Or try a (removable) wallpaper in a lush tropical print.
Bohemian Beds
Let's talk about the main element in any bedroom: the bed.
If you're on the hunt for the perfect boho bed, here are some tips that will get you on the right track.
Natural materials made of wood and rattan are prominent in bohemian decor, so if you can get your hands on a bed made out of these materials, you'll be golden. Look for organic shapes, such as curvy rattan or carved wood, and light-colored solid wood frames.
Even antique/vintage brass bed frames can look awesome and very boho. You can find them for cheap on places like Craigslist sometimes.
Low-profile beds and platform beds are also often seen in boho bedrooms. In fact, it's not unusual to see beds that rest directly on the floor.
Four-poster canopy beds are also seeing a resurgence, as they provide the perfect structure for draping flowing fabrics, hanging plants and stringing up fairy lights.
CLICK HERE TO CHECK OUT 39 GLORIOUS (& affordable) BOHO BEDS!!
If you don't have a lot of cash to spare and you're doing a boho bedroom on a budget, you can use pallets as a platform. You literally just lie the pallets under your mattress. Make sure to sand them down well to avoid any nasty splinters. You can also paint them and soften the edges with faux fur rugs as well, as seen in the photo below.
If you don't have a headboard, you could hang a beautiful vibrant quilt or tapestry in its place. Make sure what you hang has some weight and dimension to it, or you'll risk it looking more like a college dorm.
And if you've already got a bed and aren't planning on swapping it out, don't worry!
There are lots of ways to make your bed look bohemian even if you have an upholstered bed or something a bit more traditional.
The way you do this is by focusing on the bedding. We'll look at that next.
Boho Bedding
I think the most important thing about boho bedding is that it shouldn't look perfect.
But what does that mean?
I'm not saying you should entirely stop making your bed, just don't be overly fussy about it.
Boho bedding always looks somewhat "undone", as if you could jump in and take a nap at a moment's notice, without worrying about creasing the perfect bedspread or untucking the sheets.
The main bedding: duvets
It's super easy to achieve the intentional "undone" look by using just a simple covered duvet.
Bring on the texture and look for ruffled and ruched duvet covers and rivulets quilts. Introduce a dose of luxurious comfort with a crushed velvet comforter.
Linen duvet covers will naturally wrinkle (very easily!) and look very sumptuous as well.
(check out all my favorite places to buy AMAZING linen bedding here!!)
Tasseled bedding is also ultra boho. The more tasselly, trailey, hanging bits you have throughout your bedroom, the more boho it's going to feel.
Make sure your duvet is nice and thick (at least in the winter) so that your bedding doesn't look flimsy. If your bedding has volume, it will look inviting. Remember, boho = inviting.
You'll also want to make sure your bedding spills over the edges of your bed here and there. To achieve this look, try using a king-size duvet on a queen bed. Longer bedding is much more inviting than bedding that is too short, and it will anchor your bed to the floor more.
Add layers
Once you've got your base bedding down, it's time to add more layers.
For a boho touch, add a pom pom or tasseled throw, a Moroccan wedding blanket, or a chunky textural knit. Make sure it's big enough that it covers a good portion of the bed, otherwise it won't make as much of an impact.
Try draping your quilt or throw halfway across the bed width-wise and let it hang effortlessly over the edges. Just like they do all the pics 😉
Faux fur draped on the bed (or floor) is also a great boho touch.
Pillows
Lastly, to get the boho look on your bed, we need to look at your pillows.
The pillows on your bed can be abundant, big, soft and luxurious. Pillows are truly the icing on the "bed cake", so have fun with them!
Your base shams can match your duvet for sure.
But it's with all the EXTRA pillows that you can really have some fun!
Introduce more of your accent color through your throw pillows. Not sure what your accent color is? Look at your rug, drapes or artwork. And don't be afraid to use some pattern here!
Not into a bunch of pillows on the bed? Then consider grabbing a long, comfy solid velvet or mud cloth lumbar pillow and lie it in front of your two main, larger pillows. This also looks GREAT.
Pillow covers are a tiny investment and truly make such a huge impact. Throw pillows are also very versatile since you can use them in other parts of your home if you want.
Rugs are a must
There is no question about it – bohemian rooms are virtually never without at least one rug.
And the great thing is, you don't have to have amazing freshly refinished hardwood floors to have a beautiful boho bedroom – because the focus will be on the rug, not on the flooring itself.
No matter if you have hardwood, laminate, tile or carpet, a rug is going to play a huge role in creating the cozy bohemian feeling in your bedroom. In my own bedroom I noticed that the moment I laid down my rug, I instantly felt a huge change.
If you're lost as to what style of rug lends itself best to the boho look, then start with Persian and Moroccan rugs. You can also layer with jute rugs.
Start with a rug under your bed
Follow your basic interior design rules for rug sizing and placement:
If you have a queen-sized bed, you'll need a rug in any one of these sizes:
5′ x '8' rugs are great for small rooms, for example in smaller apartments. It's what I have under my bed and the size is perfect.

With a 6′ x9′, you'll have 2/3rds of your bed on the rug.

An 8′ x10′ rug will have all 4 of the bed's legs on the rug as well as the nightstands. If you have a particularly large bedroom, you could even go for a 9′ x 12′ to fill up more floor space.
If you have a king-sized bed, you'll need a rug in any one of these sizes:
6′ x 9′
8′ x 10′
9′ x 12′
If you're not buying standard size rugs (maybe you're shopping vintage), generally just remember this rule of thumb from HouseTipster:
The general rule for placement of rugs under beds is that a rug should extend 12 to 18 inches from the sides and foot of the bed (12 inches for a twin or full bed and 18 inches for a queen or king bed). If the room is large, the rug should extend even further out from the bed, but it should never extend out less.
Layer more rugs
You could stop there, but layering rugs is another great trick to up the boho ante.
Just make sure the colors of the different rugs play well together.
In addition to the main rug, I like to layer runners on either side of the bed in colors that compliment the main rug.
For example, I have this rug in my bedroom, paired with a tasseled wool runner in a muted terracotta color.
Artwork and wall hangings
There's only one rule here: don't keep your walls bare.
Hang large scale art to fill large spaces, or create a gallery wall of different images (that can include photographs of course).
You can of course also hang things that are not actual "images", such as intricate macrame wall hangings (very popular right now!) or vibrant handmade tapestries. As I already mentioned above, make sure to pick wall hangings that have weight and dimension to them. Thin, mass-produced tapestries can end up looking very dorm-like.
Heck, you can even hang hats and baskets on the wall!
I recently made my own vintage wall hanging out of an almost 100-year-old cloth that belonged to my great grandmother! Check out the easy peasy tutorial here!
Do you like it? Can you hang it on the wall? Then go for it!
YOU MIGHT LIKE: 17 EPIC WAYS TO DECORATE LARGE WALLS
And don't forget mirrors! Mirrors with beautiful ornate frames will look great either hanging or even propped up against the wall.
I'm hesitant to recommend any specific style of art because art is just so personal.
My recommendation is to find pieces of art or imagery that speaks to you in some way, that you enjoy looking at every day.
Some art styles that I love are graphic design prints from the 1930s and 1940s, expressionism and abstract minimalism … but I also love classical portraits, landscapes and more traditional art. And I would not hesitate one second to hang all of those things together in a bohemian setting.
Window treatments
If you've already got a lot going on in the bedroom in terms of pattern and color, you might want to keep the curtains more subdued. A sheer, white curtain will look fantastic, especially if your walls are also white.
For a little extra visual interest, you could look for a gauzy curtain with little white tassels or pom-pom detailing along the edges.
If using neutral curtains, you could also embellish with some ornate tie-backs. These boho tie-backs from blogger Jaclyn at One Thousand Oaks are incredibly easy and fast to DIY yourself!
On the other hand, if you're going for impact with your drapes, then you'll need to look at what your color scheme is.
Once you've established what the dominant color of your drapes will be, look for a bold, large pattern to make a statement.
Boho bedrooms love flowing fabrics so whether you choose to go for something neutral or something bold, just make sure it feels flowy.
Also: make sure you hang your curtains properly!
HERE ARE SOME BASIC CURTAIN HANGING TIPS YOU WON'T WANT TO MISS!
Plants
Plants are another absolute must for a boho bedroom.
Place your plant babies wherever you can: on the floor, on the furniture, on the window sill, on your shelves. And don't forget to hang your plants if you can. It will add beauty and vertical visual interest to your room.
Macrame plant hangers are a boho staple: they're easy to make on your own, and very cheap to buy.
If your bedroom doesn't get much light, get low-light plants like the snake plant or a peace lily. Or opt for faux plants if you want the greenery without the hassle.
One lovely way to display plants in a boho bedroom is to grab a long floating shelf and just fill it with pots of trailing plants.
This looks really impressive on the wall above the headboard.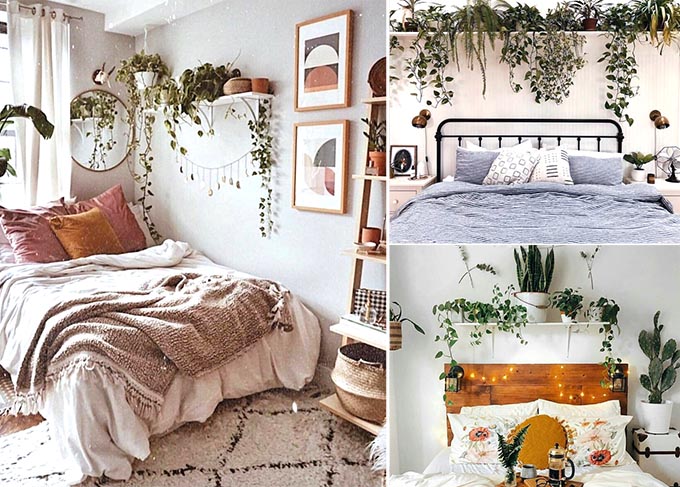 NEED PLANT IDEAS? CHECK OUT THESE SUPER EASY-CARE INDOOR HANGING PLANTS!
Night tables & dressers
You DON'T need matching furniture, in fact, you probably want to avoid it altogether. Mixing and matching your furniture is a great way to infuse those boho feels into your room.
If you can incorporate a vintage piece into the mix, it will help soften the feel of the room.
For the boho look, I'd recommend staying away from any overly glossy, lacquered surfaces and veering more towards elements constructed out of wood. Your furniture's surfaces don't have to be perfect; there is something very cozy and inviting about raw, distressed materials, so embrace the chips and cracks if there are any.
Flaws can be beautiful!
For example, if you find a nice vintage wooden dresser, but it has water stains or damage on the top, well, you could refinish it … or you could just drape a lovely piece of patterned fabric or raw silk over the top.
Search for your nightstands and dresser at flea markets, garage sales and used goods platforms like Craigslist and Facebook marketplace.
Or don't use a nightstand at all: get creative and use a vintage chair or a stack of books. You don't have to have matching nightstands, each one can definitely be unique.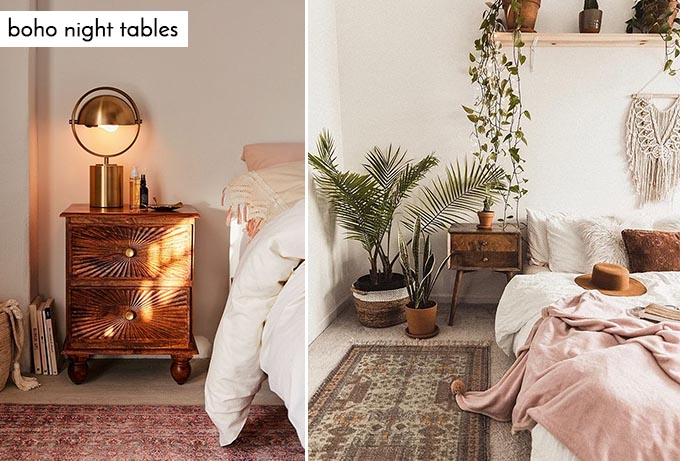 Lighting
What is your current overhead light situation? If you have the standard "boob" light, are you able to swap it out for a chandelier or pendant light?
A beaded, woven or rattan pendant light with a warm bulb will look great in your bedroom.
One classic boho pendant light you will see time and time again in boho bedrooms (and other rooms) is the Sinnerlig bamboo pendant lamp from IKEA. Works everywhere.
Unfortunately in our rental, we're not able to swap out the overhead light, so instead, we use other smaller light sources in the bedroom.
For your bedside lighting, if space is at a premium, instead of table lamps you can use armed sconces that attach to the wall. This frees up space on your side table (if you have one) and looks fantastic.
String lights are of course the quintessential boho lighting staple. You can string them above your headboard, over paintings, draped around your plants, around a mirror… String lights can pretty much go anywhere and look great.
Also consider places where you can add lanterns, smaller table lamps and perhaps even a floor lamp if it makes sense.
Lots of small areas with warm light sources will create an inviting bedroom that you will want to spend time in.
Groups of scented pillar candles here and there also never hurt!
Check this post for more info on how to make your home cozy through the use of lighting!
Get the boho bedroom look
For some inspiration, here are a few boho-style bedrooms that you can recreate yourself.
To find out how, just click on the images to go to straight to the room redos!
What's a room redo? I hand-pick images of beautiful rooms and find similar items at affordable prices to recreate luxurious spaces at a fraction of the cost. Here's a full list of all my room redos.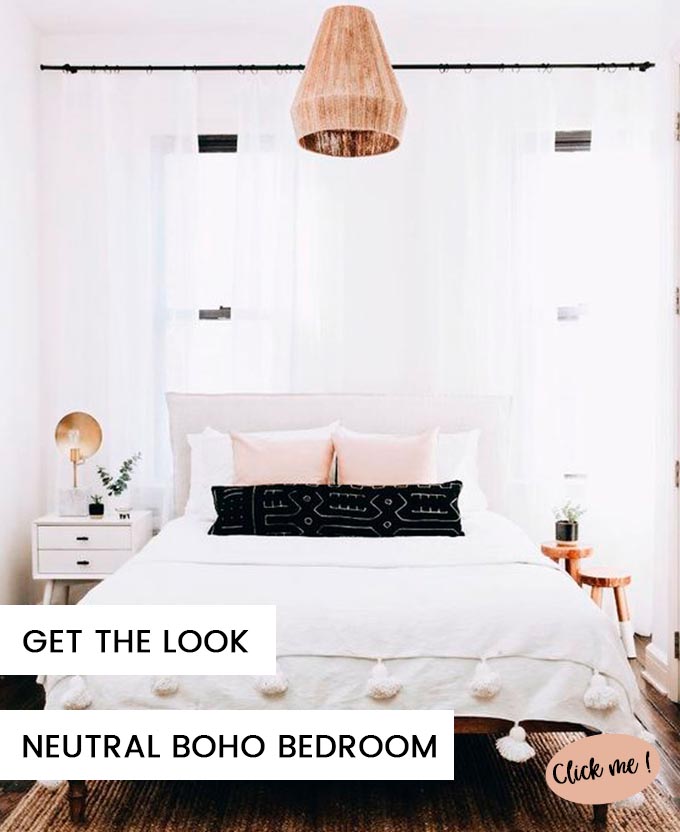 ---
I really hope you enjoyed all these bohemian style bedroom ideas. If you decide to implement any of them, I'd love to know!
Next up: all the cheapest places to shop for boho decor!