How to use Benjamin Moore Revere Pewter in 2023
This post may contain affiliate links. If you make a purchase through one of my links, I may make a small profit at no expense to you. For further information, please view my policies.
Revere Pewter HC-172 by Benjamin Moore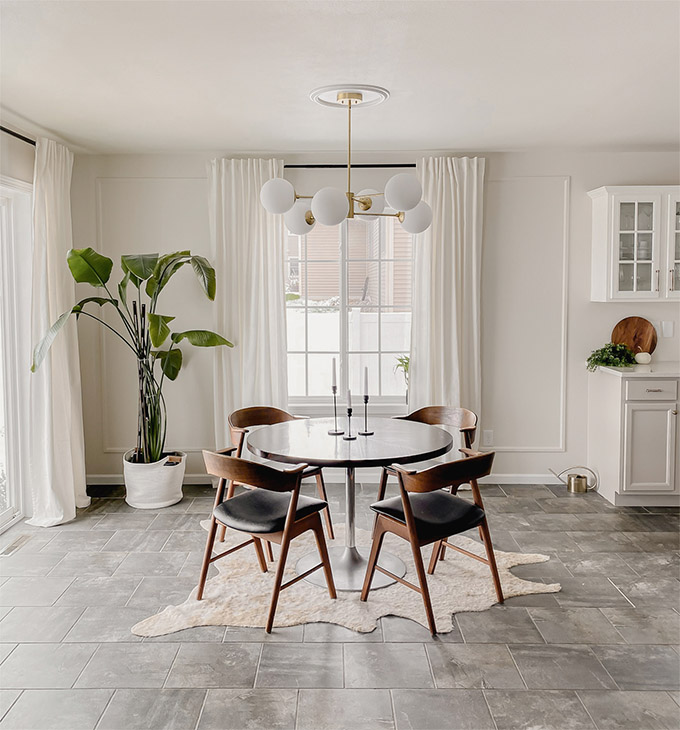 If you've been searching for the perfect greige paint, then it's likely you've heard of Benjamin Moore's Revere Pewter. It's been a very popular gray paint among interior designers for over a decade. It's definitely listed up there as one of the best gray paint colors.
In the past, it was even believed that painting your home in Revere Pewter would guarantee a fast sale. And maybe it did! That belief alone was a huge selling point, which got every homeowner and realtor turning to this magical color before any other paint.
Because it was so incredibly popular, many people now associate RP with that period in time (circa 10/12 years ago). So you may have heard that it's now a dated paint color.
But you can 100% use Revere Pewter successfully in your home in 2023 and still have it work beautifully!
What you probably really want to know whether or not this paint is going to work in YOUR space.
While there is no universally perfect paint color, hopefully this article can arm you with the information you need and help you decide whether or not Revere Pewter is the right paint color for you!
What Color is Revere Pewter Benjamin Moore?
According to the Benjamin Moore website, "Revere Pewter is a light gray paint with warm undertones". Don't worry, we'll talk more about undertones later 'cause they're super important! They also go on to say that it works particularly well for open floor plans.
But Revere Pewter is much more than just "gray". It's a truly fascinating paint because it has so much range to it. Grays can be particularly tricky because they act like "chameleon" colors, and Revere Pewter is no exception.
Revere Pewter is sometimes described as "muddy". This can scare people off because the term muddy has a negative connotation. In reality, the phrase "muddy color" is just a term used to describe grays, browns and other "mixed", desaturated colors – there's nothing bad about it. It just means that it's not a clean and pure, vibrant color!
It's crucial to keep in mind that gray/beige/greige paints will change dramatically based on what exposure your room has, what kind of artificial lighting you're using, and even the color of the flooring, furniture and decor that is used in your space.
So just because Revere Pewter looks perfect in a photo on Pinterest, it doesn't mean it's going to look that way in your own home! There are a lot of factors that determine how a color plays in a room. Not to mention the professional lighting, staging and post processing that happens in professional photography. So just remember that when you're looking at photos online or in magazines.
Revere Pewter Undertones
(If you don't know what undertones are, then read this post!)
It might seem counterintuitive that a paint with green undertones would be considered warm – after all, isn't green a cool color?! Well, it depends which green you're talking about! In the case of Revere Pewter, the undertone is comparable to an olive green, which is a warm green. Hence the color being considered a warm greige.
I would say about 85% of the time, this gray paint will appear to have a slight tinge of green to it, giving it an earthy, desaturated, mellow & dulled-down feel. If this is something that bothers you, then you'll probably want to stay away from this paint! Or, you may not even notice the green undertones at all. It depends how sensitive you are to color!
I'd also advise against using Revere Pewter in a room with pink toned tiles or carpet. Color behaves in relationship to the colours surrounding it. Because red and green are complementary colors, if you pair a paint with green undertones to a floor with pink undertones, your walls will just end up looking very green and your floors very pink.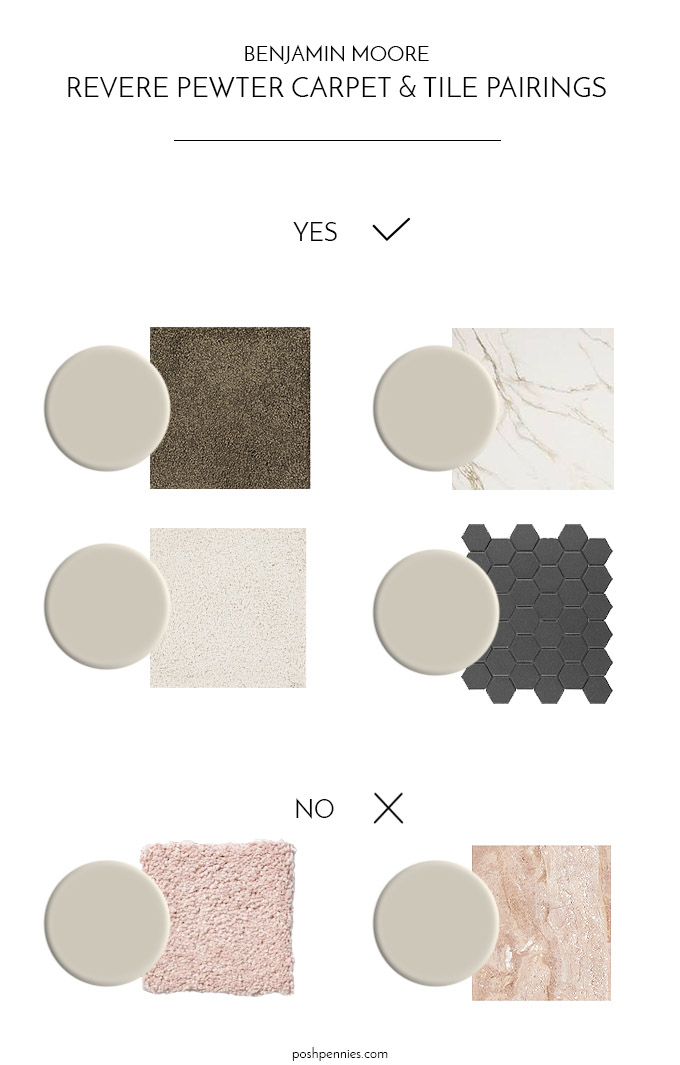 What colors work well with Revere Pewter?
What color looks good with Revere Pewter? This is a super common question. It's understandable that so many people would be interested in an answer to it – picking paint can be a bit overwhelming!
I think the main reason people keep turning to BM Revere Pewter is due to its versatility.
About 10 years ago, people were mainly pairing sage greens, shadowy blues and browns with Revere Pewter. While these were beautiful palettes, they do feel a little dated now.
It's still possible to use RP in a contemporary way in our decade – and let me tell you, it looks like a completely new color! I think it looks best paired with deep, bold colors that provide a pop of contrast to the gray.
Here are some of my favorite modern Revere Pewter color pairings:
BM Revere Pewter + BM Wrought Iron
BM Revere Pewter + BM Hale Navy
BM Revere Pewter + BM Chelsea Gray
BM Revere Pewter + BM Green Grove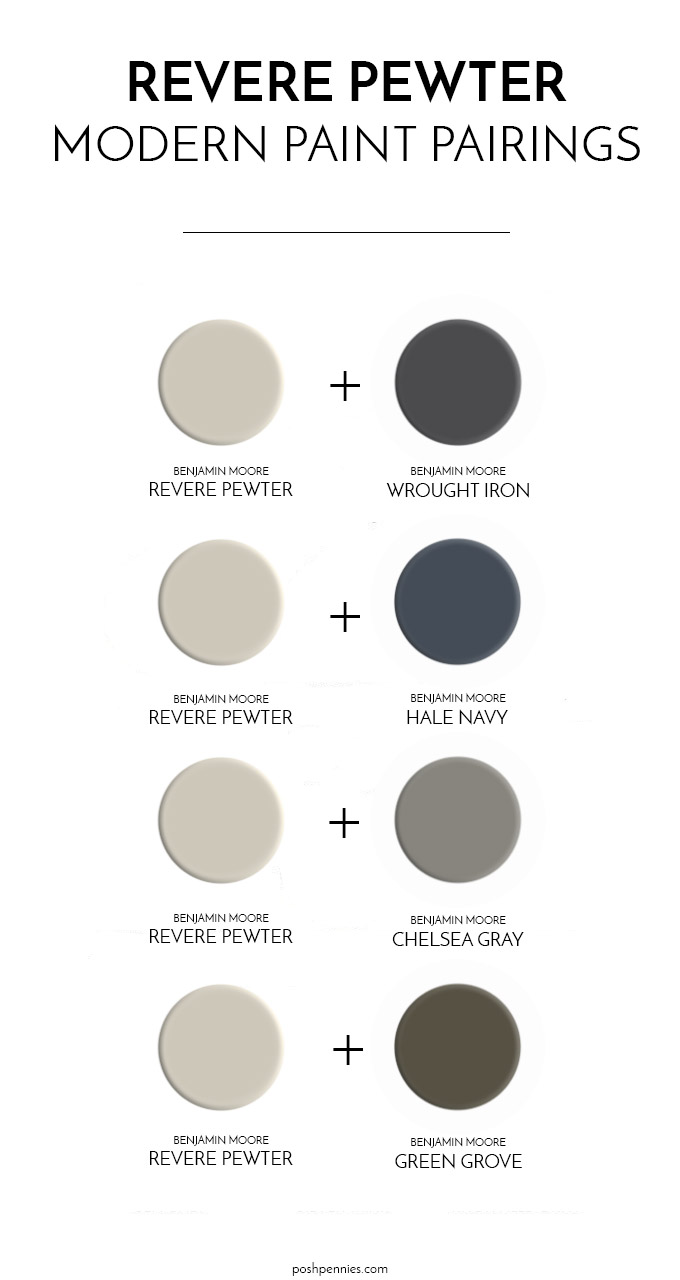 Best whites to pair with Revere Pewter
If the modern color combinations I mentioned above won't work for your situation, but you're still going for a contemporary take, it is still possible to use Revere Pewter: I would recommend pairing it with a heavy dose of white.
Here are all the best whites to pair with Revere Pewter:
BM Revere Pewter + BM Swiss Coffee (off white, creamy)
BM Revere Pewter + BM China White (off white, creamy)
BM Revere Pewter + BM White Dove (warm white)
BM Revere Pewter + BM Ivory White (warm white)
BM Revere Pewter + BM Chantilly Lace (clean, neutral white, neither warm nor cool)
BM Revere Pewter + BM Simply White (multi-purpose white)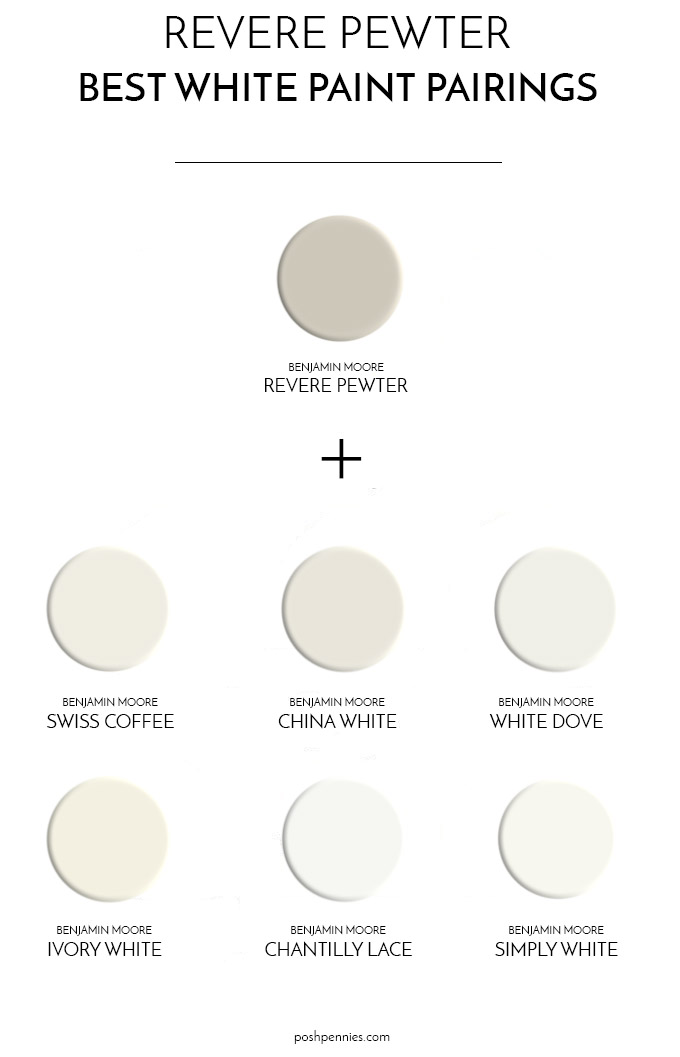 What's the best trim color with Revere Pewter?
If you're looking for a white trim to pair with a Revere Pewter room, you can look to any of the white paints I mentioned above.
Also make sure to look at what undertones are in your drapes and other elements in your room when choosing your trim paint.
What is the Light Reflectance Value of Revere Pewter?
LRV expresses the percentage of light reflected from a surface.
LRVs range from 0-100, 100 being pure white and 0 being pure black.
Revere Pewter's LRV sits at 55.51, so right in the middle in terms of how much light the colors reflects, and how much light the color absorbs.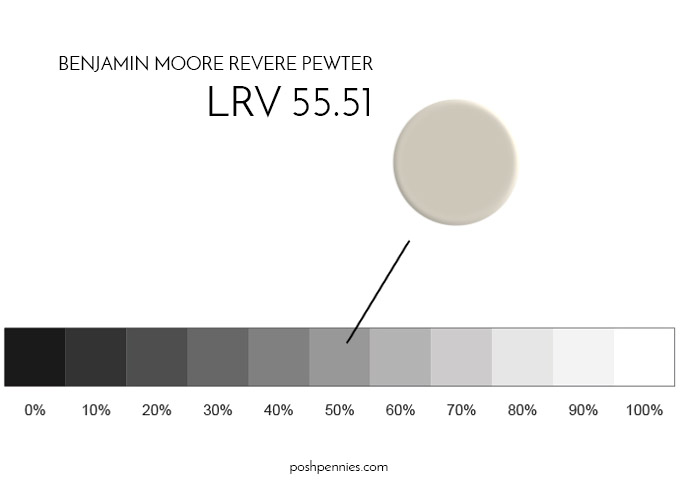 What does this actually mean though?
Well, if you are considering Revere Pewter for a room that doesn't get a lot of light, you should remember that this color doesn't reflect an insane amount of light (since it's right in the middle of the LRV range).
So if you're looking to brighten your room, this wouldn't be the best paint choice – you'd want to opt for a paint with a higher LRV (paints above 60+ LRV).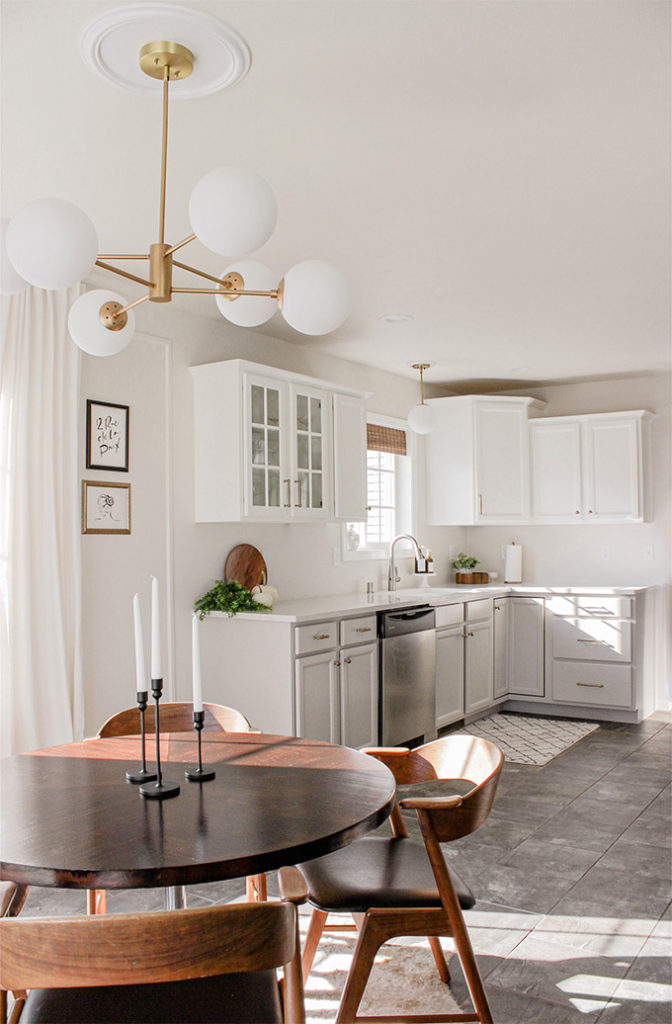 Revere Pewter vs Agreeable Gray
Sherwin Williams Agreeable Gray has a higher LRV than Revere Pewter, sitting at 60, which means it is a brighter color and reflects more light overall.
Agreeable Gray is a cooler paint and also tends to have cooler, purple-ish undertones.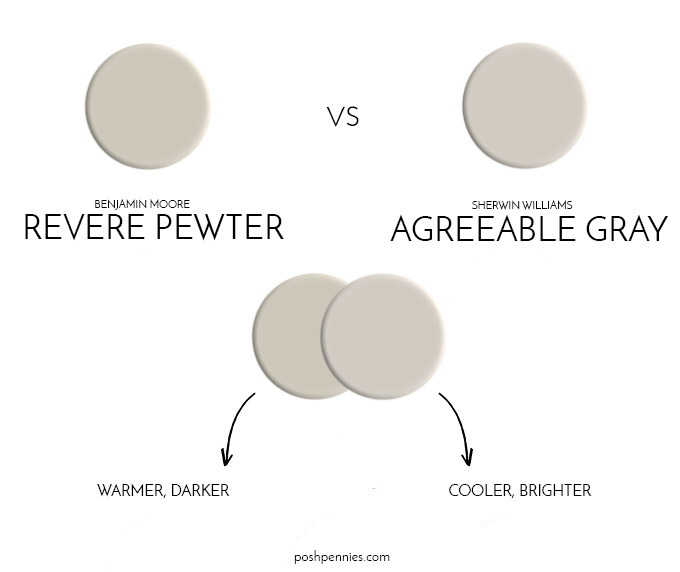 In short, Revere Pewter is slightly darker and warmer, and Agreeable Gray is brighter and cooler. When you hold the two swatches side by side, it might not seem like a huge difference. However on a large wall, these colors will look incredibly different! So choose carefully 🙂
There is a great post with lots of photos detailing the differences between these two paints. I recommend you check it out if you are not sure which gray is best for you.
TLDR: Agreeable Gray = brighter, cooler than Revere Pewter
Revere Pewter vs Accessible Beige
Sherwin Williams Accessible Beige also has a slightly higher LRV than Revere Pewter, coming in at 58. So overall it's an ever so slightly brighter paint. It has pinky/gray undertones.
The main difference between these two greiges is that Accessible Beige is a warmer gray than Revere Pewter.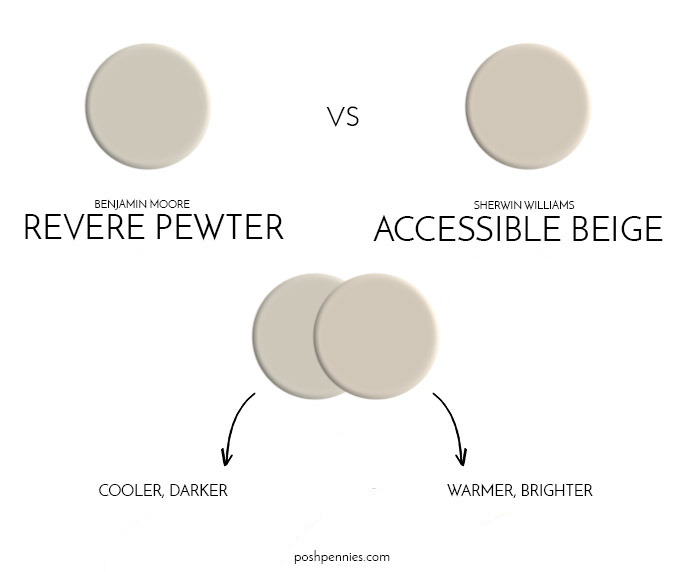 TLDR: Accessible Beige = brighter, warmer than Revere Pewter
How to use Revere Pewter in 2023
I've seen Revere Pewter work really well in homes that favor a more traditional decor style. The soft, warm yet desaturated quality of this gray paint really compliments curved furniture, moldings and rich wood tones.
It could also work well with traditional farmhouse decor or even modern farmhouse (if paired with the right colors).
Even though RP is not the newest "paint kid" on the block, there are definitely still a lot of opportunities to tie it into contemporary color schemes.
So that begs the question, where can you use Revere Pewter Benjamin Moore?
I've got to be honest with you, my favorite place to use Revere Pewter nowadays is not on the walls, but actually on cabinetry!
Greige cabinets work beautifully paired with crisp, white walls, brass accents and black window frames. In the kitchen, paired with a marble countertop, it also looks gorgeous.
Need some proof? Check out the photos below!
Kitchens
Using Revere Pewter on the kitchen cabinets is probably my favorite place to use this color.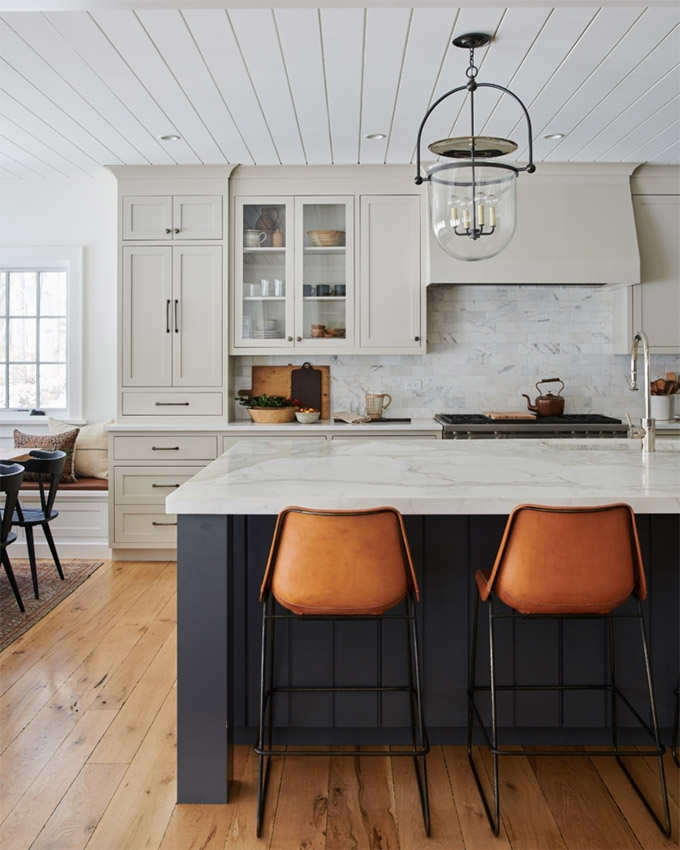 Laundry room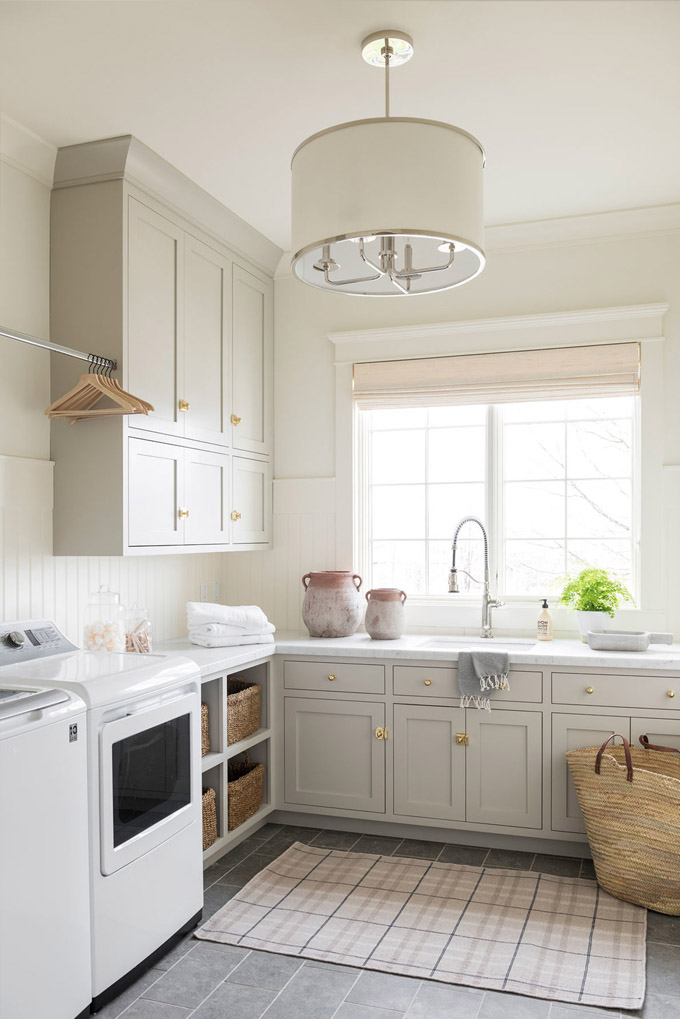 On your interior doors
Paint your doors with RP and pair with a beautiful warm white – this is similar to what Zenia from Style it pretty home did, and it looks amazing! She used a paint from Sherwin Williams called Into the Gloaming, which is very similar to Revere Pewter.
On the trim
This home owner decided to do all her interior trim and doors in Revere Pewter, and kept the walls white. It's an interesting and original idea, as most people are accustomed to seeing the opposite, ie white trim on colored walls.
Exteriors
Another fantastic place to consider using Revere Pewter is on your home's exterior.
A note about the trim color above: I've had a lot of questions about the color of the trim in the photo above. Unfortunately, I don't know what color it is! The home pictured isn't mine, and I did not pick the paint colors, so I can't say for sure what white paint is on the trim. I have tried to find online records of what color was used for the trim and have not found any information. I would have included it if I knew! My recommendation is take this photo to your local paint expert and ask them what they think, their guess is as good as mine! Then get samples and test things in real life. Never base paint decisions on photos.
Other common questions about Revere Pewter
Is Revere Pewter gray or beige?
Revere Pewter is neither gray nor beige; it is considered a "greige" paint! In darker rooms it appears more green, in lighter rooms it looks more like a neutral, warm gray.
Is Revere Pewter too dark?
This is very subjective, and if you've been reading this post, you'll know that the answer to this question depends on a lot of different factors! I personally find RP to be a little too dark of a greige. If you feel the same way but really love the color, you can always try lightening it by 50% and see if that works better for you.
But ultimately, the way this color plays will depend on how much light your room receives (and what type of light).
Don't just take my word for it! Laurel Bern shared an amazing demonstration of this strange yet very real phenomenon. The 2 side-by-side rooms shown below are both painted with Revere Pewter and yet look DRAMATICALLY different due to the different exposures (the room on the right having a northern exposure).
My recommendation is to grab a sample pot, paint 2 coats on a piece of white poster board and then move the poster board around your room. Observe the way the color looks in your room at different times of the day. Also make sure to look at it with both natural and artificial lighting. Then decide.
Is Revere Pewter dated?
A paint color itself can't really be dated. It's the application of it, and the other elements surrounding a particular paint color that can make it look outdated.
So while Revere Pewter might be reminiscent of the late 2000s/early 2010s, it's only going to look "dated" if you continue to pair it with the same colors and decor that was being used in that time period.
If you like this paint color and it works for your home, you should go for it!
Color Recap
Revere Pewter is a beautiful, albeit tricky gray to work with. Like many gray paints, it is an INCONSTANT color. This means that it shifts dramatically based on the type of light source around it and other influencing factors in the space.
If the quality of light in your room has a nice, balanced mix of all the visible wavelengths, Revere Pewter will appear like a neutral, warm gray color. And if your inherent light source is cool, like blue or green, then Revere Pewter will in turn also appear blue-ish or green-ish.
– if you are looking for a fresh, clean gray, then Revere Pewter is not the ideal choice for you.
– if you are looking for a gray with cool undertones, Revere Pewter is not the ideal choice for you.
Final Thoughts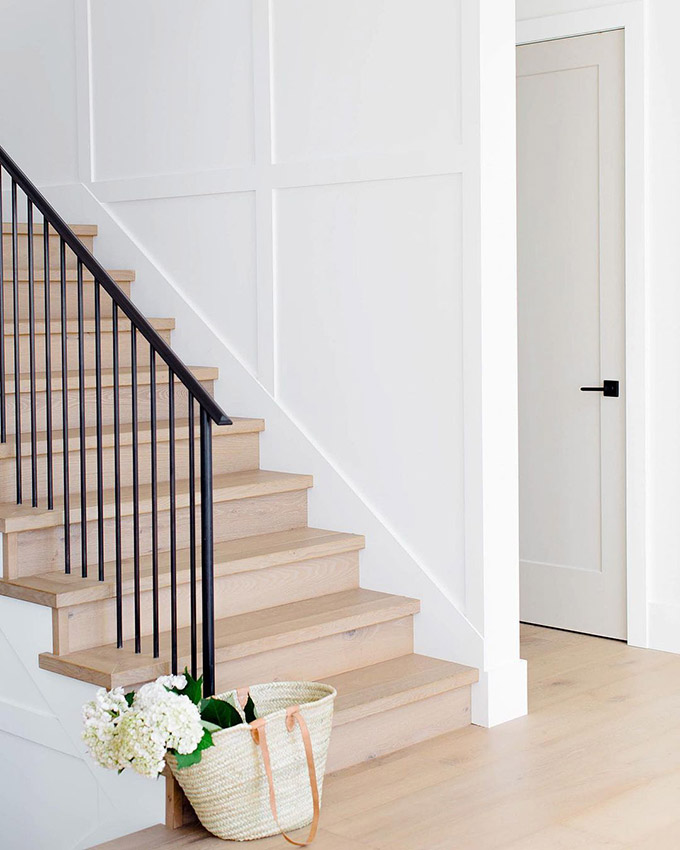 My final 2 thoughts are:
I would prefer to use this color in a very bright room (ie south facing), where it appears as a warm, creamy greige. I find RP can be a little too tan or green in darker rooms and it becomes a little overbearing without enough light hitting the walls.
I would experiment with RP in other ways rather than on your walls. Try reinventing Revere Pewter on your doors, trim, cabinetry, painting individual furniture pieces and on exteriors. You might be surprised at the results!
What are your thoughts on this mythical paint color? Have you used it in your home, or are you considering using it? I would love to hear your thoughts!