Benjamin Moore Swiss Coffee: A Timeless Paint Color
This post may contain affiliate links. If you make a purchase through one of my links, I may make a small profit at no expense to you. For further information, please view my policies.
Benjamin Moore Swiss Coffee OC – 45
Benjamin Moore Swiss Coffee is the golden-ticket of paint colors. Go-to choice for decorators and homeowners alike, this off-white wonder delivers its reputation for versatility and warm undertones. You can never go wrong with this timeless shade! Read on to find out if it's the right paint color for you!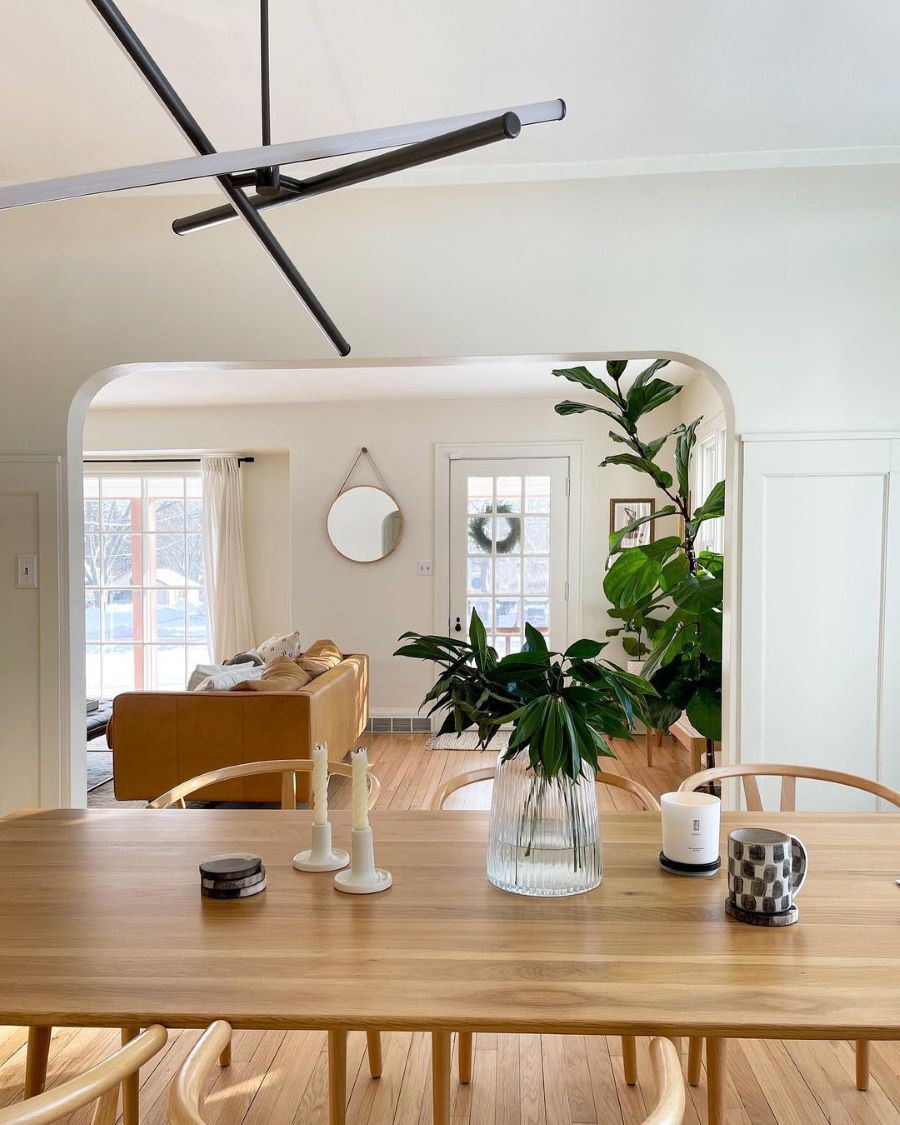 Let's delve into the reasons why Swiss Coffee is so popular, explore the colors that go well with it, examine its undertones, and other various aspects related to Benjamin Moore Swiss Coffee. Maybe this is the color you've been looking for!
Why Is Swiss Coffee Paint So Popular?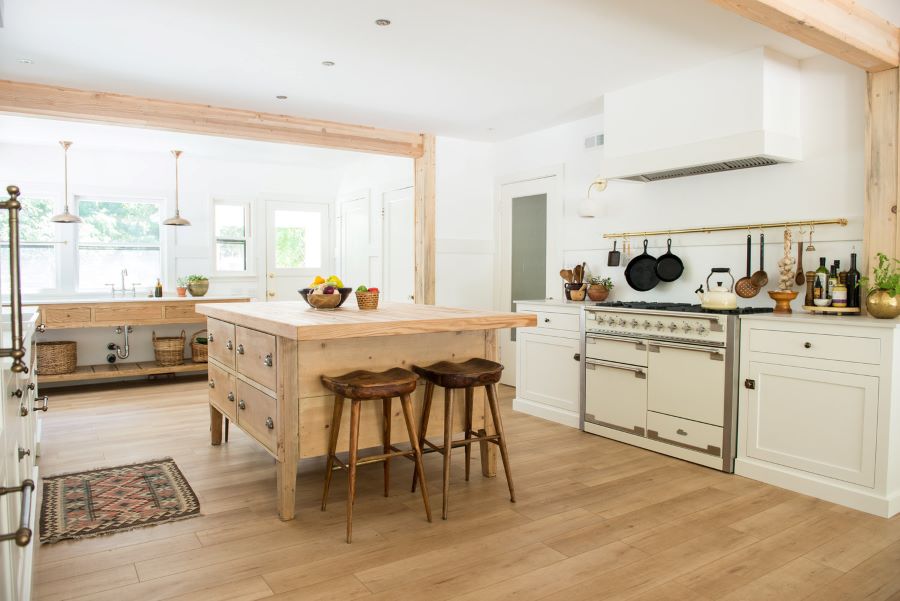 Swiss Coffee paint has gained popularity in recent years for several reasons. One of the primary reasons is that Swiss Coffee is a neutral, off-white color that pairs well with a wide variety of other colors. Its neutral undertones make it a great option for creating a blank canvas.
In addition to its versatility, Swiss Coffee has the ability to make a space feel brighter and more open. Its ability to reflect natural and artificial light gives a room the coveted light and airy look that the internet is always buzzing about.
This has been expertly done through out the home of Studio McGee, which I'm sure has contributed to Swiss Coffee's popularity. You'll be able to see examples of Studio McGee's Swiss Coffee painted home throughout this article.
What is the Light Reflectance value for Swiss Coffee?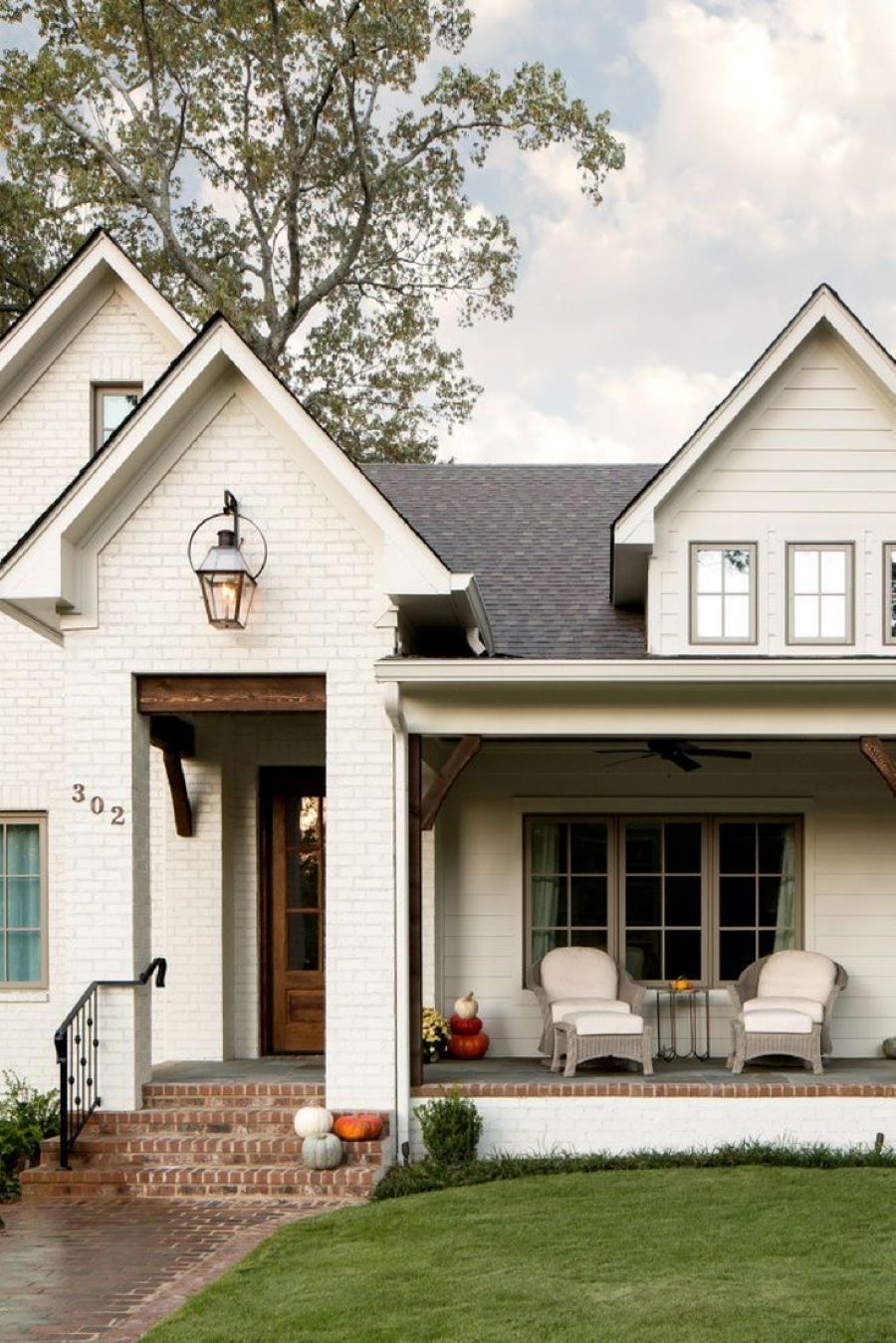 Light Reflectance Value (LRV) is a measurement of how much light a paint color reflects. It is an important factor to consider when choosing a paint color for a room. The LRV impacts the overall perceived brightness and ambiance of the space.
According to Benjamin Moore, the light reflectance value for Swiss Coffee is 81.91. This is relatively high compared to other neutral paint colors. This means that Swiss Coffee reflects a lot of light. Its high LRV means the color has the ability to reflect all types of light, which can make a room appear larger and more open.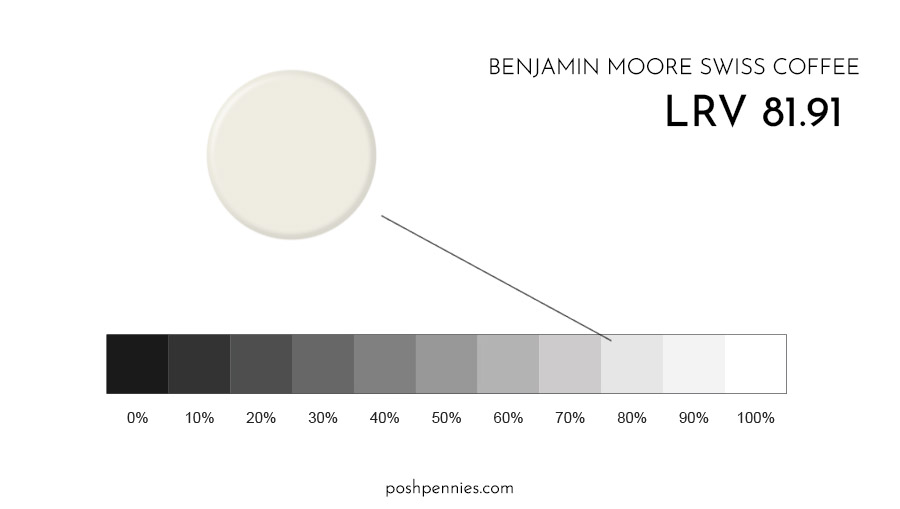 While the LRV of a paint color is very important when considering the use of a color in your space, there are other factors that should be taken into consideration as well.
You'll want to consider your rooms orientation, the type of lighting used and/or the amount of natural light, plus the colors that may already be involved in the space. Don't worry, I'll walk you through all of this as we get farther into the post.
Colors That Go Well With Swiss Coffee
Let's consider the colors you may be using in your space along side Swiss Coffee.
Swiss Coffee is a flexible paint color that pairs well with a wide range of colors. I see it used most often with other neutral colors, making a room feel bright while still giving you thoughts of curling up with a cozy throw blanket.
It can also be fun to take Swiss Coffee and add some color. Like in the photo above, Swiss Coffee can easily be paired with blues, pinks, and yellows for a boho-eclectic look.
Here are some of my favorite Swiss Coffee color combos:
Swiss Coffee + Coventry Gray
Swiss Coffee + Vanderberg Blue
Swiss Coffee + Flora
Swiss Coffee + Viole Pink
Swiss Coffee + Fossil
Swiss Coffee + Revere Pewter
If you're looking for a super comprehensive Swiss Coffee paint pairing guide, I highly recommend checking out Sarah Karon's digital paint guide on Etsy. It provides a whole house paint palette, making the selection process a breeze. No more guesswork needed! With this guide, you can feel confident in your color choices and create a cohesive look throughout your home. Check it out by clicking on the image below.
What Are Swiss Coffee's Undertones?
Undertones are the subtle colors that can be found within a paint color. Understanding undertones is crucial when selecting a paint color, as they can affect the overall appearance of a room.
Swiss Coffee is a neutral paint color with gray, yellow, and green undertones. The warm undertones give the color a slightly creamy or yellowish hue, which is what makes Swiss Coffee such a cozy and welcoming paint color.
When selecting colors to pair with Swiss Coffee, it's important to keep the more yellow undertones in mind. Colors with similar warm undertones, such as beige or warm soft grays, will create a coordinating and harmonious color scheme.
It's also possible to pair Swiss Coffee with cooler tones, such as blues or greens, to create a balanced and visually interesting look that gives off an earthy vibe. Some people believe that Swiss Coffee clashes with cooler colors but I say give it a try and see how it feels before discarding it as an option.
It's worth noting that when Studio McGee used Swiss Coffee in her home, she lightened the paint with white because at full strength she felt it was pulling too yellow. There are several examples of Swiss Coffee paired with dark navies and charcoals throughout the McGee home (such as in the pic below) and as you can see it works beautifully. But be aware that if you do choose to pair Swiss Coffee with cooler colors, the yellow undertones may become much more apparent.
Is Swiss Coffee A Warm Or Cool Paint Color?
Interior design experts often categorize colors into two main groups: warm and cool. Warm colors, such as red, orange, and yellow, are often associated with the sun, fire, and warmth. They are known to bring energy, excitement, and intimacy into a room. Cool colors, like blue, green, and purple, on the other hand, are associated with water, sky, and nature. These colors can create a feeling of calm, relaxation, and serenity in a space.
Through all of my talking you've probably already gathered that Swiss Coffee is a warm color. It's yellow undertones give it that creamy look that brings warmth to a room. This warmth is what makes it a color that is most commonly used in neutral settings and is particularly popular in farmhouse decor, where it plays beautifully with elements like natural woods and gray stones.
Similar Colors To Swiss Coffee
If you're considering Swiss Coffee for your interior design project but are not sure if fits your needs, there are a few similar paint colors to consider.
One popular color that is similar to Swiss Coffee is Alabaster by Sherwin Williams. Like Swiss Coffee, Alabaster is a warm white with subtle creamy undertones. However, Alabaster has a slightly cooler undertone, giving it a more modern and fresh look.
Another option is White Dove by Benjamin Moore. White Dove is a warm white with a slight gray undertone. While it's not as creamy as Swiss Coffee, it still has a warm and inviting feel that works well in a variety of design styles.
Simply White by Benjamin Moore is another warm white that is similar to Swiss Coffee. It has a slightly more neutral undertone than Swiss Coffee and has an even higher LRV. Simply White is great option if you are wanting a more modern or minimalist design.
Navajo White by Behr is another excellent option. It is a warm white with a slight pink undertone. It's pink undertones may make it a better option for pairing with light and bright pinks, blues, and greens.
Crazy enough, Benjamin Moore and Sherman Williams also have a color named Navajo White and they are all VERY similar. This is actually common among paint companies. You'll find this is the case with our beloved Swiss Coffee as well. A lot of brands give their paint colors the same names. The colors tend to be very similar to each other but will have slightly different Light Reflective Values and undertones. Just something to keep in mind while you are shopping for paint.
Which Off White Paint Color Is Best For You?
Okay, now that you've realized how many different off white paint colors there are, how are you going to choose the right one!? Is Swiss Coffee really your color? I know that staring at a wall full of color swatches can be a bit overwhelming. While paint can always be changed, you don't want to have to be painting again in just a few short weeks because you chose a white with too much of a green undertone for your current sofa (just as an example!).
Luckily for you, I've already written a post that will tell you exactly How To Pick The Perfect White Paint color. If you're feeling hesitant about choosing Swiss Coffee as your color I would jump over there and read that before making your final decision.
Ultimately it comes down to what kind of look you are trying to achieve in your room. Are you starting from scratch or are you dealing with furniture and décor that you already have? Are you working with an already existing color scheme and fabrics or are you building around your paint color?
Really, the best way to choose the right paint color is to test different options in the room itself. Make sure to take into account the natural lighting, surrounding colors, and overall design aesthetic.
While testing paint colors in your space is the most accurate way to choose. It may not be the most realistic. So, if you are still having trouble narrowing it down and aren't convinced that Swiss Coffee is the color for you, don't worry, I've got you!
I've narrowed it down to 5 No Fail White Paint Colors. Choosing from 5 colors should be less overwhelming for you than a wall full of off white paint swatches.
Benjamin Moore Swiss Coffee VS White Dove
Let's take a closer look at the differences between Swiss Coffee and a few of the popular whites that I mentioned earlier.
While Swiss Coffee and White Dove are both popular paint colors from Benjamin Moore, they have some distinct differences.
Swiss Coffee is a warmer color with creamy undertones, while White Dove has cooler undertones that can give it a gray or beige appearance depending on the lighting. This makes White Dove more suitable for creating a contemporary or modern look in a space.
In terms of Light Reflectance Value (LRV), Swiss Coffee has an LRV of 81.91, which means it reflects a good amount of light, making it a bright and airy color. Similarly, White Dove has an LRV of 85.38, which means it reflects even more light, creating an even brighter and more open feeling in a space.
When it comes to pairing colors with Swiss Coffee and White Dove, they both work well with a variety of colors. However, Swiss Coffee tends to pair better with warmer tones, while White Dove can work well with cooler tones.
I'd say that you really can't go wrong with either color. If you want your focus to be warmth and comfort I'd go with Swiss Coffee. If you want a brighter and more contemporary feel, White Dove is the better option.
Swiss Coffee VS Simply White
Alright, now lets chat about Swiss Coffee and Simply White. Simply White is wildly popular and easily comparable to Swiss Coffee. While they are both shades of white, they do have many distinct differences that make them unique.
Swiss Coffee's warm undertones give it a creamy and cozy appearance. Simply White, on the other hand, has ever so slightly cooler, or what I would call more "grayed out" undertones.
Simply White has an LRV of 89.52, which makes it one of the brighter white paints available. If you want an extremely bright and crisp look, that still has a hint of warmth, go with Simply White. If you want something warm and bright but less stark, go with Swiss Coffee.
Both colors pair well with multiple color schemes. As I've mentioned many times, Swiss Coffee is the way to go if you want warm colors to be the focus.
If you can't bring yourself to choose between the two, use them both! Swiss Coffee pairs really well with Simply White as the trim color for a very classic look.
What Trim Color Goes With Benjamin Moore Swiss Coffee?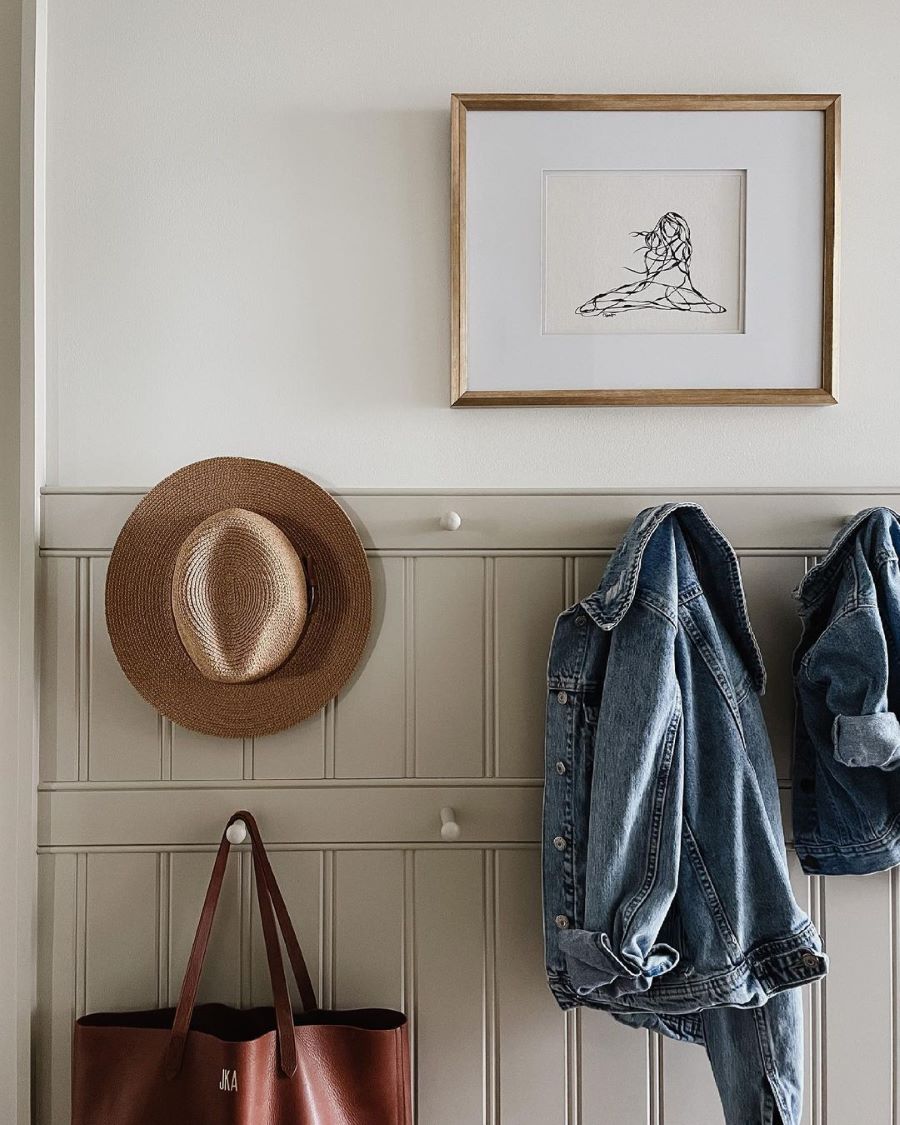 While Simply White may be a go to trim color for Swiss Coffee, you may want to move away from the popular trend of stark white painted trim. If this is the case consider incorporating Swiss Coffee with something other than white.
For a more modern and sophisticated look, greige trim can be a great choice with Swiss Coffee. Revere Pewter would be a good place to start experimenting with this type of pairing. Below is an example I found that uses Swiss Coffee on the walls and Revere Pewter on the trim and wainscoting – unfortunately I'm not sure who the image belongs to!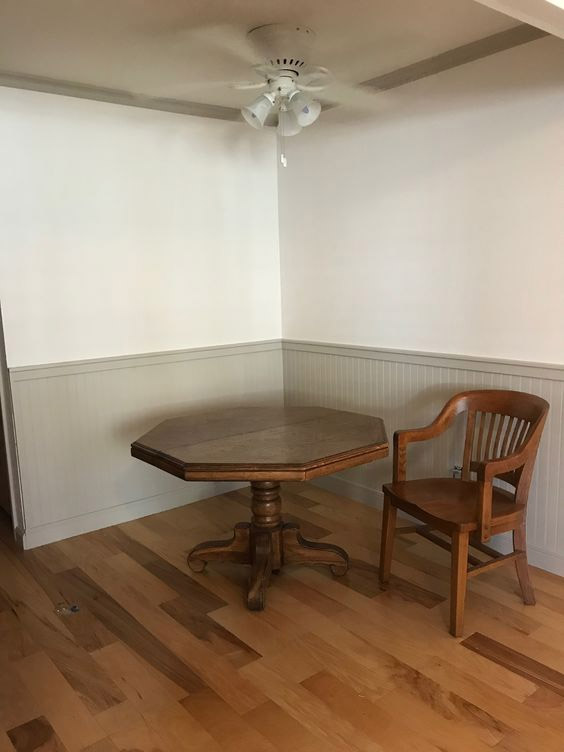 A basic beige color such as Accessible Beige by Sherman Williams also looks stunning as the trim paired with Swiss Coffee. It gives off a warm homey feel that makes you want to sit and stay for a while.
If you use Swiss Coffee on the walls, you could also consider using Swiss Coffee for the trim as well. Just make sure your trim paint sheen is glossier than your walls.
Kitchen cabinets and trim can also look gorgeous painted in Swiss Coffee. I personally think it's a nice alternative to the ever-popular white kitchen cabinets because the warm undertones of Swiss Coffee make the kitchen feel a tad bit cozier.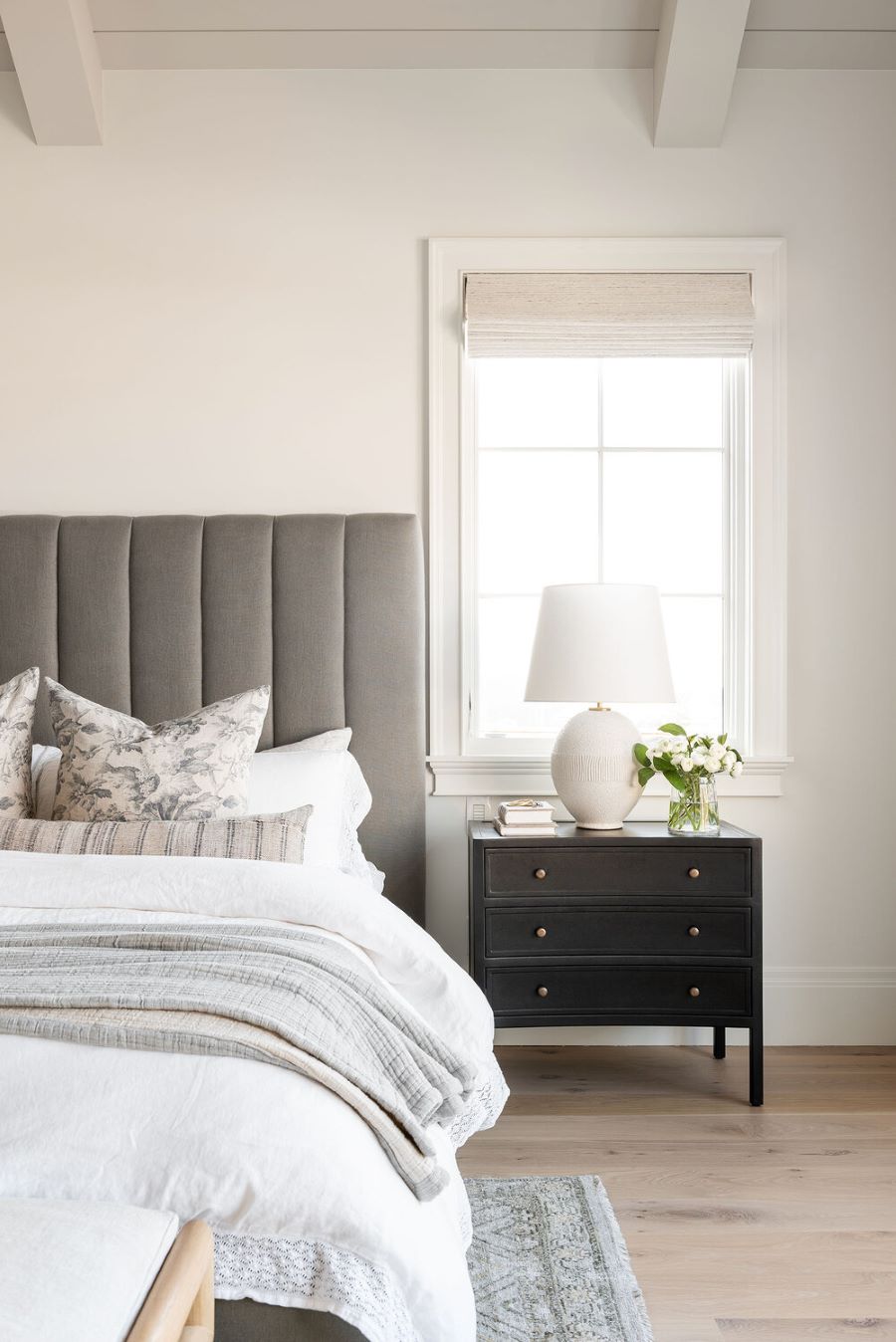 Check out these other paint color options: