5 crucial things to Do When Moving into a New Home
I was not paid to write this post, however, it may contain affiliate links. If you make a purchase through one of my links, I may make a small profit at no expense to you. For further information, please view my policies.
When you move into a new home, it feels like there are a million and one things you need to take care of!
If you're lucky, you might have gotten to use professional movers and even car shipping companies in some cases! If you're on a tighter budget, you may have had to rely on friends to help you move, with the promise of free beer and pizza. 🍺🍕
No matter what your personal moving logistics look like, it can be a lot to handle!
Unpacking all your boxes, getting your furniture in place, and making your new house feel like home can take months. I've even heard some say it can take up to 2 years to make a new house really feel like home! Anyways, it doesn't all come together in one day as soon as you move in!
Once you're finally inside the house and surrounded by a hundred and one cardboard boxes, you realize that not only do you now need to unpack everything, but you'll also need to decorate this whole place somehow! help! 😱
Suffice to say, moving into a new home can be a lot of work, so today I want to try and take some of the stress out of it by sharing some essential things you should do when moving into a new home. And definitely you'll want to do these things before you started decorating!
1. Do a Walkthrough of Your New House
When you finally get the keys to your new house, it's natural to want to dive right in and start making it your own! I know I always feel this way.
However, before you start unpacking boxes or hanging pictures, it's important to do a walkthrough of your property. This will help you determine how you can best arrange all your existing furniture and belongings.
First, take a look at the layout of each room and think about how you want to use each space, and identify any potential obstacles. Like a sloped ceiling, a window still that sticks out more than you thought, or a radiator that you can't place anything in front of.
You wouldn't want to haul a heavy sofa up the stairs and into a room where it doesn't actually fit! Seems obvious, but believe me it happens.
By taking the time to do a walkthrough of your new house, doing some quick planning and measuring, you can save a lot of energy (and in some cases, your back!).
2. Think about Style
Before you begin the process of decorating your home, it's important to take some time to think about your overall vision, and what style you envision your new house being in.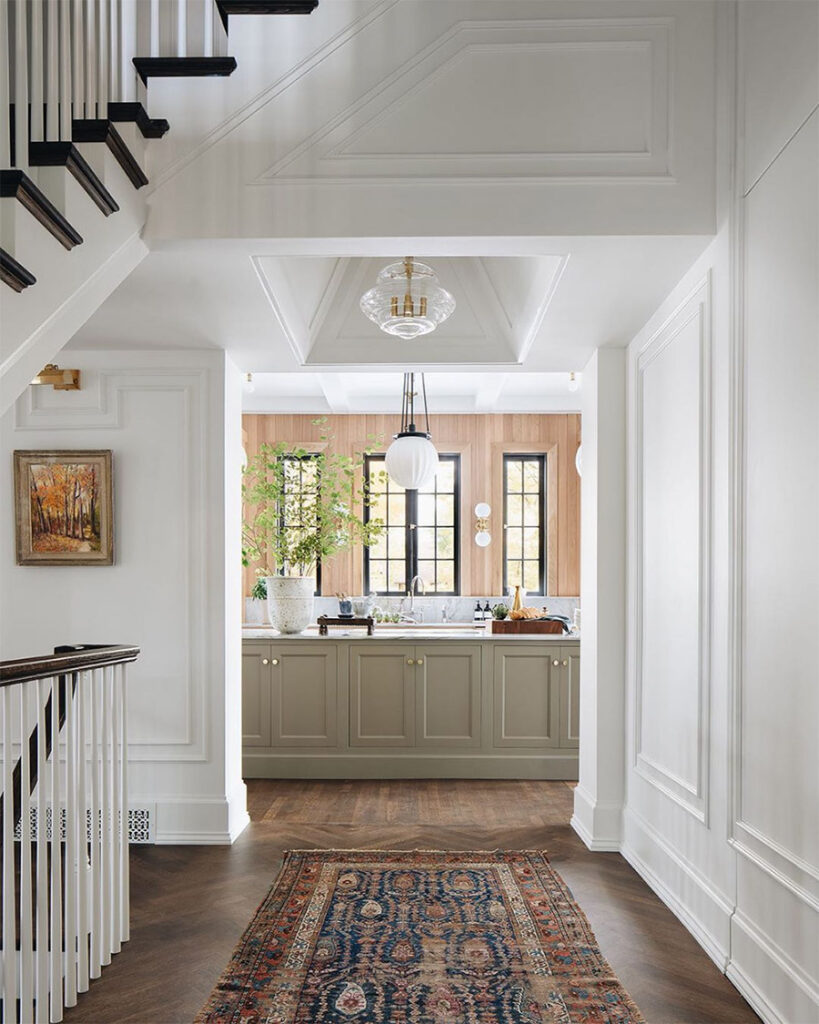 I know this can be overwhelming but it's so important to give some thought to what overall style you are going for. This will determine all your future choices. Do you prefer modern or traditional? Scandinavian or Modern Farmhouse?
Perhaps you like a blend of different styles, or maybe you just don't know! (In that case, definitely read THIS article!!)
What kind of atmosphere do you want to create? What furniture and accessories will best suit your needs?
Try creating mood boards for each room. You'll also want to create an overall vision board for the home as well.
Once you have a clearer idea of your personal design style and preferences, it will be much easier to stay focused during the decorating and purchasing process. You'll be less likely to get sidetracked by other styles that don't fit with your vision, and you'll be more likely to create a space that truly reflects your personality. So take some time to think about your vision for your home before you start decorating. You'll be more likely to end up with a space that you love!
3. Settle on a Color Scheme for Your New Home
When it comes to decorating your home, choosing an overall color scheme is another crucial step.
Are you drawn to rich, jewel-toned hues or maybe calming warm neutrals? Or are you hoping for a more cool-toned, light-filled space?
The style, along with the colors you choose, will set the tone for the entire space, and will influence everything from the furniture you select to the artwork you hang on the walls, to the materials you use.
There are endless possibilities when it comes to color schemes, so it's important to take some time to consider what look you're hoping to achieve.
If you have absolutely no idea where to start, the internet is your friend!
Let's say that you're drawn to decorating in modern farmhouse style. Go online and try searching for "modern farmhouse color palette". You'll get a ton of image results with color palette suggestions, and you can pick one you like. You can do this for any design style. It really helps when you're stuck!
Once you have a general idea of the direction you want to go in, you can start narrowing down your options. So for example if you know you've got a white in your color palette, you can start thinking about which white. Warm white? Cool white? Bright white or toned down white?
(Read this article about how to choose the perfect white paint!)
If wood is a part of your color scheme , decide what tone of wood you like at this stage as well. Light bleached wood? A medium tone wood with warm undertones? Dark rich, almost black wood? Whichever type of wood (or woods) you choose should work with the other colors in your overall palette.
You can create separate palettes for each room or you can make one palette for the whole house. Whatever method you feel works best.
4. Determine the Function of Each Space
Moving into a new house is always exciting. There's so much potential in those blank walls and empty rooms. However, it's important to take some time to plan out your design before you start decorating.
Remember: the interior design should always come before the interior decorating. After all, you want your home to be both stylish AND functional.
To that end, here are a few things to keep in mind as you decide how to layout each room.
Think about how you will use the space. Will it be primarily for entertaining guests or for relaxing with your family? Does the room need to perform more than one function?
Consider the flow of traffic. You don't want people to feel cramped or uncomfortable, or not have anywhere to sit!
Take into account the light. Are there windows, and if so, how much natural light do they let in? Depending on the function of the room, you'll want to make sure you have a good mix of both task and ambient lighting in each room. Never block the windows with large furniture.
And finally, think about storage and where this will be integrated into your room's layout. You'll want to have enough space for all of your things, but you also don't want your home to feel cluttered. Find creative ways to incorporate storage into your design, whether it's built-ins, shelving, or even just baskets and bins.
5. Make Your Home Kid Friendly
It can be tough managing kids while you're juggling moving into a new home.
So one exercise I recommend is asking your kid, no matter how young they are, how they want their bedroom to look! This will get them excited about this big new change and will encourages creative thinking as well.
Ask them what colors they would like in their bedroom and see if they mention anything else (besides color) that you could try to use as inspiration for the room's decor.
I was an only child and was lucky enough to be able to choose my own bedroom when we moved into my childhood home. Even though I was only 3 years old, I will never forget how exciting that was to me! I actually chose my bedroom based on its color: I specifically remember choosing it because it was blue. Color is important to children even though it may not seem like it!
Whatever color scheme you land on, generally bright and cheerful colors will help to create a happy and inviting atmosphere in a child's room. I would recommend avoiding the use of any really dark colors in a child's room!
Next, think about the furniture you choose for each room. If your kids are really little, try using child-sized furniture to make them feel more comfortable in their new surroundings. Goes without saying that the room should be child-proofed as well – make sure there aren't any sharp corners or pieces of furniture that could tip over and cause an injury. Kids do crazy stuff sometimes, best to be cautious!
Lastly, be sure to leave plenty of open space for them to play. We've talked about how pushing your furniture up against the walls is one of the 7 deadly decorating sins, but this is one occasion where this rule should be broken! Kids need play space.
—
Moving into a new home and making it your own can seem like a challenging feat! But by following these tips, you can be sure you'll be starting on the right foot. Your house will become a stylish and inviting space that you love in no time!