Everything You Need To Know About Christmas Tree Collars
This post may contain affiliate links. If you make a purchase through one of my links, I may make a small profit at no expense to you. For further information, please view my policies.
Tired of the traditional Christmas tree skirt? Then why not jazz up the base of your tree this year with a Christmas tree collar!?🎄
What is a Christmas Tree Collar?
But "What's a Christmas tree collar?!", I hear you asking.
Essentially, it's a fancy cover for your Christmas tree stand!
Usually, tree collars – sometimes also called "Christmas tree rings" – come in the form of a decorative conical "band" that you place around the base of your evergreen, to conceal the unsightly tree stand.
Tree collars emerged on Pinterest as a DIY phenomenon a few years back: people started slicing off the bottoms of their galvanized metal buckets to hide the bases of their faux Christmas trees.
It wasn't long until the big companies caught on and started producing them as well.
If you're not a fan of Christmas tree skirts, then a tree collar is definitely an option you might want to consider.
When you're decorating your Christmas tree, it's easy to forget about the area at the base of the tree where all the gifts go!
Tree collars make the base of your tree look tidy and attractive throughout the whole season! With a Christmas tree collar, it doesn't matter how many or few gifts you have under your tree – your tree will always look chic!
We'll go over all the different types of tree collars you can get below!
What to Look For When Shopping for a Christmas Tree Collar
Size
Make sure the collar you choose fits all the way around your Christmas tree's stand!
You will need the exact measurements of your tree stand so that you can check to make sure that the widest part of the tree collar fits over your tree stand.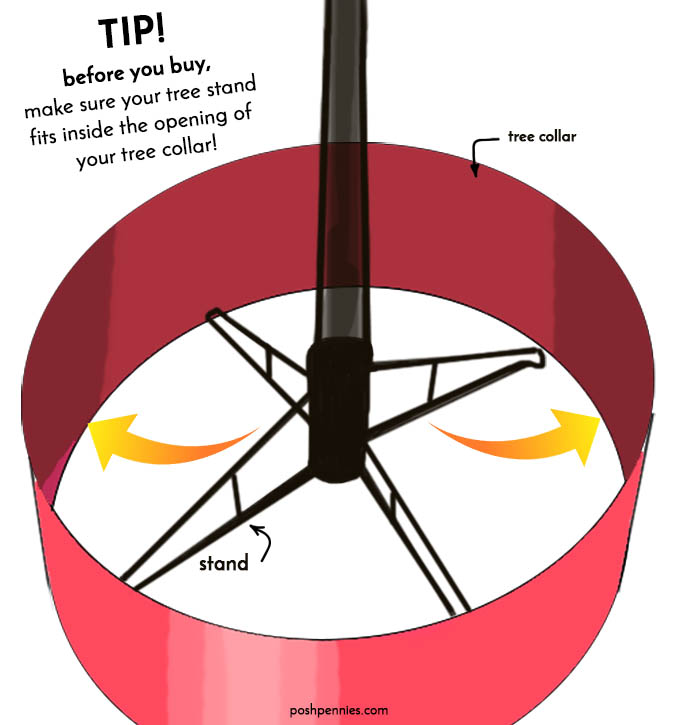 The opening in the middle of the collar needs to be big enough so that your tree's base can fit inside, with all parts of the stand firmly on the ground.
If your tree is on the larger side and has a very wide and spread out base, make sure you measure how much room you'll need in order for the collar to fit all the way around the feet.
It would be sad if you ordered your tree collar online and then found it didn't fit when you received it!
Proportions
Something else to look at is the dimensions of the collar in relation to your Christmas tree.
My advice is that you make sure the collar isn't so small that it disappears under your tree, but not so big that it gobbles up all the room for presents.
If your tree collar is about as wide as the width of your tree at the halfway height, that should result in an aesthetically pleasing "collar to tree" width ratio!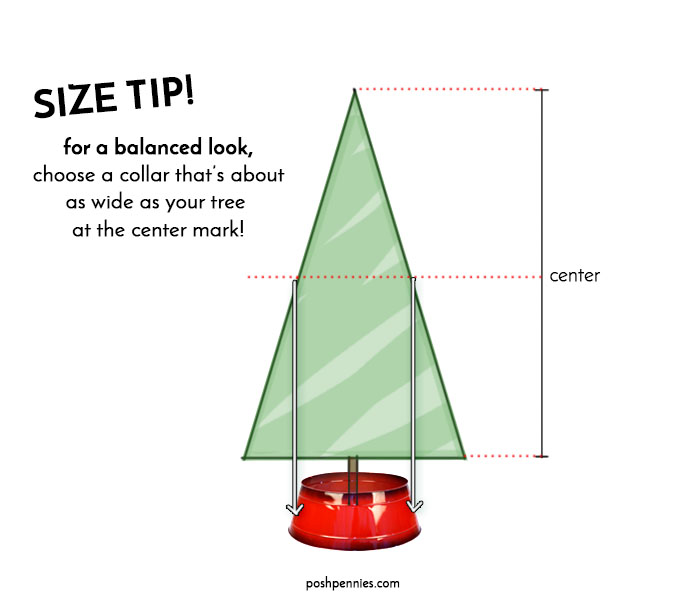 Collars that are too small for the width of the tree look disproportionate!
Color and Finish
I recommend picking a collar in a color that will compliment your existing Christmas ornaments!
To keep your tree decorations the star of the show, try going for a solid color for your tree collar. Anything too busy might detract from the ornaments on the tree!
The finish will be dependent on the feel and style you are going for.
Woven Christmas tree collars would look lovely paired with gold-trimmed trees, or with traditional red and green palettes. Woven basket collars would pair well with pretty much any design style. I would choose a woven collar to soften and add texture to a contemporary interior.
Hammered tree collars would pair really well with any boho style decor.
Home Depot makes a really inexpensive burlap tree collar that would pair with just about any kind of tree ornaments!
Galvanized and metal collars look lovely paired with modern farmhouse style decor settings. For example, see how galvanized metal accents were used to decorate the rustic Christmas mantel below? (Sorry, I know there is no Christmas collar pictured here!)
Find out how to recreate the look of this lovely Christmas mantel here!
Consider Storage
Short on storage space? Consider buying a Christmas collar that comes in segments (I've linked to a few lower down).
If you can disassemble it, it will be much easier to store it for the 11 months of the year that you're not using it.
If you buy a collar that isn't collapsible, you can always nest your lights and wreaths inside it to keep them protected. Don't forget to keep the box!
RELATED ARTICLE – BRILLIANT STORAGE HACKS FOR YOUR CHRISTMAS DECORATIONS!
Most Popular Types of Christmas Tree Collars
Here are some of the most sought after Christmas tree collar styles, and where you can get them this year for cheap!
Galvanized tree collars
Galvanized collars are a light silvery steel color and usually the finish has the classic galvanized "spangle".
You can pair galvanized collars with a metallic Christmas tree palette with silvers, coppers and golds. Or try pairing it with a flocked tree and neutral ornaments.
Woven tree collars
If you opt for a woven basket tree collar, you'll most likely find them in neutral colors like taupes, pale browns, yellows and grays.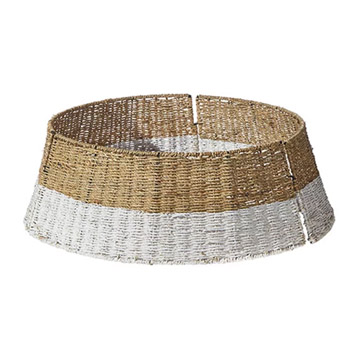 Glossy metal collars
Red glossy tree collars are so festive!
I haven't seen any other colors (besides silver) but maybe in the future we'll see more variation in the paint color. A dark glossy green would be nice! (Of course you could also take a can of spray paint to it.)
Hammered metal collars
Hammered metal collars are very striking, providing a dazzling flash of light at the base of your tree. Imagine your twinkling Christmas lights glittering on the hammered finish – what a magical and luxe holiday look!
You can find hammered Christmas tree collars in brass, silver and copper. It makes it really easy to pair with whichever color palette you like!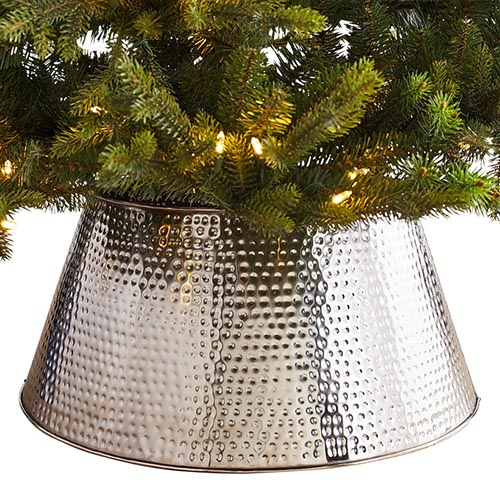 Hinged and magnetic collars
If you need to water or move your tree around frequently, a hinged collar will come in handy. You can just snap it open and closed. SO much easier than having to lift the whole tree out of the collar.
An alternative to hinged collars are magnetic tree collars.
Easy to assemble and disassemble, this could be a good solution if you're short on storage space, as they usually come apart in 4 pieces that are easy to store.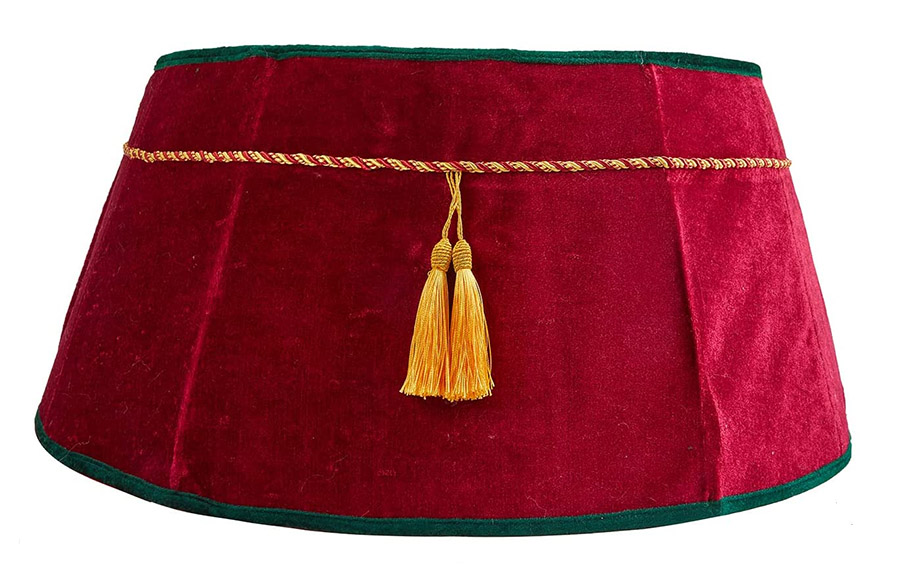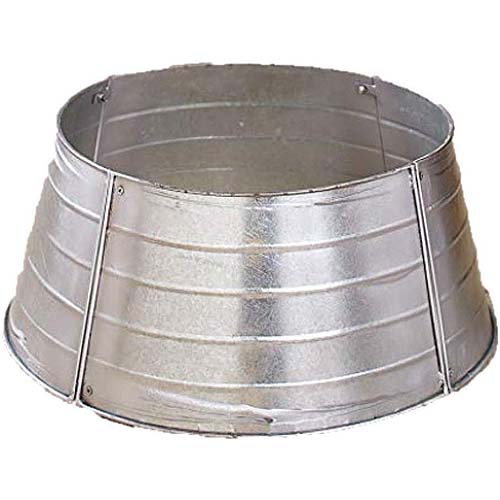 Miscellaneous tree collar styles
That Buffalo check one is so cute! If Walmart sells out you can also find it on Amazon but it's $10 more expensive!
Courtenay from The Creek Line House actually shared how she DIY'd a buffalo check tree collar, if you want to attempt a DIY. There are more tree collar DIYs featured a little further down as well!
The burlap tree collar could be really cute for a more boho style christmas tree, the tassels are a super cute detail! And the drum one is actually really cuuute too!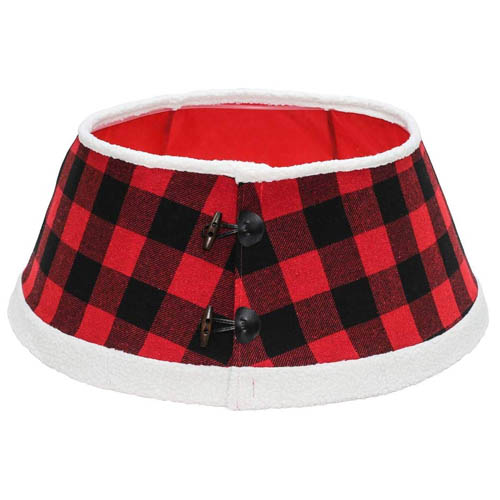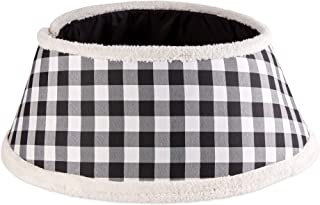 → As a related side note, Bed Bath & Beyond sell a number of square Christmas tree stand covers and they're pretty inexpensive (between $15/20).

Personally I don't love them, as they look like oversized tissue boxes to me. But who am I to say that a circle is better than a square?!
3 Awesome Christmas Tree Collar DIYs
If you want to save money and make your own Christmas tree collar, then take a look at some of these excellent DIY tutorials!
These are some of the best and "chic-est" DIY Christmas tree stand ideas out there!
This beautiful galvanized tree collar DIY is really easy but does require using a couple of power tools.
If you're not keen on using power tools, you can always try roping in your husband, boyfriend or power tool loving partner for this one. 🧰🔨
Get the tutorial from AE Home Style Life here.
DIY Network also shows how to remove the bottom of a metal bucket to make a tree collar.
DIY Basket Tree Collar
If you hang out at thrift stores (all the time) like I do, you'll know that there's never a shortage of baskets.
Next time you are out second-hand shopping, be sure to grab one so that you can make this DIY basket tree collar! It will have to be a big basket though!
If you want to see how to transform a regular basket with a handle to something very similar to the photo above, check out how Diane from In My Own Style does it!
This tree collar is perfect if you need a specific custom size.
You can make this tree collar to whatever diameter you want really easily!
It also looks super awesome 🙂 Especially if you are decorating with a black and white Christmas tree palette!
This DIY is relatively inexpensive and easy to do. I'm not sure if I'd have the patience to add the black jute twine, but that detail is also what makes it look so special and contemporary!
Crate & Barrel sells a similar rope tree collar in red and white for $99 – a little pricey but also cool because the rope is made out of recycled water bottles! (*update: sadly, as of 2021 this tree collar is no longer available)
Check it out:
You know what else is cool? If you DIY your tree collar, you can make collars for your OUTSIDE trees, as well!
Just make sure to use water-resistant materials for outdoor tree collars (unless you want a moldy, sopping wet tree collar 😑).
---
So what do you think? Are you on board with this Christmas decor trend, or will you be sticking with your tree skirt this year?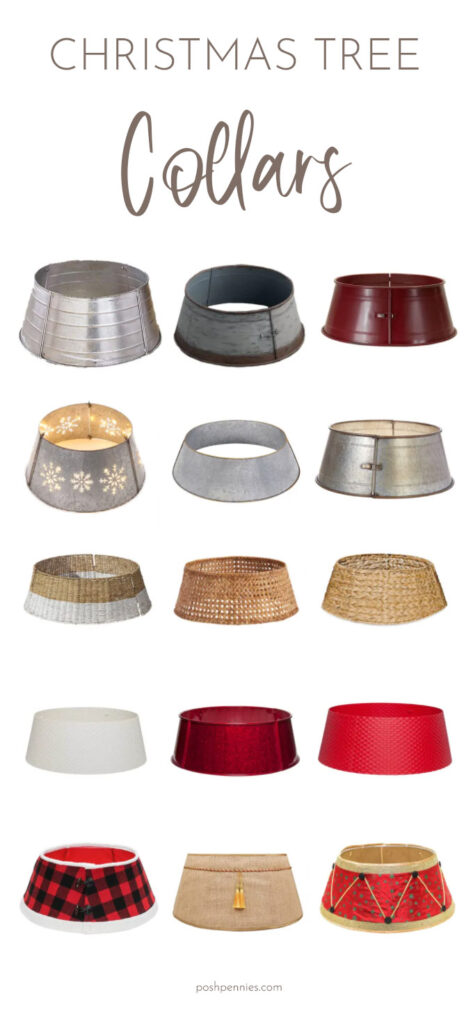 UP NEXT: This one Christmas decorating accessory is the greatest thing since sliced bread!