7 Must-See Velvet Blankets & Quilts Perfect for Cool Weather!
This post may contain affiliate links. If you make a purchase through one of my links, I may make a small profit at no expense to you. For further information, please view my policies.
Snuggle up with a plush velvet blanket this fall and winter!
What's on your mind as the weather starts to cool down? For me, it's always snuggling up in a warm blanket, with a bowl of popcorn and my favorite show! But what kind of blanket should you choose to get that perfect balance of comfort and style?
The answer, my friends, is always velvet. 😍
Velvet throw blankets and quilts are the perfect way to add a touch of luxury to your relaxation time. And they come in so many different colors and styles that you're sure to find the perfect one for your home's color palette.
So today I'm going to share 5 of some of the absolute best velvet blankets and quilts with you!
→ Jump to the round up! ←
What's the Difference between a throw blanket and a quilt?
I don't want to get too fussy about terminology, but I thought I'd just mention the difference between throws and quilts. Honestly it's mainly just size, at least for the purposes of this article.
Throw blankets can be a little smaller and might be used more in a living room or TV room, or as an accent in a bedroom. Quilts tend to be larger so that they can cover your entire bed – usually you have to choose between a twin, queen and king when you shop for a quilt. Whereas throws are often only offered in one size option.
You might have landed on this post because you're looking for a smaller velvet blanket, or you might have clicked because you want a large velvet quilt for your bed. I thought about doing two separate posts, but in the end I think it's ok to combine them since they are basically the same thing.
Benefits of Velvet Blankets & Quilts
Velvet blankets and quilts are the perfect way to add a touch of luxury and style to your home while still being cozy and comfortable.
With current interior trends really focusing on comfort – elevated coziness if you will! – velvet is the perfect option to bring that vibe into your home. Velvet fabric looks refined and chic, especially when paired with other delicious, comforting textures in your decor.
Velvet throws and quilts are practical – they keep you warm and snug – but they also become a gorgeous, rich accent when you drape them over your furniture, or use them on your bed.
If you're worried about your precious velvet blankets getting dirty, don't be. Velvet is actually surprisingly easy to care for when it's in the form of a blanket or quilt! Velvet tends to attract pet hair though, so you may need to stay on top of lint rolling if you have furry friends.
Here is an in-depth post that explains how to care for velvet blankets and velvet bedding – don't worry, it's easy! Spoiler alert: all you need to do is follow the care instructions on your blanket's label!
I splurged last year and bought 2 beautiful off-white velvet blankets: one from Homegoods, and the Cream Anthropologie Alastair velvet quilt, which I bought when it went on sale (more info below on the Alastair quilt). Look how pretty it is in the color "Peach" – DYING!
I also bought this velvet throw from Pottery Barn (see below), which actually *isn't* velvet; it's a polyester knit, but it definitely looks and feels very similar to the real thing. Plush polyester knits can be a good option if you're looking for a nice alternative to velvet.
I still LOVE all of these quilts and blankets, but I'm addicted and now I want more in other colors 😅I'm really drawn to dark moss, deep burgundy plum tones and rich browns this year, like most people, lol.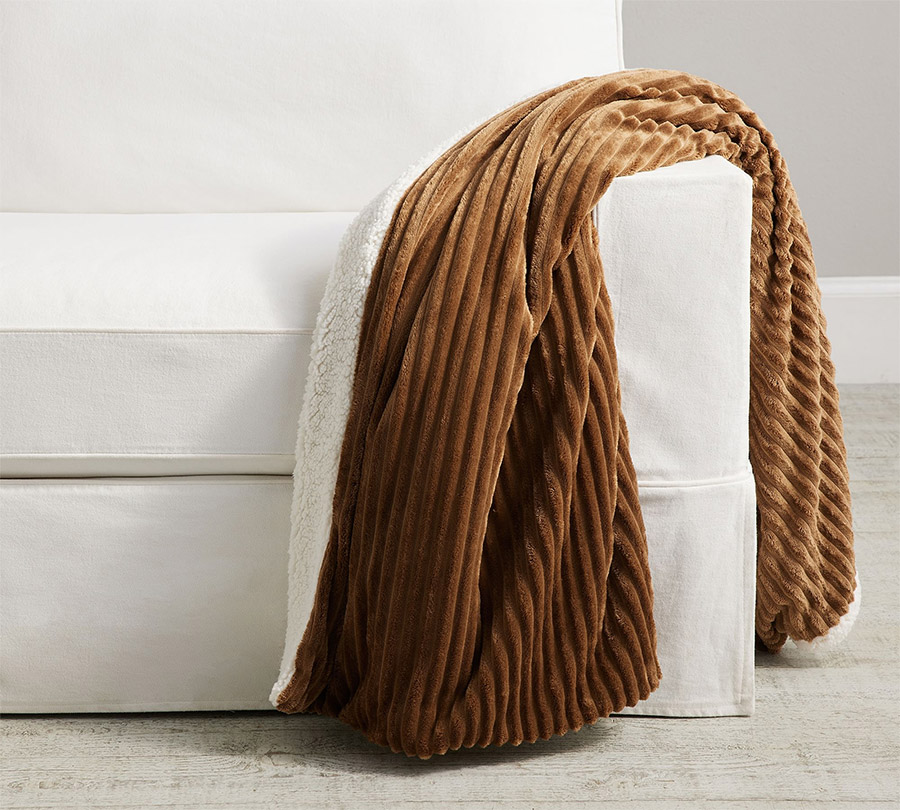 If you like the Pottery Barn throw shown above, you can get a really nice dupe on Amazon here. The dupe doesn't have the stripey ridge texture in the velvet, but it's a good alternative none the less! If the ridges are a must-have, check this dupe out (it's navy blue, though)!
TIP → When you're shopping, "velvet bedding" is a misnomer, since almost all bedding with a soft feel – velour, microfiber, flannel, or genuine velvet – is marketed as velvet bedding. I say, just go with whatever you like best. It doesn't really matter if it's "real" velvet or not!
Velvet blanket & velvet quilt shopping tips
1. Consider the depth of your mattress when ordering. How far over the sides of the mattress do you want your blanket or quilt to hang? Some mattresses, especially pillow tops, are really high, and if there is a box spring that shows above the side rail, you'll probably want to cover that. Be sure to factor that into the overall size you order.
2. When you're buying a quilt for your bed, keep in mind that the matching pillow cases are sometimes sold separately. Personally I don't think they're necessarily needed – in most cases you can just find a lovely pair of coordinating cotton shams and they will look great. But just something to keep in mind!
3. I'm personally not a big fan of crushed velvet – it reads a little bit like "cheap Halloween costume" to me, and I find that the busy mottled look of crushed velvet takes away from the beauty of velvet texture. A little bit of shine is perfectly fine, but full on crushed velvet is a bit much! If you like some variation in your velvet then look for blankets that have quilted stitching – that will create some interest in the fabric.
If the velvet blanket you've had your eye on is too expensive, wait for end-of-season clearance sales to snag a great deal. You can use handy tools like Honey to track sales and price drops.
Also check out home goods stores like Homegoods, TJ Maxx, and Marshalls for affordable velvet throws, blankets and quilts. If you can find them in the off-season summer months, they are often even cheaper then!
If your budget's a bit bigger, you can also find some stunning velvet blankets at Pottery Barn, West Elm, and Anthropologie (like the Alastair quilt I shared above!)
Lastly if you're looking for a really unique velvet throw or quilt, or you just want to support small businesses, then check out Etsy – Etsy is a great resource for handmade velvet blankets and quilts but sometimes they can be on the more expensive side.
Best velvet Throw blankets & Quilts!
Here are some of my favorite velvet throw blankets and quilts to help give your home a cozy, luxurious feel this fall and winter. I've rounded up some of the best velvet quilts out there, so you can pick the perfect one for your home.
1. Shalala New York Velvet Quilt Set – Amazon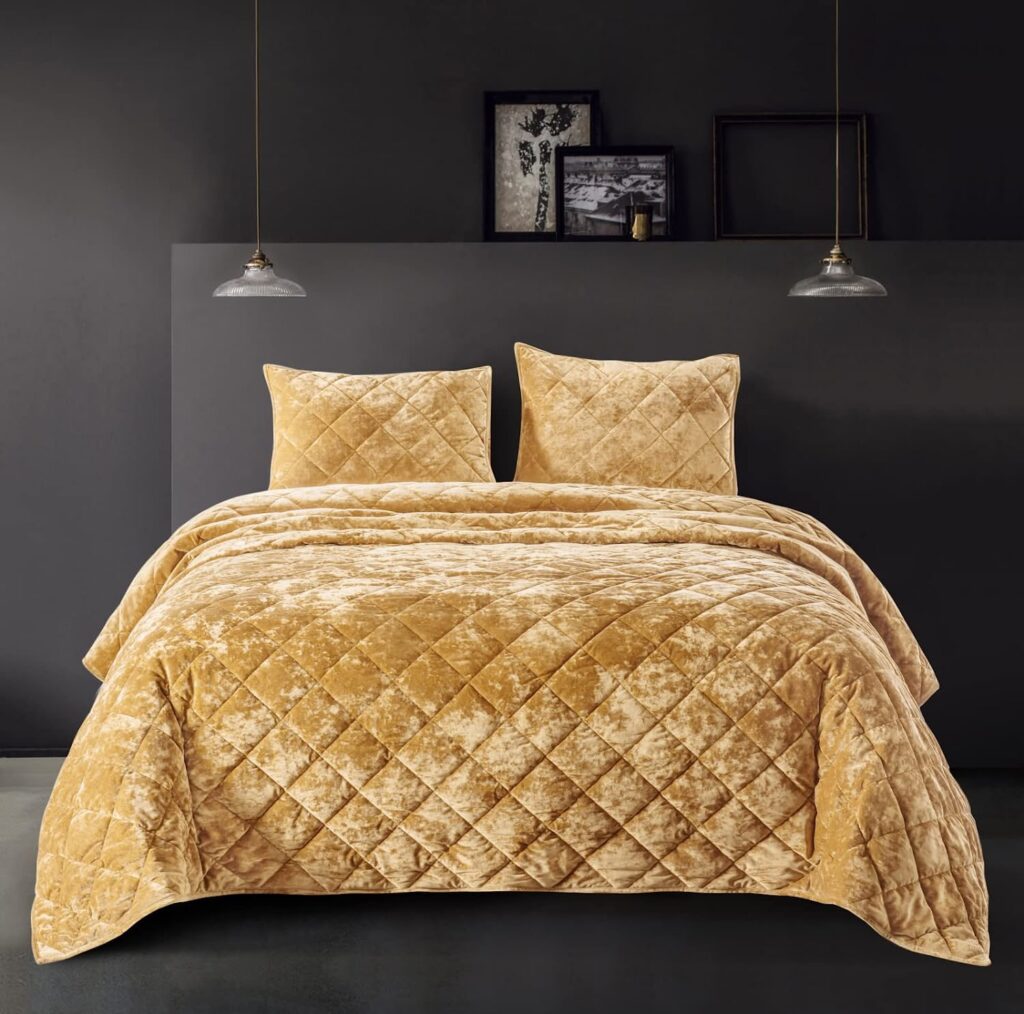 This one is a great deal because not only are both the Queen size *and* the King size under $100, but it comes with pillow shams as well. The diamond pattern quilting is lovely and very classic and there are several different colorways available to purchase. This one is a great deal that I would highly recommend!
2. Velvet Diamond Stitch Quilt – Threshold
Another diamond velvet but from Target Threshold this time – lots of pretty colors. Shams sold separately and you can find them here!
I love this quilt – it's also featured on my curated list of favorite bedding.
3. Juliet Agave Velvet Quilt – Crate & Barrel
Obviously the first thing that strikes me with this beauty is that gorgeous green color. But also the velvet is so smooth and the stitching is just beautiful. The type of stitching used here is called jump and tack embroidery – it helps add to the loft of the quilt.
The bedding reverses to a cream-colored linen-cotton blend – this is normal with most velvet quilts. In fact I don't think I've ever encountered a velvet quilt that was double sided velvet. The matching Euro shams are sold separately.
This quilt would be perfect for a nature-inspired or bohemian style bedroom.
4. Lustered Velvet Alastair Quilt – Anthropologie
I know I know, I keep going on about this one but I'm so in love with it in every color! The shams are sold separately (I didn't buy them) and are available as Euro size, standard size and king size. The reverse is covered in a beautiful soft cotton in a coordinating color. The stitching is extremely intricate and adds breathtaking texture to the velvet.
I actually purchased this quilt in king size for my queen size bed because I really wanted to get that luxurious, heavy draped look. Sizing up is one of those little things I recommend doing to make your bedroom look a bit more expensive – in some cases it can really help elevate your bedroom!
This velvet quilt is perfect for adding a touch of luxury to any bedroom. It would also make a great gift for someone special if you really want to spoil them. If you can, wait for it to go on sale – it's worth it for those extra savings.
My only criticism? They don't have one in green!
LOOKING FOR A DUPE of the Alastair Quilt? Target does a very similar quilt in a variety of colors.
5. Modine Quilt – Wayfair
Not gonna lie, what really got me here was the color. Just LOOK at that luscious deep red! If you can weave this gorgeous shade into your decor somehow, this quilt is just stunning. I love the variation on the stitching on this one, with smaller squares on the outer edges and larger ones in the middle. Stunning.
If you're into using red on a daily basis, then perhaps this quilt could be the perfect something to add to your holiday season decor collection? 🤩 Definitely a timeless piece that will not be going out of style any time soon.
On Wayfair Canada this quilt is called something different (because why make shopping easy, right?). You'll find it under the name Jazzalyn Merlot Velvet Quilt Set, at least until they change the name again, which Wayfair loves to do periodically with their products for some reason.
One other difference besides the name, between the American product and the Canadian product, is that on Wayfair US you only get the quilt, whereas on Wayfair Canada, the pillow shams are included, with no option to buy the quilt on its own. That makes the Canadian product $100 more expensive than the American one for that reason. Shopping in Canada sucks so that's not a surprise. As much as I love this quilt, I definitely won't be spending $500 on this set, that's just a silly price.
6. Crushed Moss Green Velvet Throw Blanket – Etsy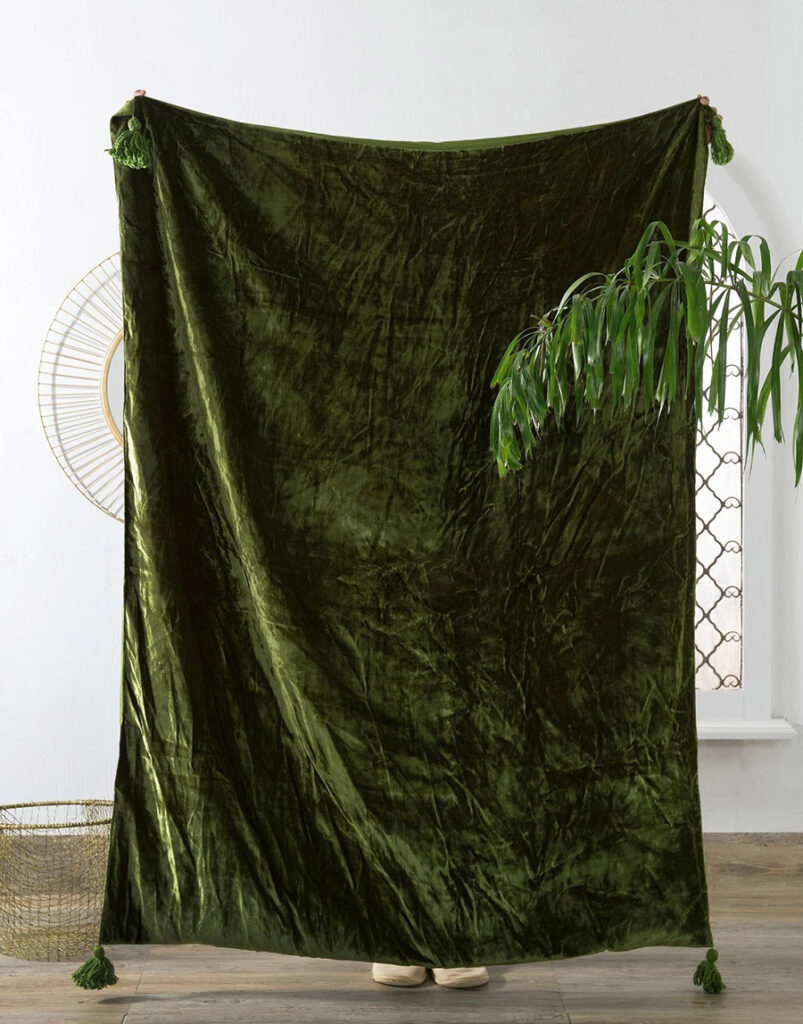 This velvet throw blanket is handmade by a small shop called Jaipur Collecsitive on Etsy. The velvet is a gorgeous moss green color and it's backed with soft cotton in a coordinating shade of green. I love the playful tassels on the corners of this blanket – it add just the right amount of fun and whimsy.
This velvet throw would be perfect for adding a pop of color to a neutral room. It would also make a great gift for someone who loves green (like me!). I would love to have this on the sofa to reach for on a cold winter day!
7. Channel Stitch Velvet Quilt – Threshold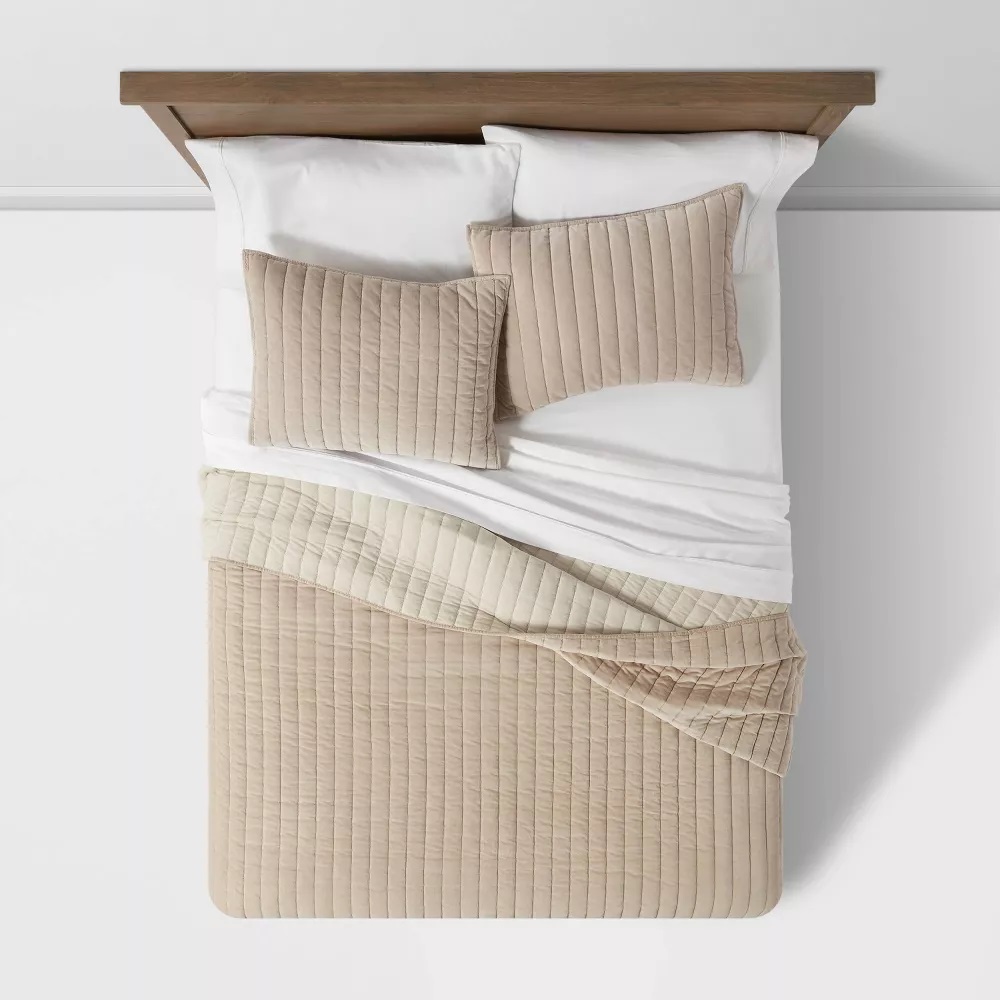 One last deal from Target is this channel stitched velvet quilt, again from the Threshold line! Comes in 10 different colors however they seem to go out of stock frequently. Shams sold separately here.