Best Stylish & Affordable Fire Pits To Buy in 2022
I was not paid to write this post, however, it may contain affiliate links. If you make a purchase through one of my links, I may make a small profit at no expense to you. For further information, please view my policies.
There's no doubt about it: fire pits add an unparalleled amount of charm and coziness to backyards and patios.
Enjoying an evening next to your very own fire pit can be one of the most joyful things about the summer. Or even the cooler seasons, for that matter!
But fire pits can vary wildly in price: anywhere from under a hundred dollars up into the multiple thousands!
All the options on this list are below $500 but also incredibly chic, so hopefully, you still have some cash leftover (maybe to finish sprucing up that patio?).
But before we look at all the best affordable fire pits, I want to explain a tiny bit about the most common types of fire pits available on the market.
Click here to skip to the list of best fire pits!
Types of fire pits
When purchasing fire pits online, sometimes you will be presented with the option to choose the fuel type. So it helps to have a general understanding of the different kinds available. It also makes it easier to narrow down what you need.
You can generally group firepits into 4 main categories:
wood burning
propane
gel fuel
natural gas
The main difference lies mainly in what kind of fuel is being used to burn the fire.
Let's take a look.
1. Wood burning fire pits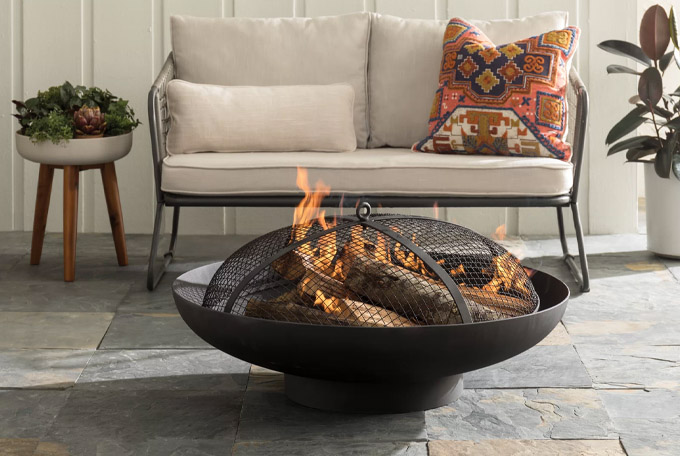 Wood burning fire pits are just like a real campfire, only instead of chucking a few logs in a heap on the ground, you use something a little fancier like an iron bowl. Your fire is therefore limited to a contained space.
Wood burning fire pits are generally the cheapest option when it comes to purchasing a fire pit for your backyard.
As the name states, you simply burn wood logs as fuel for as long as you want to keep the fire going.
PROS:
affordable
easy to DIY
"authentic" experience
wood is a renewable resource
CONS:
requires wood as fuel
can be hazardous
not clean burning
slow to start fire
2. Propane fire pits
Propane fire pits are ignited like a barbeque – by connecting a propane tank to a gas line that ignites a burner.
You can purchase a standalone propane fire pit, or you can build it into your yard's landscaping.
PROS:
Easy and fast to ignite
Clean burn, no smoke or sparks
Amount of heat can be controlled
You can resell standalone propane fire pits
CONS:
Propane tank needs refilling
Fire rings can clog up
You might not find it to be warm enough
You need to find a way to conceal the tank
3. Gel fuel fire pits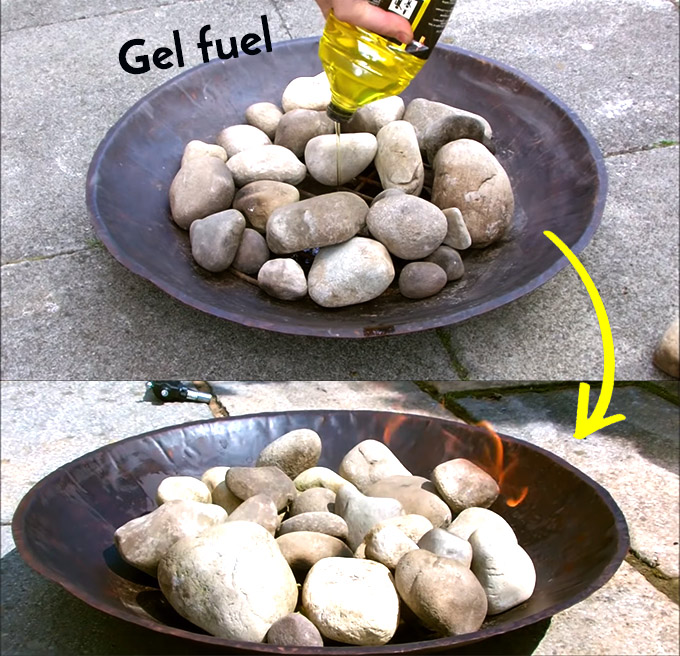 Gel fuel fires burn with little tin cans of "portable fire" that are easily ignited with a match. You place the tins in the firepit and light them, and you have your fire.
You can also buy bottles of gel fuel, then you just squeeze the gel into a receptacle, and burn that in your fire pit (like in the picture above).
PROS:
easy to move around, incredibly portable
burns well even in wind
no ash or soot
many gels are green, so even safe for burning indoors because there are no toxic fumes
CONS:
don't give off a lot of heat
flame size cannot be regulated
4. Natural gas fire pits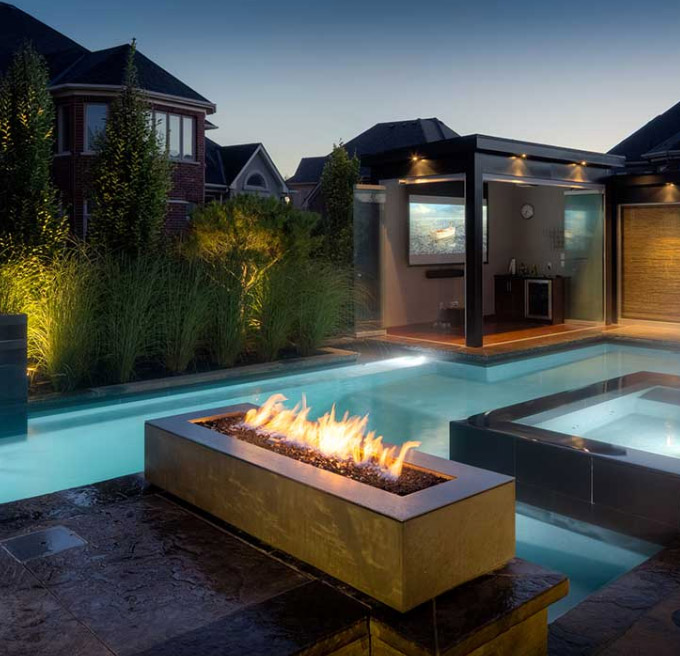 If you have a gas line running through your property, it can be an option to hook up your fire pit to the gas line.
This removes the hassle of needing to refill propane tanks, since you have a continuous flow of gas coming straight to your fire pit.
Fire pits connected to a gas line are not mobile.
no propane tanks to deal with
installing a gas line can be very expensive
very difficult to move once installed
---
Best Fire Pits To Buy in 2022!
1. Extra Large 40″ Denison Wood-Burning Firepit
This 40 inch powder-coated steel firepit weighs a whopping 72 lbs and is ready to use straight out of the box!
The design is beautiful, minimal and sculptural. The fire pit even comes complete with accessories, including a mesh spark screen and fire poker.
2. Veradek Steel Fire Pit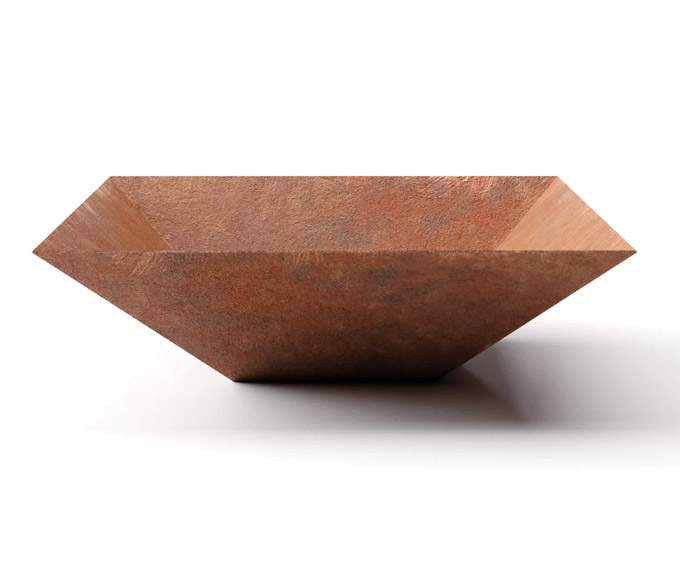 This gorgeous steel fire pit features a modern, tapered square design. The fire pit is shipped to you in its raw steel state and the rich, rusted patina finish develops over time.
3. Faisal Stainless Steel Wood Burning Fire Pit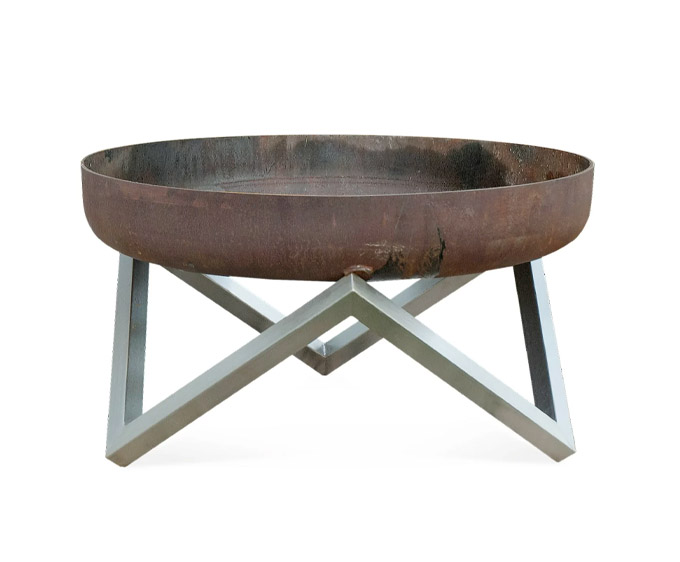 I love the combination of the rusted fire bowl perched on top of the geometric base.
The bowl is made of carbon steel, which comes from the factory "shining" and starts rusting when it gets out of the box. According to the manufacturer, this natural process takes a couple of weeks.
4. Aly Concrete Fire Pit
This contemporary concrete fire pit comes in 2 finishes and 2 sizes:
charcoal // natural concrete
34″ square // 42″ square.
It's also available in a circular shape, which is very beautiful and also a little cheaper.
If you hook this up to a propane tank, keep in mind that the tank will sit outside of the pit, which means that you would need to find a way to "disguise" the propane tank. (You can also buy propane tank covers).
This fire pit is also convertible to natural gas (but you need a separate kit for that, which is not included).
Since it's a propane gas fire table, it means the flame size and heat are both adjustable.
5. Coral Coast Gas Fire Column
If you're looking for something a little different, this gas fire column might be the perfect fit for you.
The column is just under 3′ tall and is handmade out of a stone compound that resists the elements.
The fire bowl is surrounded by a perfectly round double walled tempered glass column, encircling a stainless steel burner covered by decorative river rock.
Flames are gel-fuelled.
6. Collapsible Wood Burning Fire Pit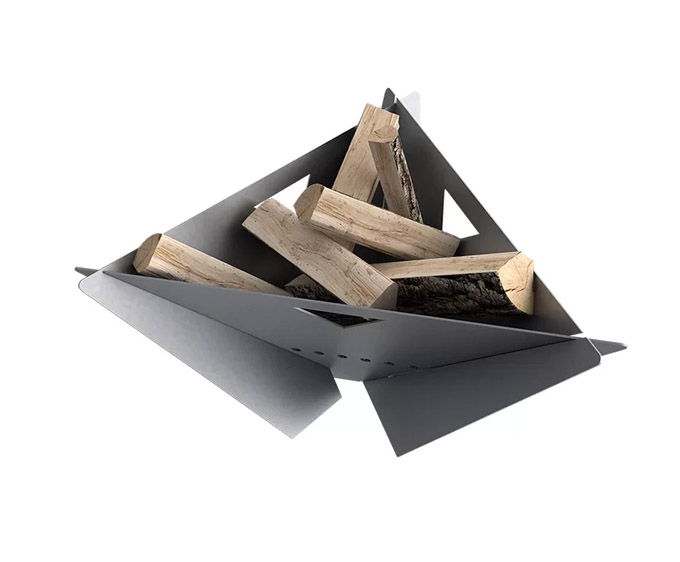 This steel fire pit is not only incredibly sleek and contemporary looking, but it's also portable and easy to store! It folds up so that you can easily move it or store it away when not in use.
7. Modern Wood Burning Steel Chiminea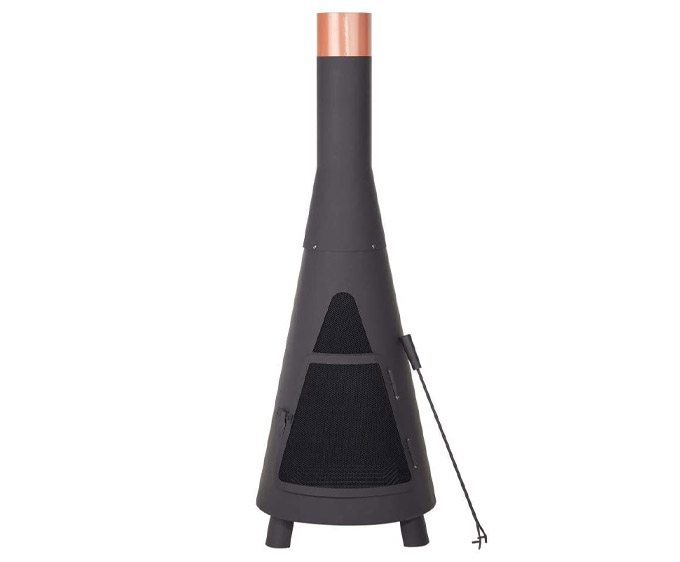 This black and copper steel chiminea is an incredible deal at Walmart! At WELL under $100, this one is a bargain that's hard to pass up. Probably one of the best fire pits on the Walmart website.
It actually looks very similar to the much more expensive Orange Obelisk chiminea from Terrain.
Comes with a steel fire poker.
8. Weathering Steel Obelisk Chiminea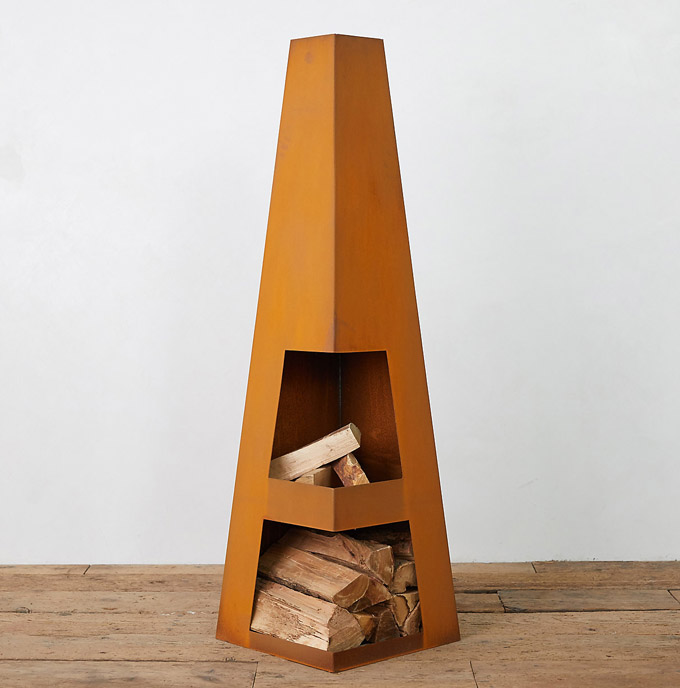 This absolutely stunning wood-burning chiminea is constructed out of one single piece of weathering steel, which develops a rust-like finish when exposed to the elements.
There is a handy storage space for wood below the firebox.
9. Grand Rustic Wood Burning Outdoor Fire Pit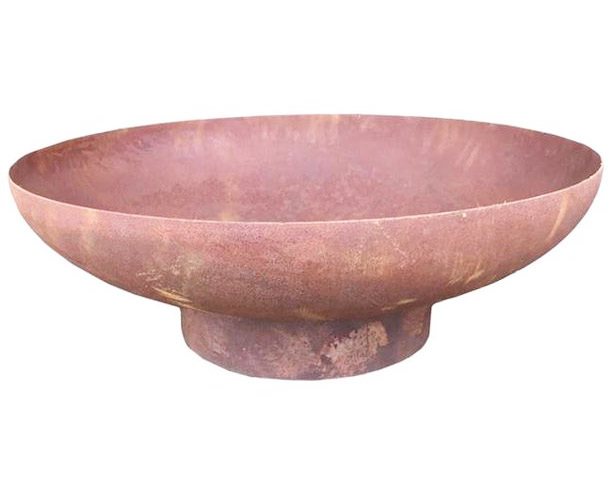 This fire pit bowl is made from durable heavy-gauge steel which is aged using an oxidation process for a rustic look. The oxidation process gives it a look that will make your outdoor space more inviting, while the heavy gauge steel ensures you'll be able to enjoy this product for years to come.
The size on this bowl is 31.5 x 31.5 x 11 in. and it weighs 51 lbs.
10. Brooks Wood Burning Fire Pit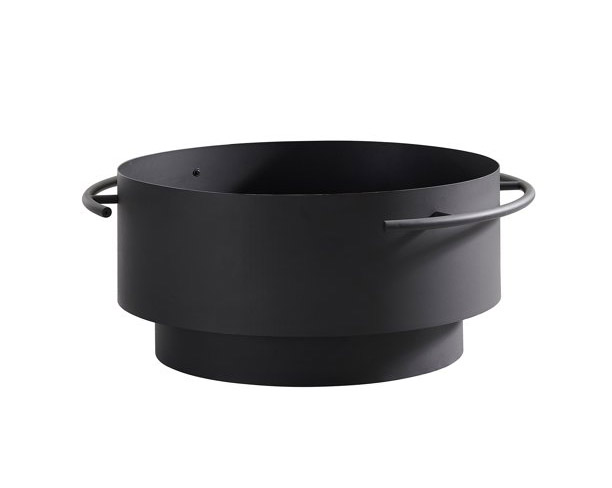 This sleekly designed fire pit bowl is another beautiful contemporary option. The design of this bowl features a steel grate to elevate your logs and maximize airflow for a good-sized fire with maximum heat throw, plus a steel poker and rounded handles for easy repositioning around your backyard.
The diameter is 28″ and this fire pit weights just under 30 lbs.
---
Safety
Fire is fire, so it wouldn't be right to write an article about fire pits without mentioning some safety precautions. Make sure you take all necessary steps to ensure you're installing and operating your fire pit correctly.
You can also get safety guidelines from your local fire department. For example, I easily found everything online for Vancouver right here. I highly recommend looking for similar resources in your area!
Here are some things to keep in mind:
Before you buy your fire pit
Understand your city's regulations – are there any rules or bylaws about open-air fire or using fire pits in your town, neighborhood, or county? Double check to make sure it's allowed, so you don't end up with a new fire pit that you can't use

, or worse … a huge fine.
Sometimes fires are allowed, but permits are necessary – double-check with your city.
Your fire pit should be placed on a level surface and should be at least 15 feet from any building, woods, hanging branches or anything flammable.
Might seem obvious, but make sure you read the manual your fire pit comes with, to ensure you're assembling it properly. You can always get in touch with the manufacturer if anything is unclear. Play it safe.
Keep a fire extinguisher in the vicinity and be aware of where it is at all times. Make sure it's not expired.
Use safety gloves when handling a fire pit.
Ensure your fire pit is in a well-ventilated area – fire fumes can be harmful.
Using your fire pit
Start with a small fire and build gradually (but never go too big!). Keep the flames controlled at all times. Remember, this is a fire pit, not a bonfire!
Only use appropriate fire starters to light your fire.
Do not use gasoline to start your fire!
Consider using a screen to protect from flying sparks and wind.
Children near the fire should be supervised by an adult at all times.
Never leave your fire unattended.
Extinguishing your fire
Make sure you extinguish the fire completely when you are done with it. You can either use a fire extinguisher or pour enough water on to soak the coals or wood.
If you have a lid, you can cover your fire pit with it.
Use a metal bucket to store any wood or coals, do not use bags.
NEXT UP: 11 AFFORDABLE WAYS TO TAKE YOUR PATIO FROM JUST OK TO EPIC