How to Decorate with No Money (or on a very tight budget)
I was not paid to write this post, however, it may contain affiliate links. If you make a purchase through one of my links, I may make a small profit at no expense to you. For further information, please view my policies.
If you've ever spent any time trying to decorate your home, you'll know it can get expensive FAST!
It takes incredible amounts of time and effort to put together a beautiful space if you don't have infinite amounts of cash at your disposal (and not many of us do!).
Luckily, if you're resourceful, there are ways to create a totally chic looking home without going broke!
So today we're going to look at some of the cheapest possible ways to furnish and decorate your home.
When we talk about "affordable" and "inexpensive" decor, the terms are absolutely subjective: for some people, "affordable" could mean anything up to $1000.
But some people only have a spare $50 to buy everything they need.
And other people have literally no disposable cash but they still need to furnish a place with the essentials!
I totally get the struggle because I have been there!
So first, let's look at zero-cost ways to furnish your place.
Then we will look at low-cost ways to furnish your place.
After that, we'll take a look at some budget DIY projects that you can tackle that will not cost you an arm and a leg.
And then I will show you some of my favorite below $50 items that you can find on Amazon!
Grab a cuppa and get comfy 'cause this is long!
And if you don't have time to read it all, you can always just pin any image and come back to the article later!
How to decorate your home with zero money
I have acquired numerous great pieces using all of the methods I talk about below.
If you're strapped for cash and just starting out, these budget-friendly decorating ideas are a godsend!
1. Craigslist and Facebook Marketplace – the free sections!
If you have literally no money to spare on home furnishing or decor, but you still need essentials for your home, I recommend you search the free sections on Craigslist or Facebook Marketplace. You'd be surprised at how much stuff you can find!
Often times, people just don't want to deal with getting rid of stuff and would rather give it away to someone who is willing to come pick it up.
If you really need to, you can furnish your whole place for free.
I once got a free 3 seater down-filled sofa in amazing condition with a custom made slipcover. The owners were an older couple and didn't want to deal with getting rid of it.
It was a beautiful and very comfortable sofa that I actually ended up reselling for $100 when I moved out. I found it on Craigslist and I resold it on Craigslist.
---
2. Freecycle
You can sign up for Freecycle and get daily emails on all the free stuff that is available in your town or city.
I recommend setting up your notifications to be instant so that you get an email as soon as something is posted.
Some people watch Freecycle like hawks and swoop in to claim all the good stuff. Unfortunately, free = competition so you have to act fast.
---
3. Hand me downs
Ask your family and friends for hand me downs – chances are they have items they don't use that YOU can!
My mum and dad saved me so much money when I moved into my first apartment after university! They gave me everything from dishware to laundry baskets, linens, an old dresser, a mattress and so much more. This way, I was able to save and spend a little bit of money on a dining table and a bed frame (all rigorously IKEA, of course).
Don't be afraid to ask your friends and fam if they have anything they don't need anymore. Tell them you'd be happy to take it off their hands!
With everyone Marie Kondo'ing the heck out of their homes nowadays, it shouldn't be hard to get a bunch of free stuff that otherwise would have been donated anyway. Free stuff definitely sparks joy, especially when you have nothing. 😬
---
4. Take a walk around your 'hood
If you're not squeamish, check your local back alleys for discarded furniture and free stuff.
Or take a drive around your neighborhood and see if you can spot any items left curbside that are free for the taking.
Sometimes what you find needs a little refinishing, and sometimes you can just use the items as you find them.
What you find might be a little wonky and rough around the edges, but hey, if your budget is tight, your budget is tight.
---
Not free, but almost
Now we'll look at the cheapest possible ways to find deals on great-looking decor for your home.
These methods may take some time if you are looking for specific items, but the savings will be well worth it!
1. Thrift stores and second-hand shopping
I feel like I'm stating the obvious here, but it needs to be said: don't underestimate what you might find in second-hand stores!
If you have a little bit of money to spend, don't forget to check your local thrift shops. Sometimes you can really come away with some fantastic finds.
If you want to save EVEN MORE, then wait for your favorite second hand stores to have sales; for example: I often wait for Value Village to do their 50% off sale and I'll go shopping then.
After Tidying Up was brought to the masses on Netflix, the KonMari decluttering method has got everyone clearing out anything that doesn't "spark joy".
I don't know about you, but to me this sounds like the perfect opportunity to hit the thrift stores and score some amazing stuff!
Now more than ever is the time to be second-hand shopping, as thrift stores have reported a massive surge in donations ever since the show aired at the beginning of 2019.
---
2. Yard sales
Garage sales are another great opportunity to find real bargain items. If you're old school, look for signs posted up in your neighborhood on telephone poles.
The easier way to find yard sales in your area is to check any local websites that have this sort of thing posted. Just try googling "XYZ garage sales" (where "XYZ" is the name of your town or neighborhood) and see what you find.
You can also check Facebook and see if there are any Yard Sale Groups in your area.
---
3. Online classified websites
You can find a lot of deals on second-hand decor and furnishings on "classified" type websites.
They are especially good if you're looking for unique vintage items, but really it's possible to find anything!
The 2 obvious big ones are Craigslist and Facebook Marketplace, but there are so many others!
Facebook Marketplace took a while to take off, but it's getting really big now when it comes to people selling their belongings. Where I live (Vancouver), Facebook Marketplace has actually overtaken Craigslist and the deals are often better. I'm sure this totally depends on your location, though!
If you're in the USA, you can use:
In Canada you can try:
---
4. Rearrange your furniture
Have you grown tired of your current layout? Try switching up how your furniture is arranged! I used to do this all the time as a kid in my bedroom! This is literally free to do, it just takes the time and energy to move everything around.
If you have rooms to spare that you can play around with, you can even try swapping bedrooms, or putting the home office in the place of a guest bedroom. Have fun with it!
---
5. DIY is not always cheaper
A lot of times people are quick to say "You can just DIY it to save money!". But sometimes DIY is not an option.
To pull off a great looking DIY, you need materials, tools, time and usually some level of skill.
If you're not careful, sometimes DIY can end up being just as expensive as buying something new.
The perfect example is this mirror from Urban Outfitters: I wanted to DIY this so bad!
But once I calculated how much it would cost in materials to do it properly, I realized I could buy the original mirror for the same amount as DIY'ing it, if not less!
And I wouldn't have to spend time doing any work, either.
On the other hand, my husband built this beautiful ladder bookshelf DIY from scratch for about $40, and I love it! (but let's pretend there are no cables in the photo)
However, this bookcase is not something I personally would have been able to build myself by any stretch. It took my husband a fair bit of planning and skill to make it. He is waaaaay more precise than I am! He went full-on architect and made blueprints and everything 😱
The very cheapest white leaning ladder shelf you can find on Wayfair is $70. Amazon has some OK-ish deals on white ladder shelves but they're not as nice as ours IMO! So in this case, it was worth making it ourselves.
Moral of the story: if you plan on embarking on a DIY adventure, be sure to calculate how much it's going to cost you in materials so that you don't end up spending more than it would cost you to buy something new. Do your research first!
And remember that every DIY project also costs you your time, which is precious!
---
7 Low-cost DIYs and decorating ideas
Speaking of DIYs …
If you are passionate about your DIY projects, here are a few great cheap home decor ideas that can freshen up your space in no time.
A couple of these projects are actually dollar store DIYs – they are THAT cheap to put together!
1. Paint a room
Paint! The ultimate cheap home decor MVP!
If you are going for a huge impact change at a minimal cost, consider painting your room. The cost is minimal: a can of paint will cost anywhere between $20 to $50 depending on which brand you get, and a set of paint rollers, brushes and a tray only costs $16 on Amazon.
If you've never tackled this kind of project before, then check out these 10 steps to painting your room like a pro.
---
You can give an old piece of furniture a breath of new life by giving it a coat of paint and some new hardware.
It's fun, fast and cheap to do.
Check out my in-depth guide on how to paint solid wood, laminate and metal furniture!
---
3. Create an accent wall
Accent walls are a great cheap home decor idea. You can create a feature wall in an afternoon by painting, stenciling, or hanging some funky wallpaper.
Two-toned and color block accent walls are also incredibly awesome looking and would add a super modern vibe to any drab corner of your home.
How to create an accent wall with stencils
Stenciling can be a bit finicky but once you get the hang of it, it goes quickly. Just make sure you don't use too much paint (it will bleed underneath the stencil guide), and make sure you always line everything up properly. Take extra care in corners.
Lastly, make sure you buy a LARGE scale stencil! If you buy the smaller types that are used for other crafts, you will go insane because it will take you about 300 years to finish the project.
Purchase your stencils and stencil accessories online from:
Here's a video that shows you how you can stencil an accent wall in an hour.
How to create an accent wall with wallpaper
I recommend buying peel and stick removable wallpaper for this project. It's easy to remove with no mess or fuss.
Removable wallpaper is the perfect temporary decor solution, for example if you live in a rental property.
Some of the best places to buy modern and chic removable wallpaper online are:
Here's a video from Society6 that shows you how to easily apply peel and stick wallpaper.
How to create a color block accent wall
If painting a room a single color isn't enough of a change for you, then color blocking is the way to go!
When I saw this room from The House That Lars Built, I lost it! It's simply amazing.
Continuing the color blocks onto the ceiling and overlapping the natural edges of the room creates a fantastic vibrant, and dynamic effect.
It's more work and a bit more expensive than just repainting your room in a single color (because you have to buy multiple colors), but the results are outstanding!
Here's a video that shows you how to color block an accent wall.
---
4. DIY: Dollar store trash can makeover
Give your cheap dollar store trash can a chic makeover with some rope.
Easy, inexpensive and looks really great! Get the tutorial at Two It Yourself.
---
5. DIY: Terracotta planter makeover
If you are not buying your terracotta planters at the dollar store, you should be! They are so cheap! I always stock up when I go to the dollar store.
Anyways, if you are not fond of the orange hue of terracotta planters, you can always spruce them up with some paint and ribbon.
You will find the tutorial over at the Crazy Craft Lady.
---
6. DIY: Mid-century inspired plant stand
Try your hand at carpentry with this pretty mid-century inspired plant stand.
There is no fancy joinery involved in this project, just brackets, so it makes it a bit easier.
Get the tutorial at A Beautiful Mess.
---
7. DIY: Topiary trees
Learn how to make these charming DIY topiary trees for a few bucks over at Home Made Lovely. Perhaps you can put one on your newly crafted plant stand? (see above) 🙂
---
Cheap home decor for under $50
Earlier in this post, we looked at zero-cost and low-cost ways to furnish and decorate your home.
Maybe you already have your base furnishings down, but you don't have a lot of cash leftover to decorate.
So now let's look at some seriously awesome items that you can find on Amazon for below $50.
We'll take a look at:
rugs and runners
throw pillows
planters and pots
baskets
I think we can all agree that the average consumer usually wants to buy an item that performs well, looks great and doesn't cost much. That's why IKEA is so popular.
So here are some of my favorite cheap home decor items and accessories currently available on Amazon!
You probably wouldn't be able to make these yourself, at least not without some fancy (and costly) equipment. So I would say that these products are all worth their price.
And since we are using Amazon as a shopping platform, we have the peace of mind that we can simply return items if we don't like them.
Most of all, these decor items look more expensive than they actually are! Which is what most people want at the end of the day.
Super Affordable Rugs and Runners
There are so many incredible rug deals on Amazon! I tried to narrow it down to my absolute favorites, but there are SO many great, affordable rugs when you start looking!
I highly recommend looking on Amazon first, if you're after affordable rugs!
This little 2′ x 3′ foot rug is an incredible deal! Great for if you're looking to add the popular Moroccan style into your home and don't need a large area rug.
It's actually amazing how little this costs considering how cute it is!
---
I'm obsessed. This beautiful natural woven jute runner rug is gorgeous with the tassels on the short sides.
Unbelievably good value for such a beauty, at under $50. This woven runner measures 2′ 6″ x 8′.
If you need something bigger and are willing to sacrifice having fringes, then you can also get a larger 3′ x 5′ jute rug for just $33.31! (I'm actually in love with the off-white version of this rug, but it's $61 so we can't talk about that one on this post. 😙)
Or, get the best of both worlds: for $35.14 you can go with a 3′ x 5′ natural jute color with white tassels.
---
Get your plaid on with this affordable buffalo check mat. It would look totally chic anywhere in your home (I love black and white!) or at your front door.
Or get the exact same thing but with tassels on the short edges! Glorious.
---
Geometric bohemian rag rug – $17.99
I told you I like black and white! This 2′ x 3′ rug really makes my heart sing!
I love the variety in the tribal and geometric patterns; for some reason, those black diamonds are just so pleasing to me!
---
Add a little coziness to your rooms with these lovely and affordable faux sheepskin rugs. You don't have to get the standard white if you don't want to: these come in 6 different color variations.
Not only do sheepskins help soften angular furniture, but they also add a really inviting texture to your space.
---
Oriental style distressed rug – $35.81
This rug actually comes in a variety of different color combinations and has rave reviews on Amazon.
The design featuring a big medallion in the middle is really eye-catching. If you're going for the boho-chic look, this rug would look great.
3′ x 5′ costs $35.81. Larger versions of the same rug cost more.
---
Affordable Throw Pillows
The ultimate cheap home decor addition has got to be the good old throw pillow. A few new accent pillows can really change the look of your room!
Amazon is bursting at the seams with insanely affordable throw pillows.
I tend to completely ignore any of the ones that have phrases or writing on them (there are a lot). Once you look past those, you can find an amazing selection of pretty much any style you could wish for.
Here are some that have recently caught my attention.
Keep in mind that these listings are for the covers only, so you will need to get a pillow insert of the correct size if you don't have one already on hand at home.
→ You can get these pillow inserts off Amazon, they have excellent reviews and come in a few different sizes. ←
Just click on the pillowcase you like best and it will take you straight to the Amazon product page!
---
Cheap Planters and Pots
I love a good indoor garden. The more plants I can cram into my home, the happier I am!
I am obsessed with these 9 low-light plants.
Plants can be a cheap home decor addition, as often it's easy to propagate them. However, you will want nice planters and pots for your plant babies once they start to flourish!
Plants tend to look prettier if you cover up the cheapo plastic containers they usually come in.
Depending on where you shop, planters don't always come cheap. Sometimes they are crazy expensive! (Really, Wayfair? $1550 for a set of planters? REALLY?)
Anyhow, I digress.
Amazon has a decent selection of cheap planters and pots at affordable price points.
Just click on the planter you like best and it will take you straight to the Amazon product page!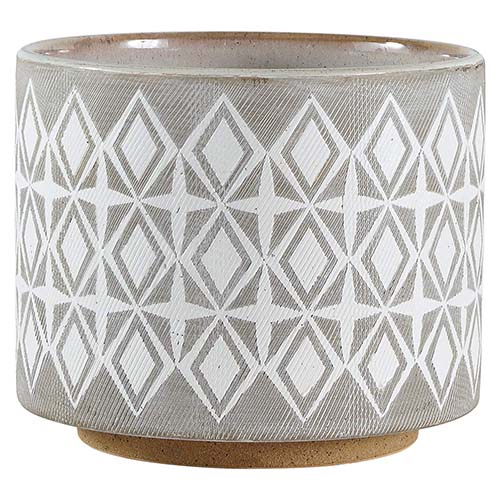 ---
Inexpensive Baskets
If you want a cheap home decor item that adds a lot of nice texture to your space without having to spend a lot of money, then grab yourself a basket or three!
Baskets are a great way to keep your clutter under control. They are visually pleasing in addition to being extremely functional!
But baskets aren't only for clutter that needs hiding away! You can also place your plants inside baskets, tastefully display throws and pillows, collect dirty laundry, store your kid's toys, or anything else you can think of.
(hint: if you love baskets, you should always search for them at thrift stores!)
Click on the basket you like best and it will take you straight to the Amazon product page!