15 Life-Saving Pet Friendly Decorating Tips!
I was not paid to write this post, however, it may contain affiliate links. If you make a purchase through one of my links, I may make a small profit at no expense to you. For further information, please view my policies.
Today we are going to look at how to decorate when you have pets! 🐾 Keep reading for some purrrfect interior design ideas for pet owners! 😉
Want to watch the video instead? 🙂
---
There's nothing more awesome than having a dog at home. I love lying on the sofa with Ziggy, giving her lots of cozy cuddles, head pats and belly scratches!
And now more than ever, people are welcoming new pets into their families, as we are all spending more time at home.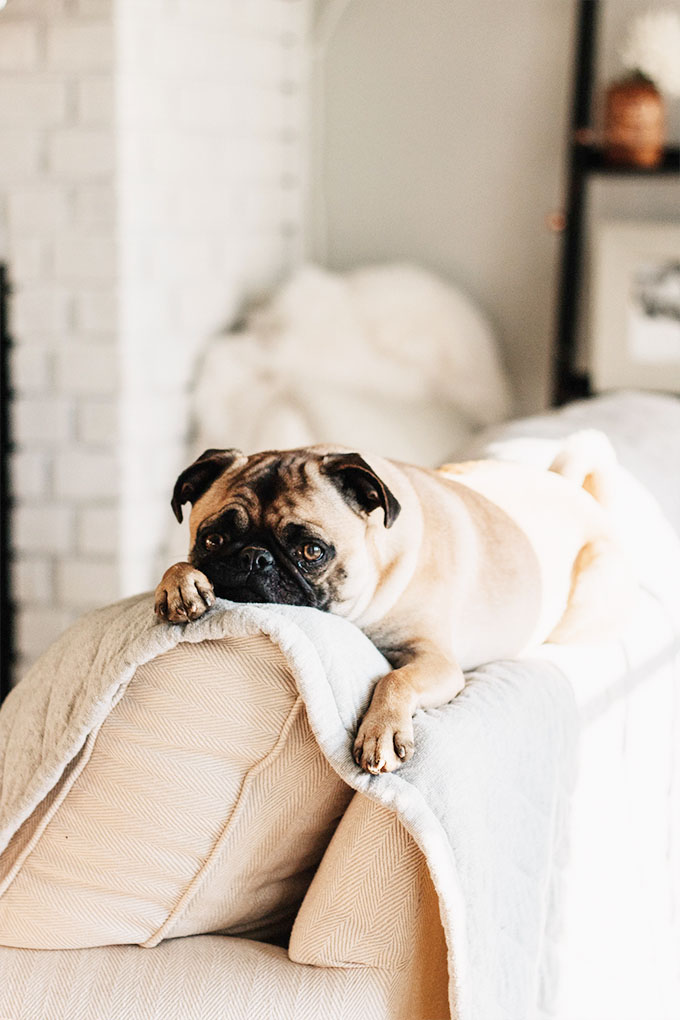 However, when you welcome a new four-legged friend into your home, you need to look at the way you decorate. Of course, first and foremost you want to make things as safe as possible for your new furry pal. But you also still want to be stylish!
You don't need to compromise on style when you have pets in the home! Here are some of my top tips when it comes to pet-friendly interior design.
Use Quake Hold to secure fragile items in place
Any other pet-decorating tips list will tell you to just forget about having anything breakable or fragile when you have pets. Not true!
And fair enough, cats and dogs are curious creatures and sometimes when they explore, they tend to knock things over.
It may SEEM that the only option is to hide your glassware and other tchotchkes, but there is another way!
QuakeHold is a non-damaging adhesive that is often used in museums to secure items in case of earthquakes, but it can be used at home too. It's a bit like sticky-tack; pull off what you need, roll it into a ball and stick down your fragile items.
It comes in wax, putty and gel form.
If you're securing china, pottery, ceramic, or wooden items then the putty is preferred.
The clear gel is recommended for crystal and glassware.
For items that you're securing more permanently to wooden shelving, the wax is a good option.
Quake Hold sets quickly, comes off cleanly and most importantly, is non-toxic. So if Buddy does accidentally get a hold of a little nibble, he'll be just fine.
Use washable slipcovers
Who doesn't love relaxing into a brand new, clean sofa?
However when there's a dog or cat at home, your lovely new sofa can quickly become covered in hair, mud and drool! And sometimes "other" not-so-nice things as well 😅 … plus, it's twice as worse when you have white furniture.
If you have a pet that loves chilling out with you on your favourite chair, why not consider a washable slipcover? Just put it on and throw it in the washing machine when it needs cleaning.
Plus with washable slipcovers, you can change out the style of your sofa or chair anytime you like – it's a win-win!
Use washable paint on walls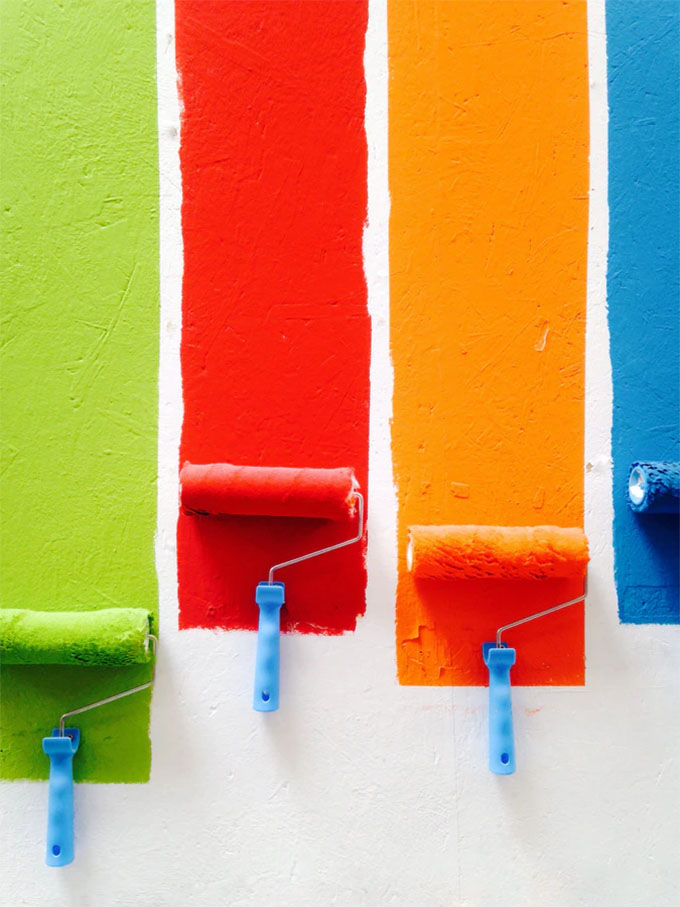 Picture the scene… you take your dog for a lovely walk when the heavens open. Your pooch gets super excited, jumping in puddles and rolling in mud.
You get in the house and surprise! He decides to have a good old shake, spraying mud, water and goodness knows what else onto your painted walls!
If you have a pet that likes to… get creative with your walls, I recommend getting washable paint. That way, you can simply sponge off scratches, mud and any other suspicious-looking stains, leaving your walls pristine.
There are tons of great colours and finishes available too, meaning that you don't have to compromise on style!
Regal from Benjamin Moore is a great scrubbable paint that comes in several finishes, so you can start by checking that out if you don't know where to start!
My absolute favorite way to remove any scuffs or imperfections off my walls is with magic erasers. I didn't understand the hype about them …. until I tried them. I bought them on a whim one day because everyone online said how amazing they are. Suffice to say, my cleaning closet will never be without them again!
Use closed toy storage
If you have a pet, it's likely that your house is filled with toys. And unless you're buying incredibly chic and designer pet toys, let's face it; pet toys are usually kind of an eyesore. So you might want to store them somewhere where they won't be seen.
Using closed storage to store them away means that when Fido isn't busy shredding up his toys, you won't have to stare at a half-chewed-up plushie in the shape of a brown turkey bone.
Choose durable, tough fabrics
You can straight-up tell which families don't have pets – they have linen, chenille and silks in their living rooms and bedrooms!
When you have pets coming to play, you need durable fabrics that are easy to wash and tightly woven, so they don't trap pet hair and dander. Microfiber, microsuede, leather and cotton canvas are all great choices, and look stunning too.
My top tip is to give outdoor fabrics a try! PVC, marine vinyl and polyester are easy to clean and come in a wide range of different colours, prints and styles.
Invest in a fabric spot cleaner
Even with the best will in the world, accidents can happen! This is especially true if you have a puppy, kitten or older pet.
You can save your upholstered furniture, carpet and area rugs with a fabric spot cleaner. Use it as soon as you see (or smell!) something, and this will help freshen up your upholstery.
There are a lot of great spot cleaners on the market. I personally use and swear by this spot cleaner from Bissell!
I find that as a pet owner, owning a portable upholstery cleaner is a must. They're convenient and practical, because you can get into small and awkward places more easily than with a regular carpet cleaner.
If you don't own an upholstery cleaner and you're looking for a quick DIY solution, try white vinegar and baking soda (more in depth instructions here). The vinegar neutralises the ammonia in the pee, and the baking soda safely gets rid of any smells.
Use carpet tiles
Now, let's talk carpets.
Carpet is fabulous for keeping the heat in the room as well as keeping our feet nice and toasty! However, with pets it can quickly get stained. Long pile carpet can get snagged by overly sharp claws too.
If you love the sensation of carpet and don't want to use wood or laminate, have you considered carpet tiles?
The beauty of carpet tiles is that if one tile gets damaged, you can simply remove it and either clean it or replace it. It's genius!
I'm a big fan of Flor carpet tiles – not only do they come in a beautiful range of colours and styles, but they're so easy to install too! You can really get creative with them – check out their website for lots of ideas and inspiration.
Choose the right kind of rug
If carpets aren't your thing, a rug can add sumptuousness and warmth to a room, and really take your room to the next level of cozy. If you have a four-legged friend though, you need to choose your rugs carefully.
A low-pile or flat weave is a good option if you have pets at home. This stops their claws from getting caught in the rug, which can hurt them if they move quickly or jump. Although there is something to be said about shaggier rugs, which do a much better job at disguising dirt…. I have all of the above in my home: low pile, flat weave, shag, and even faux fur, and they definitely all have their own pros and cons.
A durable rug that is easy to clean is ideal – that way, any hairballs or little messes can quickly be cleaned up. Indoor – outdoor rugs made from polypropylene are another favorite option amongst pet owners, as they are already designed to withstand more "rugged" use. Check out these affordable outdoor rugs for some ideas.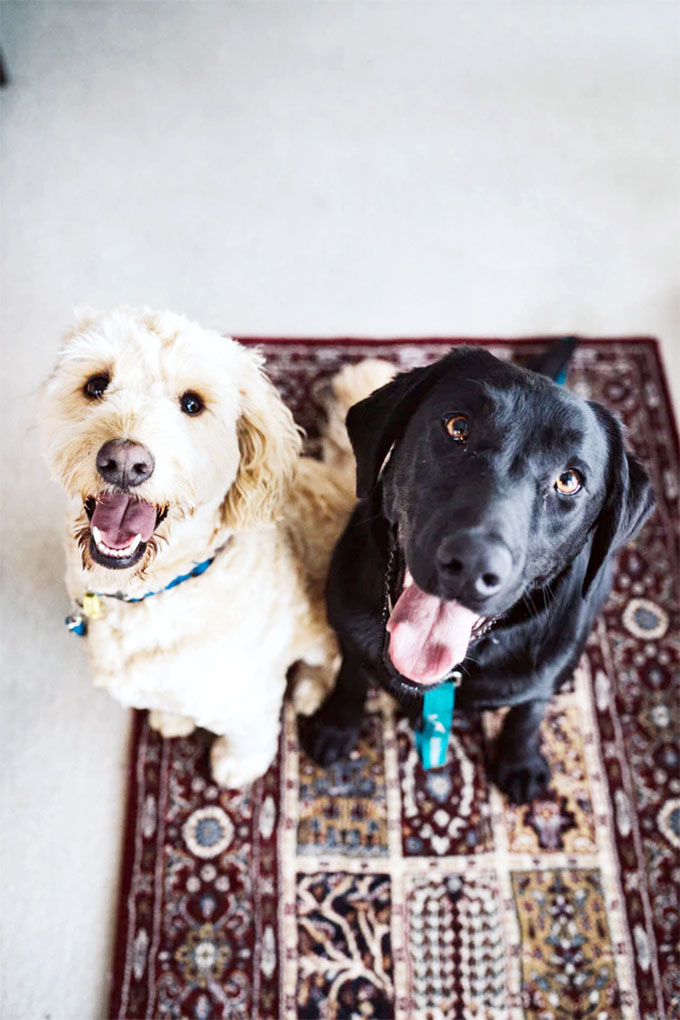 Some dogs like to chew on sisal and seagrass, so maybe those are not the best rug options if your dog is a chewer.
My dog Ziggy doesn't chew at all, but loves to rub her little snout all over things when she gets wet (or even after drinking water!), so light-colored rugs can get dirty fast with her. Choosing the right rug can really depend on your pet and their personality and quirks!
One last thing! Make sure that your rug is stuck tight to the floor – the last thing you want is your doggo to get the zoomies and end up sliding all over the place!
Match your pet's fur colour to your decor
Here's a sneaky how to decorate with pets hack! When you buy new carpets and furniture, try to coordinate it with your pet.
This means that when your cat or dog sheds, the hair won't be as noticeable, and you won't have to clean up as much!
The blue-gray cat on the blue sofa above is the perfect example of matching your decor to your pet's fur color. This tip may seem silly and extreme, but trust me: you will be thankful you did this if you're serious about having pets long term and still want to enjoy a beautiful home that doesn't require you to break your back every day to keep it clean.
Of course, getting new furniture is not always an option! My top tip is to get a blanket or slipcover that coordinates with your pet and pop it on your sofa. When it's time to clean, you can just stick it in the wash!
This same color coordinating rule can be applied to bedding as well, if your pets lounge and sleep on the bed with you.
Match your pet accessories to your colour scheme
One more colour matching tip!
From pet beds to leashes, bowls and chew toys, it's amazing how many accessories a pet needs!
One handy tip for making your home look clean and well-put-together is to coordinate your furry friend's accessories to your home's colour scheme.
One way to do this is to match your pet accessories to your throw pillows or existing accent pieces. So for example, if you have a range of yellow throw pillows and artwork in your room, try finding a coordinating yellow pet bed to fit in.
Get a fancy pet bed
In the past, pet beds used to come pretty much in only two colours… grey and brown. Think of the outcry there would be if our beds only came in two shades!
Now there are a wide range of pet beds available to suit every home and budget.
Want your pupper to snooze in a four-poster canopy bed? You've got it! Looking to treat your kitty cat to a plush pink pillow to rest their head on? Why not!?
Made.com even makes a line of pet beds that loos exactly like a mini version of your own sofa! (Sadly, these amazingly stunning pet beds are available in Europe only)
Speaking of pet beds…
Buy washable covers for your pet bed
Just think how nice it is to sink into freshly washed sheets at the end of the day. Pet beds can build up germs, hair, dander, drool and pee, so it's essential to keep them as clean as you would your own bedding.
Washable covers are especially important for older pets who may be incontinent and younger pets that are still being toilet trained.
Machine-washable covers for your pet's bed are definitely a worthwhile investment. Some pet beds are made with little micro pieces of 'grippy' plastic on the bottom, and I can tell you from personal experience; you don't want to wash and dry pet beds that have those. Unless of course, you want to find hundreds of tiny little plastic circles all over the house for months.
Feeling crafty? You can try your hand at DIYing a slipcover. All you need is some fabric, a zipper and some thread.
Alternatively, if you're in a pinch, just cover their bed with a towel, so you can easily wash it when it becomes grimy.
Get a chic cat litter box
If you have cats at home, it's usually a fair assumption that you'll stash their litter box somewhere where it can't be seen, like the bathroom, closet or utility room.
Some modern cat litter boxes though, are wonders of modern architecture! This means that you can keep them out in the main rooms of your home, and nobody will be the wiser.
There are some awesome ones that double as side tables too, meaning that you can store your books and trinkets on top, all while keeping your kitty happy!
Invest in a robot vac
I am fortunate enough to have a dog that doesn't shed (just another reason why Yorkies are the best!), but as a former owner of two cats, one of them being pure white, I can honestly tell you that pet hair is no joke.
I sometimes left the house with a literal COAT of white hair on my clothing, and I wouldn't realize until it was too late.
If you have a never-ending tidal wave of pet hair to contend with, a robot vac could be worth its weight in gold. Just leave it running, and it will pick up any hair that it comes across on its travels.
A robot vac is great if you or a family member is prone to allergies, like my mum. No more red eyes or runny noses over here!
There are a wide range of vacs out there – many of which you can run from your smartphone. Just relax, put your feet up and let your robot vac take care of the dirty work! I use this one and it does the trick in my home. Total life-saver. It also has a mop built-in so I don't have to worry about mopping anymore because my robot friendo does it for me.
Be careful which plants you use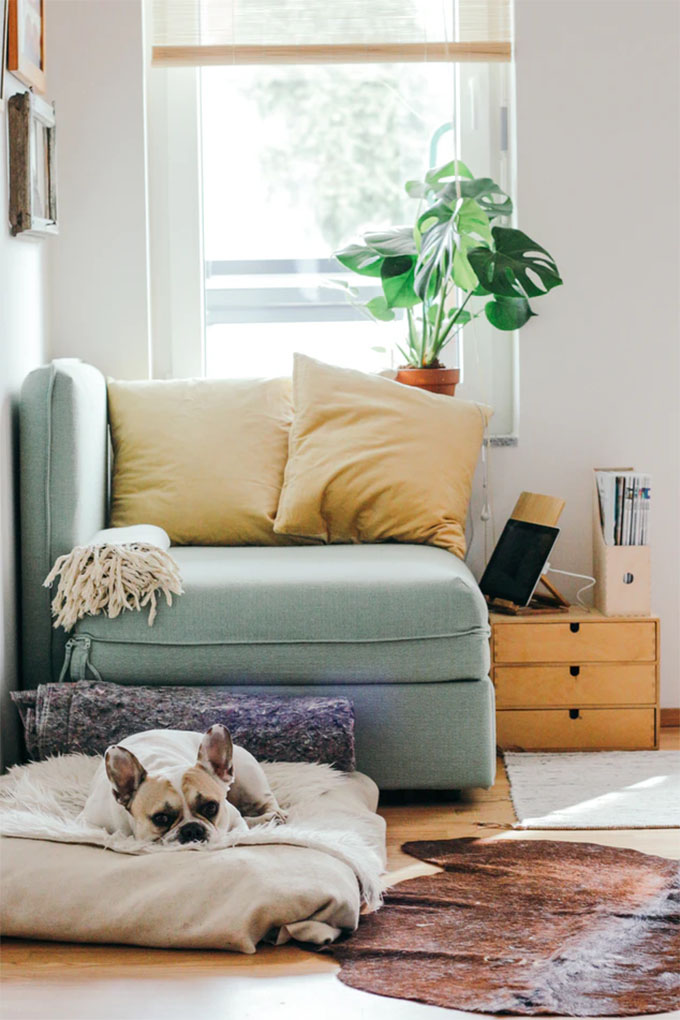 Indoor plants are fabulous. They add a lovely brightness to your home, smell delightful and help purify the air too!
However, you need to be careful about the plants you put out, as some can be toxic to cats and dogs.
Plants like bird of paradise, aloe vera and peace lilies can be dangerous if pets eat the leaves or flowers.
If you have these plants in your home, keep them out of reach of curious critters. Alternatively, use fake plants or pet-friendly ones. Spider plants, Venus flytraps and Boston ferns are all pet-safe and will add a gorgeous touch of greenery to any rooms they are in!
Be sure to check out this post about 9 super easy to care for indoor hanging plants – I made sure to include which ones were pet-friendly, and which ones are toxic.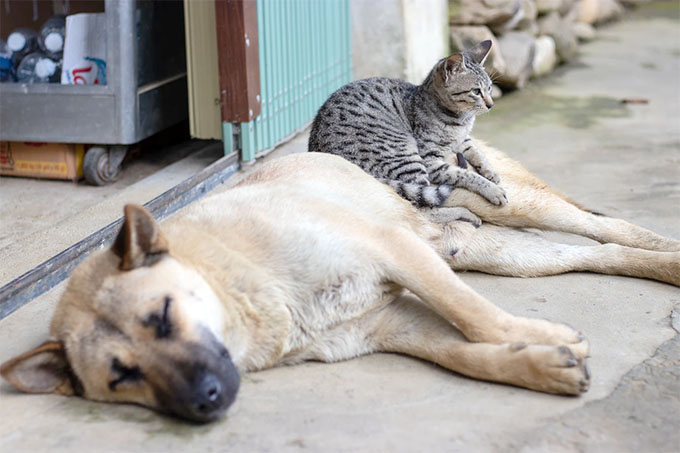 I hope these tips on how to decorate with pets have inspired you to have a go at some pet-friendly interior design of your own. I'd love to hear your fave tips for decorating with pets, as well as hear about your four-legged friends too!