Pampas Grass Decor Ideas Perfect for Any Interior Style
I was not paid to write this post, however, it may contain affiliate links. If you make a purchase through one of my links, I may make a small profit at no expense to you. For further information, please view my policies.
Everything you need to know about pampas grass decor!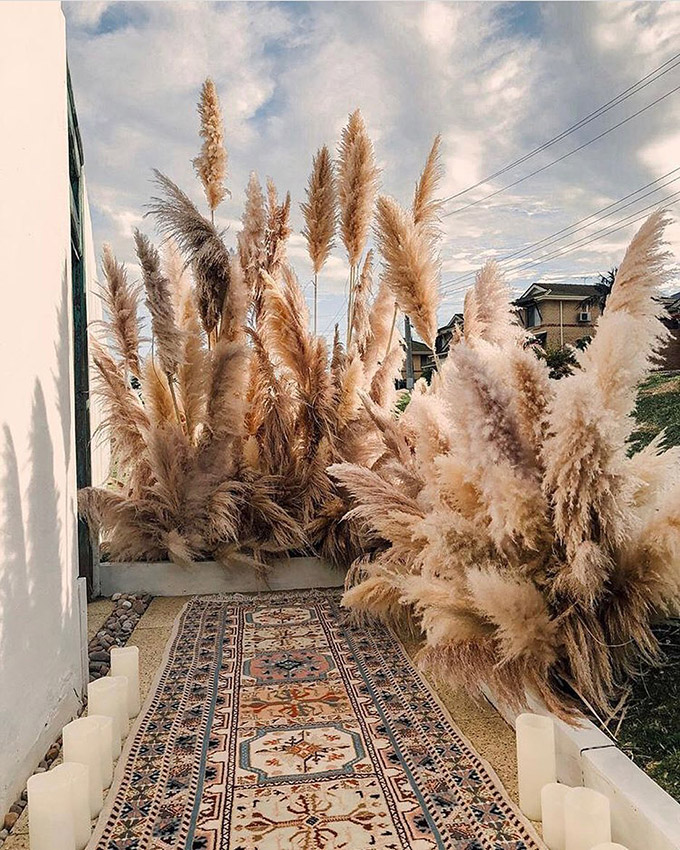 Want to watch my video instead?
---
Whether you have a rustic interior or prefer a contemporary style, nothing complements home decor like pampas grass.
Lush, feathery, and undeniably gorgeous, pampas grass has become a recent obsession among both homeowners and professional interior decorators alike.
It's been all over the internet and floating around many social media platforms too. I wouldn't even be surprised to find dried pampas grass to be one of the world's most talked-about plants! Everyone is wondering where to get this fluffy beauty.
If you are curious about this super hot home decor trend as well, then read on as we will delve deeper and discuss all things pampas grass!
What is Pampas Grass?
Also known by its scientific name, Cortaderia selloana, pampas grass is a charming ornamental grass that is native to the Pampas region in southern South America. It was later introduced to North America, New Zealand, Europe, and Australia in the seventies and is used as a decorative element once dried.
However, it is currently considered a very invasive weed in several regions and even banned in New Zealand and Hawaii.
Weed or not, pampas grass continues to be an attractive ornament indoors, from living rooms to bathrooms.
Appearance
Pampas grass is known for its white feathery flowers, which serve as its most eye-capturing feature. Its tall, green leaves look elegant, beautifully swaying even in the slightest breeze. This tall grass species can grow really fast, from five to fifteen feet high.
Colors & Varieties
The majority of pampas grass falls under the selloana species and there are about 25 different types. Despite the variety, usually the plumes are silvery-white, light yellow or taupe.
However there is one variety called Cortaderia selloana 'Rendatleri', or 'Pink Feather', which actually produces true pink plumes!
There is also another interesting variety of the grass called Cortaderia jubata (or Andean pampas grass), which has a distinctive purplish hue to it.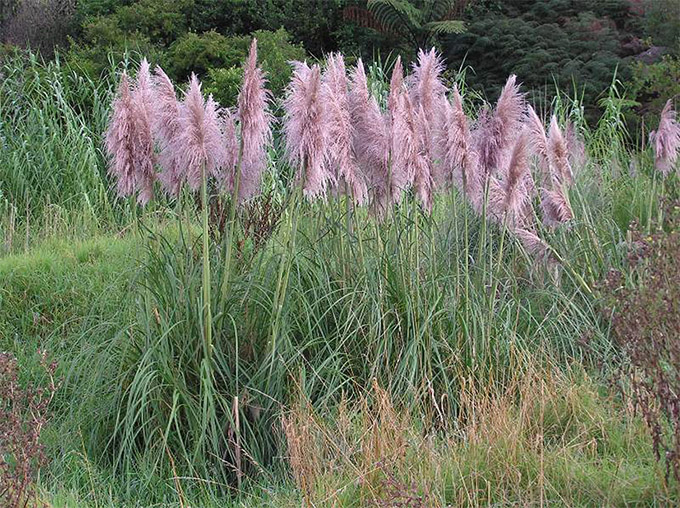 For the most part, the grass's soft plumes actually grow on the female plants. Male plants, on the other hand, produce grayish pink flowers and are more rugged.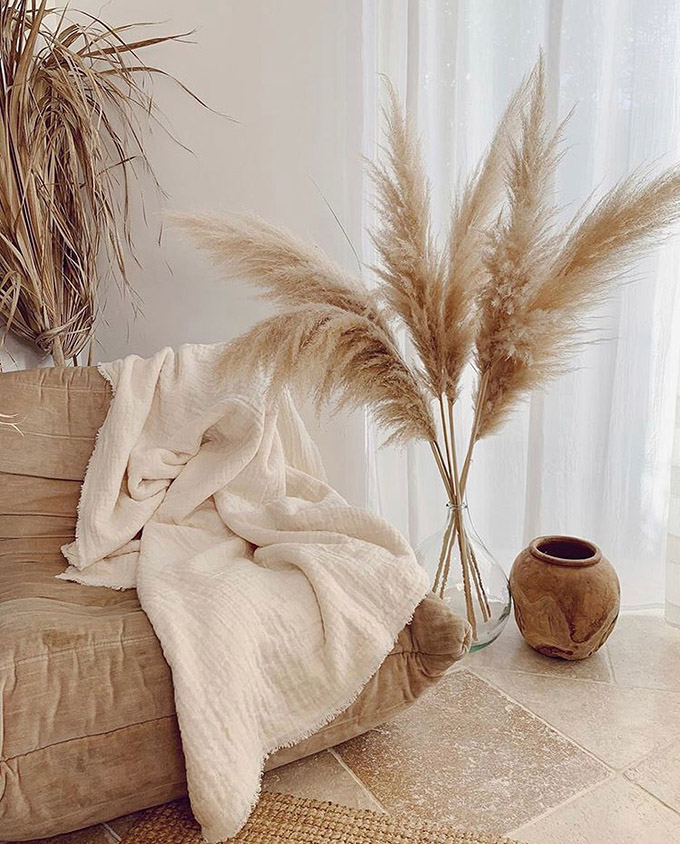 Cost
The cost of dried pampas grass varies widely, depending on the vendor and your location. However, you can expect to spend at least $20 for every five reeds.
Of course, if you are able to find it in the wild, then you can save a lot of money, this is obviously my preferred method 😉
When is pampas grass in season?
Whether it's for a wedding or if you just need a unique home feature made from pampas grass decor, you're lucky because it is generally available all year round. Pampas grass is extremely easy to grow, and it is often in full bloom from September to February.
How long does pampas grass last?
The lifespan of an actual pampas grass plant is about 10/15 years.
As an indoor decor element, if you are careful with your plumes they can last for several years. Just be sure to give them a little fresh spritz of hairspray from time to time (like maybe once a year) to make sure they never shed.
Why Designers Love Pampas Grass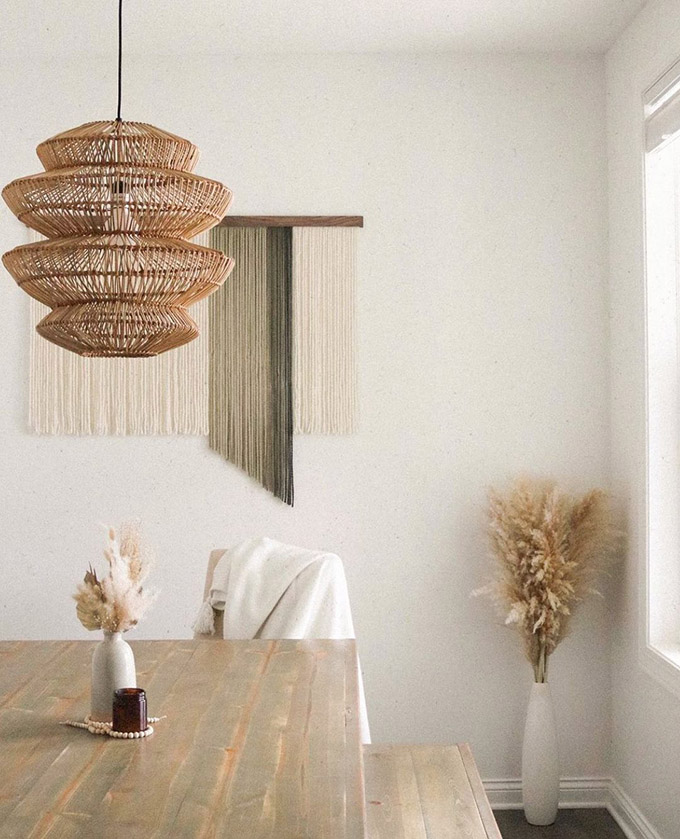 Although standard green houseplants will always be on-trend, dried pampas grass is starting to steal the spotlight. Homeowners and decorators love this grass not only because of its elegant cloud-like stalks, but also due to its unique texture and characteristics.
If you still need a bit of convincing, let's talk about why designers now choose pampas grass for centerpieces and bouquet arrangements, as well as home decor.
Low maintenance – Since your pampas grass decor is already dried, it generally requires less maintenance. However, you will need a high-hold hairspray to minimize shedding so that you can enjoy those beautiful plumes for a longer time.
Provides textural quality to a room – Pampas grass creates a sculptural look while adding a nice touch of relaxed drama. But best of all, it allows your living space to come alive, giving you a unique tactile experience.
Brings the outdoors in – Who says that grass should only stay in your backyard, garden, or in the wilderness? Pampas grass has proved us wrong by creating a captivating outdoor vibe in your home.
Neutral colors – Designers love the endless possibilities brought by pampas grass, thanks to its neutral colors that work perfectly with any decor. It creates a gorgeous neutral palette with lots of texture cohesive with any home style.
How to Decorate with Pampas Grass
There is no denying that pampas grass can turn any average home decor into something special. Whether you want to go glam, boho, rustic, or contemporary, adding a touch of pampas can work perfectly with any decor style.
The grass's durability and versatility offer limitless design possibilities. This means that you will never run out of options no matter what style or look you want to achieve. You can repurpose it when you change up your decor (for example by giving it a new vase) and it will always effortlessly blend right in.
So if you're ready to transform a corner of your home into a work of art, then here are some tips and tricks on how to decorate with pampas grass.
1. Pair it with a dark background
Although in all the photos online, you'll generally see pampas shown off in bright, neutral rooms with light walls, don't forget that this pretty plume pairs well with dark tones, too!
Displaying pampas grass on a black backdrop will add a ton of dramatic contrast to your room. Dark walls are now on-trend, so when you combine them with this light and fluffy, feather-like plant, it will create a super moody atmosphere.
2. A centerpiece solution all year round
The problem with using fresh flowers is that they quickly wither and die, especially during winter and fall. If you're tired of having to change your table centerpiece frequently, then use pampas grass instead.
Pampas also brings warmth and texture into any space, which is a crucial element of a centerpiece. Even just a couple of stalks of this grass can enhance the overall look of your room.
3. Design your own holiday wreath
If you think that wreaths are only for Christmastime, think again! You can create your own pampas grass wreath and place it on your door, or even use it as a wall hanging inside. It's a fantastic way to celebrate the beginning of fall and the end of summer.
A pampas grass wreath can also be a personalized gift item you can give someone. Perhaps, you just want to show off your creativity! Regardless of the case, a DIY pampas grass wreath can add a dash of elegance to any entryway or interior.
4. Enhance neutral color palettes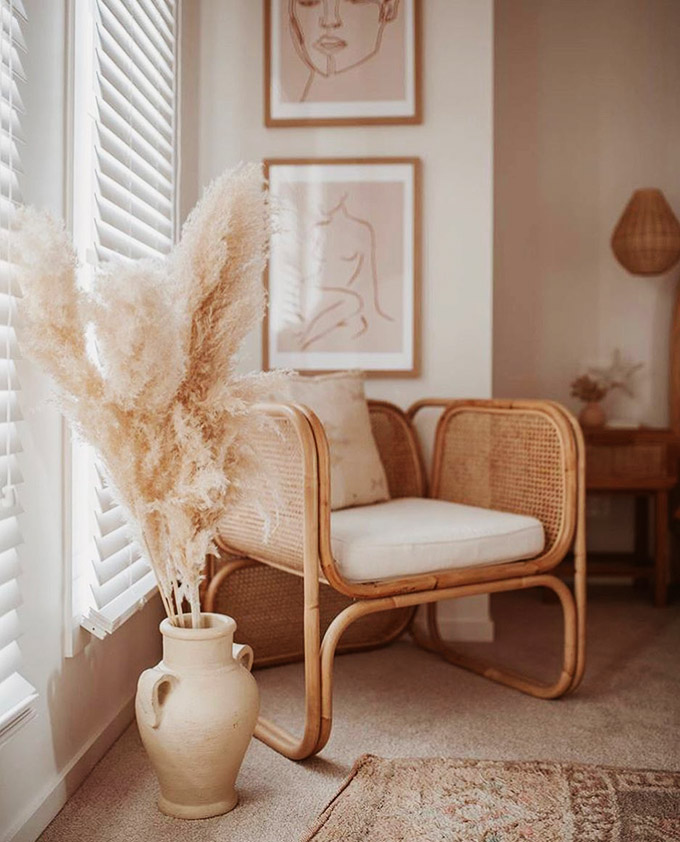 When combined with neutral color palettes, pampas grass offers modern elegance at its finest. You can never go wrong when you mix dry grass with an interior that has soft neutral tones. So put a few grassy stalks in a white or light brown vase to add a gentle texture to your space.
5. Fill a statement vase with pampas grass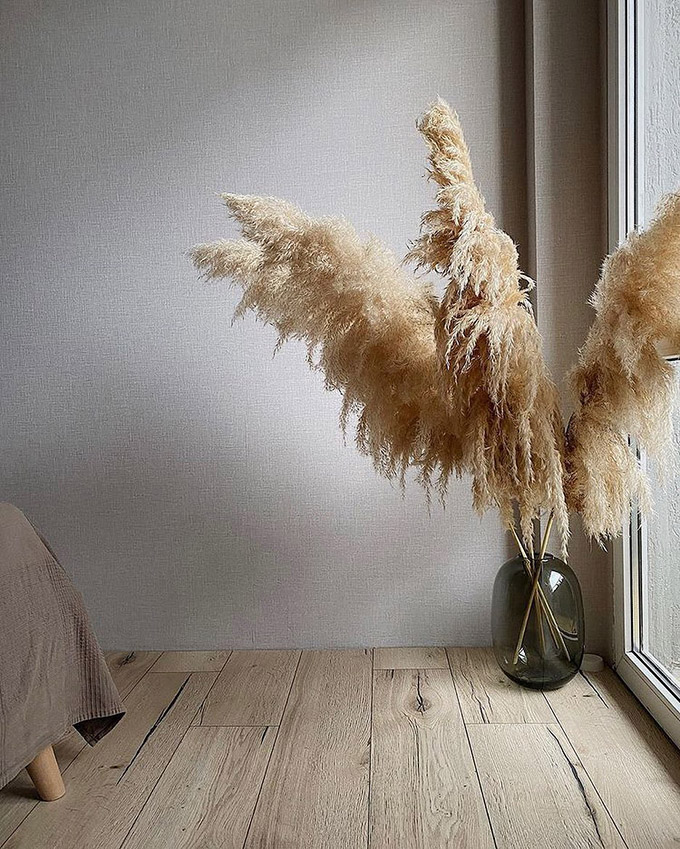 Whether you're adding a finishing touch in your living room or simply trying to fill a space on your dining table, a vase full of pampas grass will create an appealing flair to your room. It will create a dramatic feature and a cozy-chic vibe for a soothing environment.
6. Create a DIY pampas grass Christmas tree
During the Christmas season, Christmas trees are an obvious home decor choice to have. But did you know that you can create a Christmas tree out of pampas grass?
They are commonly made as tabletop Christmas trees, but you can also make full-size ones if you're willing to put in the extra effort (and vacuuming!). 🤪
There aren't many tutorials out there at the moment, but you can check out this video from Rachel Metz where she attempts to make a full-size one.
And here is a tutorial on how to make a table-top sized one.
7. Create a hanging pampas cloud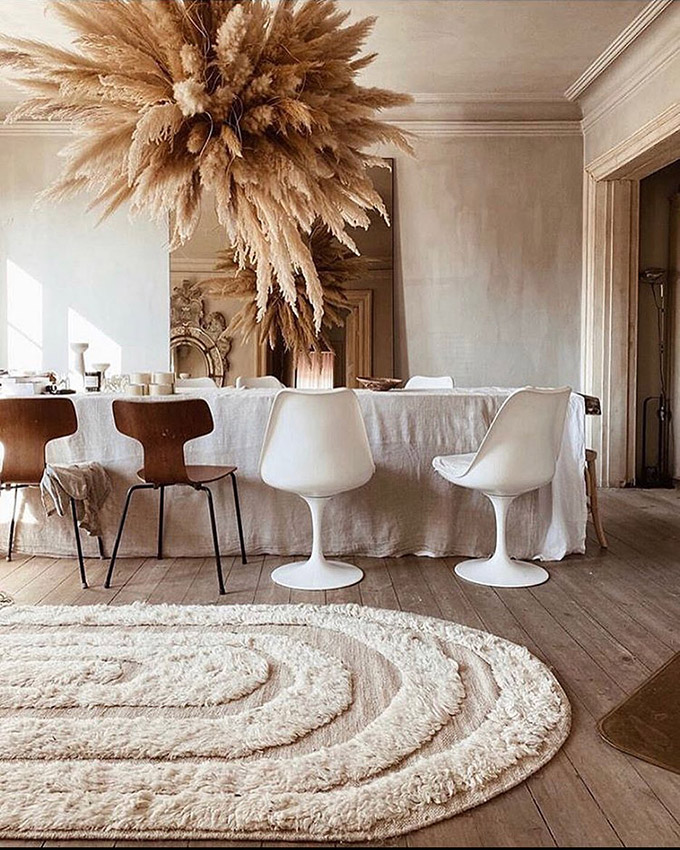 If you like the Christmas tree pampas grass idea but are more into hanging plants, then a hanging pampas cloud is a must-have on your list. Not only will they "wow" your guests, but it will also be safe from pets and children as they float above the ground.
If you want to watch a great tutorial on how to DIY your very own ethereal pampas cloud, I recommend checking out this awesome video (start at around 1:40):
8. Combine your pampas grass with other types of dried foliage
Pampas grass already looks mesmerizing on its own. But this does not mean that it won't pair well with other dried foliage. So depending on the style of your home or living space, you can combine it with others to make them stand out even more.
Where to Buy Dry Pampas Grass
If you've decided to use dried pampas grass as a piece of home decor, there are several online retailers that can give you exactly what you need. You can check out:
For those who don't have enough space in their yard for this plant, Etsy offers a range of natural dried pampas grass. The plants are available in a wide range of sizes and colors and can be bought by the stem or in bundles.
I recommend the following Etsy stores for high quality, large and fluffy pampas grass:
If you are after a cheaper alternative, then AliExpress is a good option to consider. They are also well-known for their "buyer protection program" that allows customers to get a full refund if their items do not arrive or are "not as described" (which can happen on these cheaper websites).
Be sure to check reviews before making your purchase. Generally with the good products, there will be reviews with pictures from other buyers showing what the actual item looks like, which will avoid any unpleasant surprises with your order.
These pampas grass products are currently the ones with the best reviews so I'd start by checking these:
RELATED: Check out these chic as heck AliExpress home decor products – you'd never guess they were so cheap!
Luxe B
One of the great things about pampas grass is that they also look amazing as a faux plant. If that's what you are looking for (for example due to allergies), then Luxe B offers both real and fake pampas grass for purchasing.
She also sells her stuff on Etsy!
Be sure to use my code POSHPENNIES20 to get 20% off any Luxe B product!!
Here are a couple of her really popular products to check out:
Other reputable pampas grass vendors:
Pampas People
Golden August
Pampas and Palms
Hudson & Hendricks
Additional Tips and Info
Although pampas grass is incredibly adaptable, it can shed easily if not appropriately conditioned. Therefore, make sure to follow our expert tips to maximize its lifespan.
A spritz of hairspray can prevent excessive shedding, so make sure you give each plume a light and even coating. Wait until they dry before you start decorating.
Dried pampas grass doesn't need water. Just re-spray every six months to maintain the plumes.
Always check the measurements before buying pampas grass.
If you're still unsure of where to buy this grass, contact your local florist as they might have some different options in stock for you, or some suggestions as to where to find it.
You can dye pampas grass to any color of your liking. Dyed pastel plumes can make lovely decorative elements not only for homes but also for different events and occasions.
How do I keep my pampas grass fluffy?
Since pampas grass is prone to shedding, you'd want to place it in a low-traffic area in your home. Avoid brushing up against it or touching the grass to keep it fluffy and full. Spraying it with hairspray will also keep its fluff intact.
Thanks to its neutral color, low-maintenance, charming showy plumes, and fluffy gorgeousness, pampas grass has become a must-have decor accessory that everyone is obsessed with.
What do you think? Are you ready to introduce this beauty into your home? Love to hear your thoughts in the comments! 😃