11 Affordable Ways to Update Your Patio this Summer
This post may contain affiliate links. If you make a purchase through one of my links, I may make a small profit at no expense to you. For further information, please view my policies.
If you are here, you might be looking for inexpensive ways to update your patio this summer.
Or maybe you're looking for some affordable ways to refresh your patio but you're feeling a bit lost.
You are in the right place!
Watch the video instead!
Decorating an outdoor space on a budget is not as hard as it may seem!
I understand that it can seem overwhelming because well … it's outdoors.
But patio decor doesn't have to be scary!
Here is the secret to patio decor …
And consider the weather in your part of the world.
Yep, that's it!
But how do we put that into practice?
Let's dive in and take a look!
Whether you are a die-hard entertainer, or just want to create your own little private patio oasis, these affordable patio update ideas will help you create the perfect outdoor space that you will want to enjoy all summer long!
How to decorate your patio this summer
1. OUTDOOR FURNITURE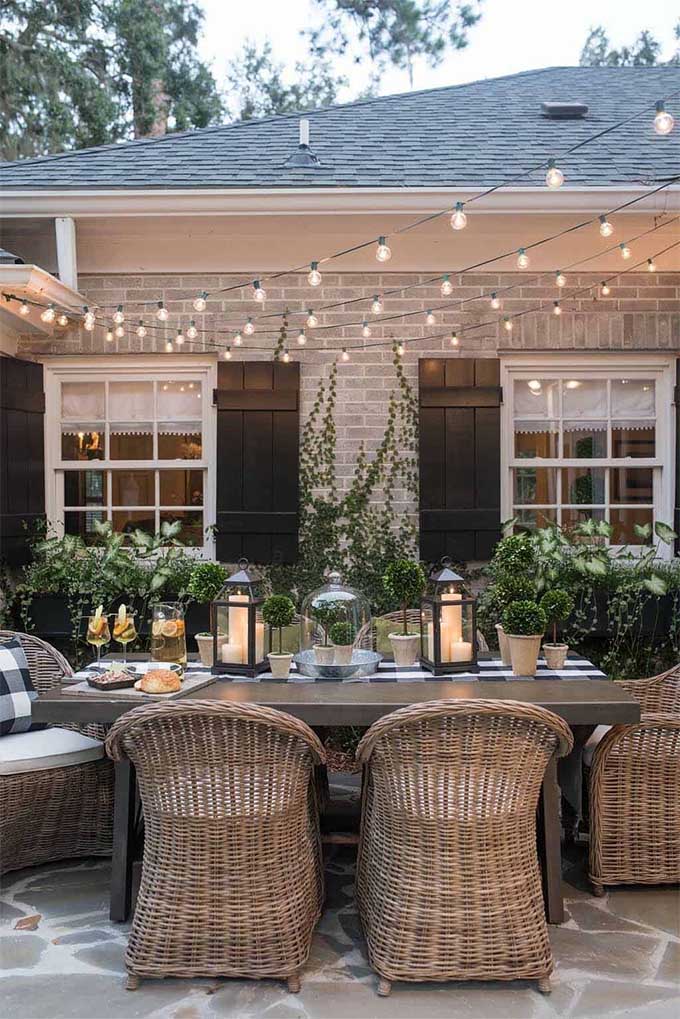 A comfy and inviting seating area can really be what makes it or breaks it in your outdoor space.
However, before you rush off and buy new patio furniture, the first thing to decide is whether or not you need to leave your furniture outdoors year-round.
If so, your outdoor furniture will need to be weatherproof.
So now that you've decided whether or not you're keeping your furniture outside year-round, or bringing it back in at the end of the season, you'll need to decide the function of your outdoor space.
You want to be comfortable and you want the space to be inviting.
How do you want to use your space?
What kind of furniture you get depends on your space and how you want to use it.
If it's just a chill-out area where you won't normally be dining or entertaining a lot of guests, then you could consider a modular outdoor couch with a low coffee table.
If you intend to frequently dine outside, then a "proper" table and chairs are a must.
If you have a pool, maybe you just want a couple of loungers and a side table.
Think about how your space needs to function and plan accordingly.
My favorite places to shop for affordable patio furniture have got to be Wayfair, Ikea and Amazon.
Walmart also has some great outdoor conversation sets for under $500, like this one and this one.
You don't have to spend a lot of money to get some good looking weather-resistant outdoor furniture!
If you are feeling handy, then why not DIY your own patio furniture using pallets? With a bit of colored paint and elbow grease, you can have a beautiful and custom look for next to nothing.
2. STRING LIGHTS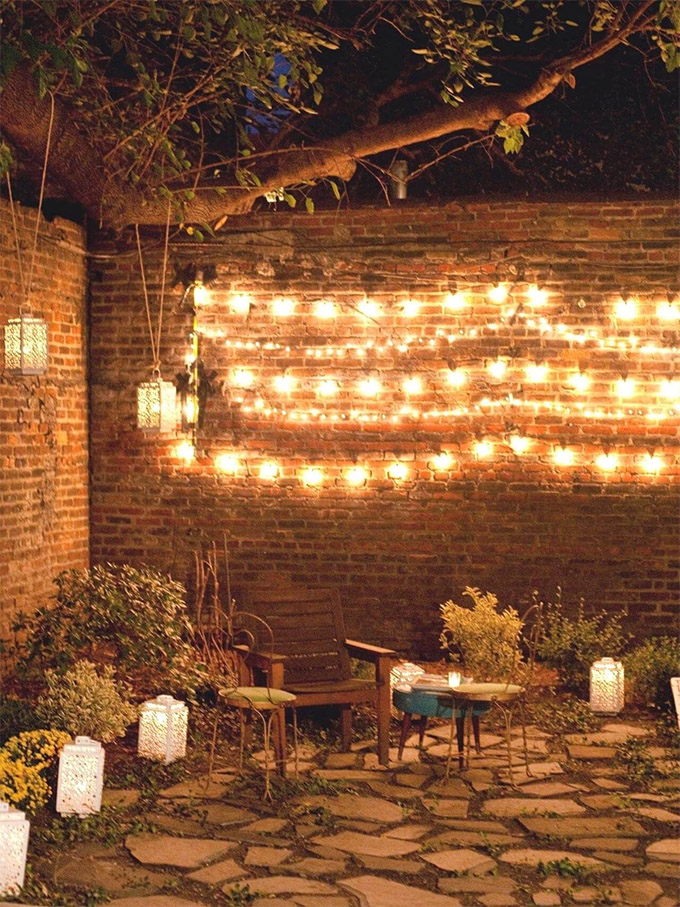 String lights are a must for creating a magical evening atmosphere on the patio. They are SO inexpensive and make such a huge, immediate impact!
You can get the plugin kind, battery-operated or even solar-powered, just choose whatever is most suitable for your situation.
For example, if you don't have any plugs where you want to place your lights, then obviously solar or battery operated string lights would be the way to go.
↓ QUICK TIP ↓
For a cozier effect, opt for warm white lights rather than cool white. Cool light bulbs tend to create an office feel – NOT the vibe you're going for on your super relaxing patio!
Here are some ideas for how to use string lights as a part of your patio decor:
in a lantern (instead of using candles)
under an umbrella
anchor them across the patio or gazebo
along a balcony railing
around a tree trunk
around a bush
cascading from branches
And don't forget citronella candles if you live in an area with mosquitos!
Here are a few great deals for fairy lights you can grab on Amazon:
3. TEXTILES
Don't worry, if you aren't in a place where you can purchase new furniture, just opt for some cozy blankets, throws and accent pillows to spruce up your existing furniture.
Try to use the colors and patterns of the textiles to create a cohesive palette that works with what you already have.
Cushions and throws really help soften metal outdoor furniture which can sometimes appear harsh on its own.
Keep in mind that if you don't get weather resistant textiles they'll need to come in at end of season or when it rains!
Montana has a massive range of amazing colors if you want something really different. Just look at their impressive color chart!
I recommend using the Montana GOLD range. It's an acrylic spray paint in semi-gloss which means it will stay put in any sort of weather. ("Gold" is the name of the range of paints, not the actual color gold.). It comes in 215 different colors.
Spray paint is literally the most satisfying instant update which requires minimal cost and effort! #instantgratification
4. PLANTS AND PLANTERS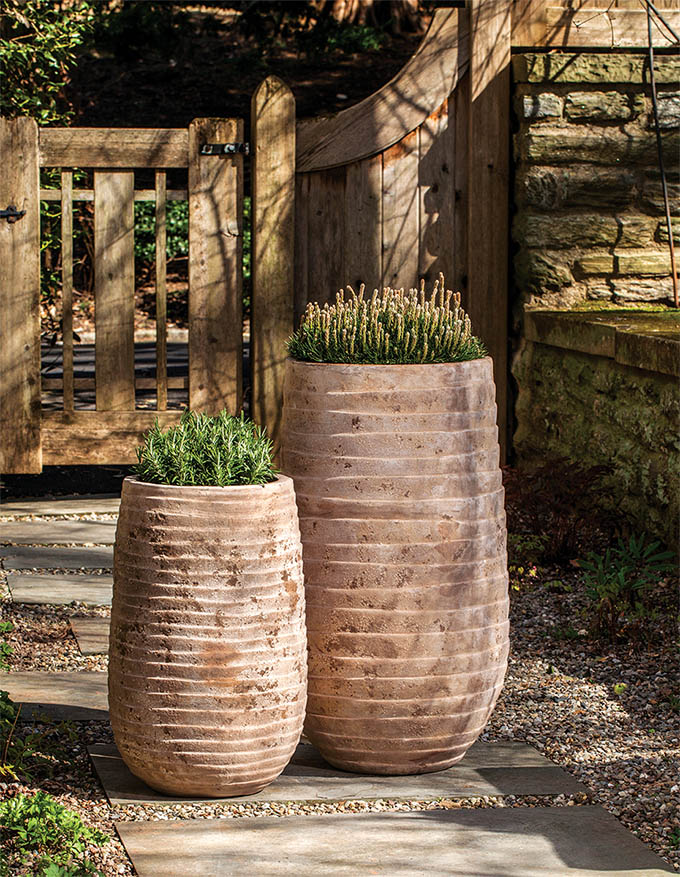 Planters are a great outdoor addition; flowers and plants add so much life and warmth and where better to have them than outdoors on your patio!
Try mixing planters in different heights and widths and group them in odd-numbered clusters.
You can buy plants on the cheap from places like Walmart and other home improvement stores.
Or, if the season is right and you want to try your green thumb, buy the seeds and plant them yourself!
5. FIRE PITS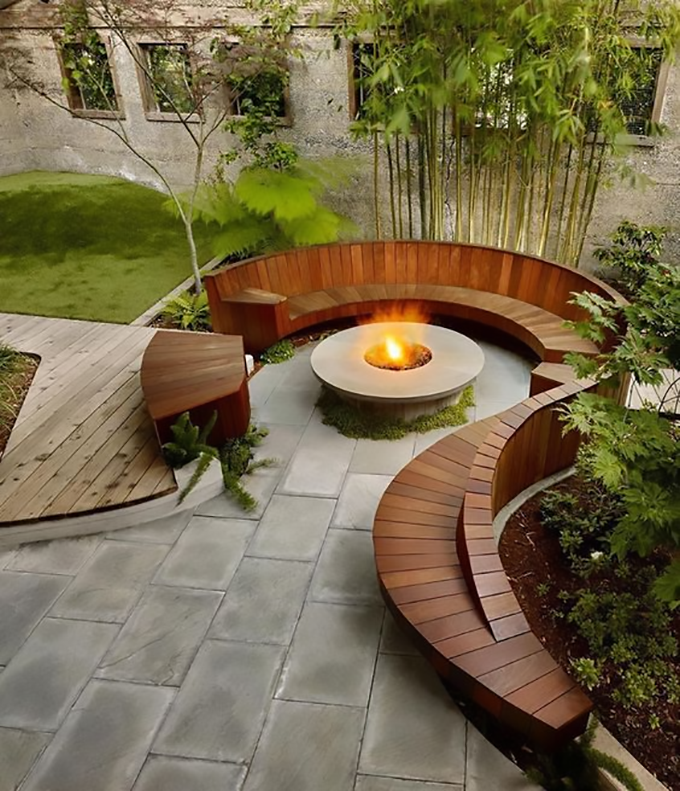 There are lots of different types of fire pits and they vary greatly in price.
Of course, not all types are suitable for all types of outdoor spaces (for example condo patios) but if where you live allows for one, they really are the ultimate patio addition!
The ambiance a fire pit adds is unparalleled!
Without getting into all the different types of fire pits that are available on the market (which would require a whole post of its own!), the cheapest one you can get is a classic wood-burning fire pit, which you can swing for well under 100$.
You can even build your own outdoor fire pit for only $60!
6. ROPE LIGHTING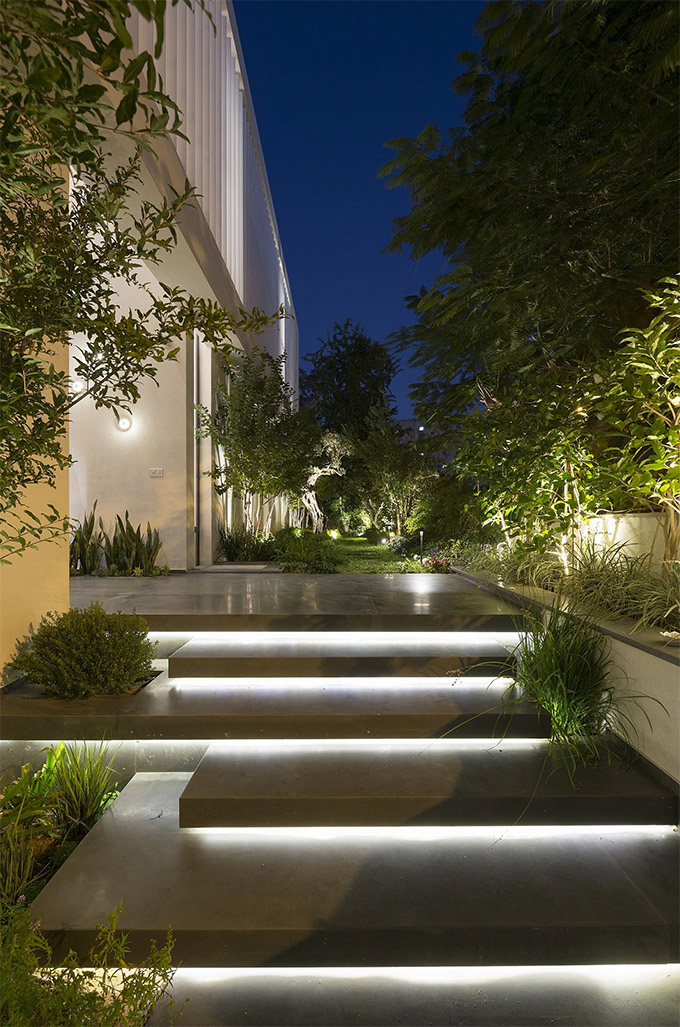 Rope lights are basically string lights encased in a clear and flexible plastic tube.
The plastic casing makes rope lighting weather resistant, inexpensive and really easy to install.
Rope lights can be used to:
outline a path
highlight steps
delineate a specific area of your patio at night
illuminate railings
As mentioned above for string lights, you can opt for warm white rather than cool white here too, if you want a cosier feel. The effect is beautiful!
↓ QUICK TIP ↓
If you can tuck the rope away under the lip of an inconspicuous edge, it will hide the plastic during the day when it's off.
Here's some cheap strings of rope lighting from Amazon:
7. SOLAR LIGHTS
Solar lights are another great patio or garden addition. No need to switch them on and off, which is convenient, and they provide free illumination, which is beyond awesome!
↓ QUICK TIP ↓
If you get the really cheap $1 solar lights, sometimes you'll find they die out after a few months. Don't chuck them out! They can actually be repaired. Just open it up, replace the battery (usually it's an AA or a AAA) and you are good to go!
I found a super useful youTube video that showed me how to do it.
The video has 94000+ views so it's comforting to know that I'm not the only one who didn't know how to fix a solar light 😀
8. HAMMOCKS & HANGING CHAIRS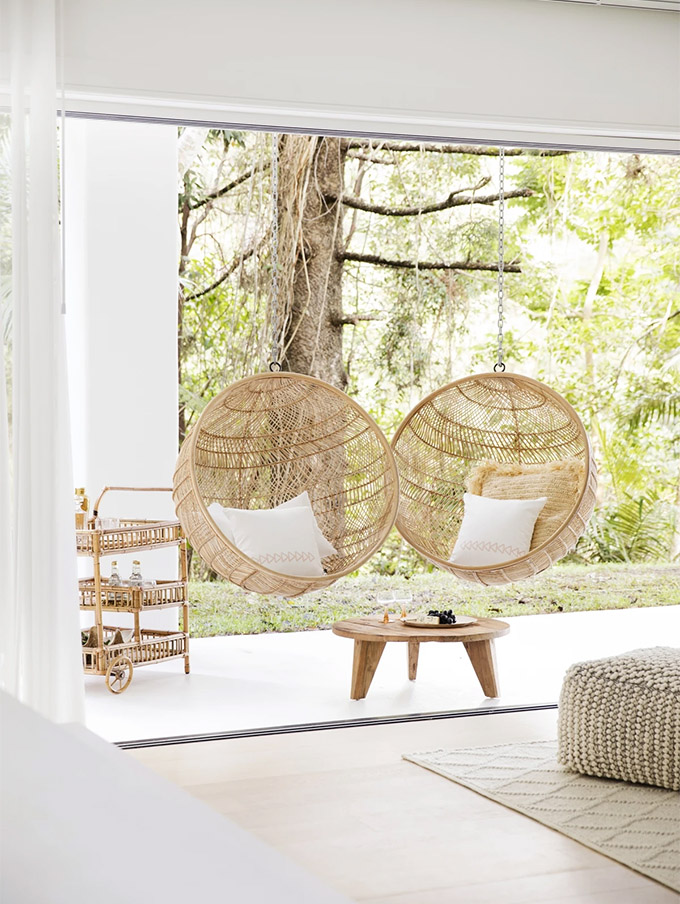 If you have the space, consider adding a hammock or hanging chair! They are wonderful!
Hammocks require a little more space, especially if you are using one of those hammock stands (they need between 9′ to 15′). But swing chairs can be hung in more restrictive spaces.
Hammocks and swing chairs can be either free-standing (ie they come with their own stand) or you can attach them to a ceiling, or sturdy tree trunk or branch.
Hammocks and hanging chairs provide instant transportation to your tropical country of choice 🌴🍍
I just love these cheap hanging chairs and hammocks, I would absolutely buy and hang one of these! I especially love the macrame style.
Weatherproof rugs are a great way to tie your seating area together.
Bold and geometric patterns are great but just go with anything that speaks to you and the rest of your decor!
↓ QUICK TIP ↓
If you're on a budget and you have a large space, it can be more cost-effective to buy two rugs and overlap them.
10. SIDE TABLES, STOOLS, TREE STUMPS…
Don't forget, everyone needs a place to put their glass of wine! (or morning coffee)
Side tables are great for placing out little accessories that will fill out the space, like candles and lanterns and little plants.
There are plenty of affordable side tables for under $100 that would look great on a patio.
11. ACCESSORIES
Ahh my favorite: ACCESSORIES! When you shop for patio accessories, think poufs, baskets, candles, trays, hurricanes …
Also, lanterns are great, as they are not only stylish during the day but also provide ultra-cozy ambiance at night. Win/win!
Pop a candle in your lantern, or instead, fill it with tiny fairy lights on a copper wire!
↓ QUICK TIPS ↓
– Cluster a few different height lanterns together to create a striking visual impact.
– Use baskets to add texture and store extra pillows and throws.
So there you go! Some cheap and easy ideas to update your patio decor this summer!
Have you updated your patio recently? I'd love to hear what you did to improve your space!