18 Hacks to Completely Transform your IKEA KALLAX
I was not paid to write this post, however, it may contain affiliate links. If you make a purchase through one of my links, I may make a small profit at no expense to you. For further information, please view my policies.
Get ready for some epic Ikea Kallax hacks!
The Kallax is without a doubt one of IKEA's main, staple pieces. I would be willing to bet a very substantial amount of money that you have already seen the Kallax at some point, somewhere. 👀
I love the Kallax because it's such a versatile piece already on its own.
Sure, you can use it as a bookshelf or as a place to display your favorite collections, but you can also use it as a room divider, a side board, a TV stand or even a kitchen island. And that's just naming a few ways to use it!
There are a TON of ways to take your Kallax unit to the next level – so let's take a look at some of the most creative ways to hack the IKEA Kallax!
Best of all, most of the Kallax hacks in this list are pretty easy and quick to pull off.
Let's dive right in!
A quick look at the Kallax
I'm sure you're familiar with the Kallax (formerly Expedit), but if you're not sure what I'm talking about, I will remind you:
The IKEA Kallax series consists of basic cube shelving units that come in several different sizes.
They are sold in basic colors and you can buy the Kallax shelves in the following sizes:
IKEA actually already offers many options to customize your Kallax – mainly drawers, shelves and baskets. So if you're not ready to fully customize your Kallax right now, it's all good – you can buy pre-made options! Just browse the IKEA website.
Now, onto all the amazing Kallax hacks!
---
Fun fact! The Kallax series actually used to be called Expedit. IKEA decided to re-release the shelving units and slightly redesign them. The Kallax inner dimensions remained identical to the former Expedit, however the outer edge of the unit was refined and slimmed down a little.
How to hack the IKEA Kallax
1. Create faux cane doors
This was my own project so it gets first place on the list 😁 For this Kallax hack, I built some doors, used a secret material to mimic the look of cane, and painted the unit, for a COMPLETE transformation.
Check out the video below to see how I hacked this Kallax! I'm obsessed with the end result!
2. Stack them
Stacking your Kallax shelves two stories high could be a real show stopper if for example you live in a loft environment with soaring ceilings. The photo above is a great example of this Kallax 5×5 hack.
But you don't have to live in a loft – simply stacking the shelves from floor to ceiling is going to be an incredible impact no matter what your ceiling height is. It could be an amazing way to display a large collection of books or even records/magazines.
IMPORTANT!! If you are going to stack your Kallax, then you MUST make sure you secure them to the wall!!!!!!! Also, seriously consider bolting or gluing the units together. Kallax units are heavy. You do NOT want these falling on you or anyone in your home!!
→ If you stack your Kallax shelves, do not forget to secure them properly! ←
3. Kallax platform bed hack
If you are in need of a space-saving solution for your bedroom, then this Kallax hack might be a good option for you.
Here's a good tutorial that shows you how to create a Kallax platform bed without using any tools at all. Total cost is about $200.
For more awesome DIY bed frames head over here!!
You can use the Kallax shelves to raise your mattress up above the ground, while creating storage at the same time.
Depending on how high you decide to raise everything up, you could even create a cozy nook under the bed for reading or studying. This could be a great idea for a dorm room.
4. Kallax bench hack
Longing for a window seat? Or maybe you need a breakfast bench in your eating nook? Well you're in luck because this could very well be the easiest Kallax hack that exists!
Just flip a 1×4 cube unit Kallax on its side, purchase some upholstery foam cut to size, and recover it in your favorite fabric. Done!
If you would like to see a good tutorial for how to create the bench cushion, check this one out.
5. Create mobile storage
Placing your Kallax unit on some caster wheels is the best way (and the quickest!) to quickly create some mobile storage!
This Kallax hack is great for craft rooms, home school classrooms, or home offices where you need flexibility.
With so many people working from home at this point in time, I know an "on the fly" room divider would come in handy for many!
6. Kallax kitchen island hack
This Kallax kitchen island hack could be the perfect solution for you if you have the space in your kitchen to add an island, but not a big enough budget to get a custom built island installed.
It's really as simple as flipping over two 2×4 Kallax units, adding some legs and throwing on a table top. The savings from this kind of solution would be astonishing.
If you live in a smaller space and need a smaller island, here is a tutorial to create a Kallax kitchen island with the 2×2 Kallax cube storage unit.
7. Easy Kallax hack: add legs
One of my favorite affordable IKEA Kallax hacks is to just add some legs to your unit.
As a personal recommendation, I would stay away from any legs that are tall and thin. The Kallax is bulky and boxy by design, so if you use feet/legs that are too thin and long it might look weird.
Pretty Pegs has all the best leg options designed especially for Kallax, and they are super affordable, too.
8. Another easy Kallax hack: paint
Sometimes all you need is a change of color, right?
The Kallax is considered a laminate piece of furniture, so it will need some special treatment if you want to paint it.
Currently, most Kallax units are available in white, high gloss white, black-brown and walnut effect light gray. There are some other colors available as well, like a white and green combo.
Check out my article that explains exactly how to paint IKEA laminate furniture, or watch the video here!
Painting laminate furniture is totally possible, but it's a little trickier than painting solid wood. You need to make sure you follow a couple of fundamental steps when you're painting laminate: I outline everything in this post, so be sure to check it out!
TIP → A great way to integrate the Kallax into your space is by painting it the exact same color as your wall. This creates a seamless look that gives the illusion of custom built-ins.
9. Sliding doors hack
This Kallax hack is truly transformational and so creative! The process is a little more involved, but the end result is well worth it!
Follow the complete tutorial right here.
10. Add personality with fabric
As you know the Kallax doesn't come with a back piece, ie you see right through it. A fantastic and easy way to add a pop of personality to a backless bookshelf is by creating a "faux" backing with a large piece of fabric.
For this hack, all you need is a piece of fabric of your choice, big enough to cover the whole back of the shelf. Then you just tape the fabric across the back, which creates an awesome faux backdrop for your shelves!
As an alternative, you could also cover some poster or particleboard with wallpaper and then attach that to the back of your Kallax.
11. DIY Media console hack
The Kallax is the perfect blank canvas for a clean, mid century inspired media console. Check out how Mads and Al from Unestablished transformed their Kallax into a West Elm inspired piece for a fraction of the cost.
12. Wood wrapped KALLAX
Another great option to "class up" your Kallax is to wrap its sides in some solid wood. Stain the wood to whatever tone you like, and watch your affordable shelving instantly go from average to EPIC.
The addition of some mid century style legs is a nice extra touch, as well!
13. Library catalogue inspired cabinet
This project is a little on the pricier side due to the drawers and hardware needed. But if this is the look you're after, you'll be glad to know it's super easy to achieve it!
TIP → If you're going to use casters, make sure the ones you buy are strong enough to support the full weight of the shelves and drawers plus anything that will be stored inside them!
Head over to Savvy Heart for the full tutorial.
14. Custom Kallax craft cabinet
No doubt about it: the Kallax provides oodles of storage space, which is especially useful in a craft room that is full of odds and ends. The only problem with craft rooms is that they can quickly become a complete disaster! (speaking from experience here, ha!)
This tutorial shows you how to transform a couple of Kallax units into a minimalist inspired, pale wood cabinet with leather pulls. Perfect for hiding away any kind of mess!
15. Rattan cabinet Kallax hack
I absolutely love how this YouTuber Les bonheurs de Camille transformed her 4 x 4 Kallax unit into a chic rattan cabinet. The end result is literally unrecognizable!
The video is in french, but if you watch it, it's super self-explanatory so you'll easily be able to understand how she puts it all together.
16. Use LED light strips
For a maximum effect display, try sticking some led light strips on the back of your Kallax. In the photo above, the designer was showcasing their record collection, but this idea is effective for other uses as well, namely home bar stations and game room setups.
Usually light strips are incredibly easy to install, as they come with a sticky double sided tape on one side. So all you'd need to do is stick the strip to the back of your unit.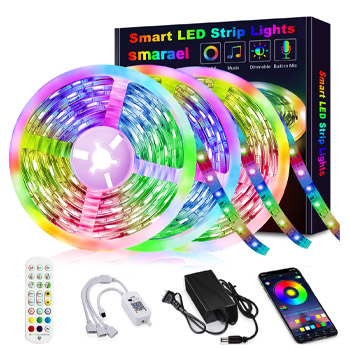 17. Epic KALLAX workstation
Behold, the ultimate mobile workstation! This might be one of the best Kallax hacks I've seen. From a design standpoint, it's a solid 10/10. Super functional, plus it looks really good. This is a quality hack, my friends.
This Kallax project consists of two 2 x 4 Kallax units wrapped in Grade A plywood, with the base mounted on four 5″ tall industrial rubber casters.
The designer also added a shelf to the side of the unit, and clamped a couple of task lamps to the top. This custom workstation would be a dream to have in a studio!
18. Use decals
If you installed the little cabinet doors on your Kallax, then you could give it an instant makeover by adding some fresh and fun decals! There are a few independent sellers on Etsy that sell some gorgeous options, I've linked a couple of my favorite shops below!
---
If you were looking for ideas on how to hack your IKEA KALLAX, I hope you are now satisfied and inspired! Have you decided which way you are going to hack your Kallax? Let me know in the comments!
Can't get enough of those sweet IKEA hacks? I don't blame you, I love them too!
Click here to check out 10 awe-inspiring IKEA IVAR hacks!
If you want more inspiring DIY and Home Decor content, be sure to subscribe to my YouTube channel!