12 Cheap Velvet Sofas (Under $1000) You Need To See
I was not paid to write this post, however, it may contain affiliate links. If you make a purchase through one of my links, I may make a small profit at no expense to you. For further information, please view my policies.
If you're anything like me, you've developed a healthy obsession for velvet sofas. They just look SO. DANG. GOOD.
So let's take a look at some velvet sofas that are more on the affordable side.
Exciting!
12 Gorgeous & Affordable velvet sofas everyone needs in their life
The Velvet Sofa Trend
Velvet sofas and armchairs have been popping up all over the place and they appear to be here to stay.
When used right, velvet furniture can add a dimension of coziness and luxury to your space that no other fabrics can.
When I imagine stretching out on a velvet sofa, I can literally feel the softness of the beautiful texture on my skin, just begging me to stay a little while longer!
(just one more episode of Game of Thrones, then I'll get up!)
Jewel tones are very popular right now, especially deep greens and rich dark blues.
Pastel hues also look gorgeous with more muted palettes. I'm pretty sure there is nothing that would make me happier than owning a blush pink or a dusty blue velvet sofa.
Having trouble choosing a sofa? STOP! You have to read this post!
There are plenty of affordable velvet couch options out there just waiting to take a majestic spot in your living room!
This list stays under the $1000 price point, which isn't that bad when you think about how much a sofa is actually (usually) used.
Have a look at these velvet beauties and decide for yourself!
Velvet Sofas for Under $1000
This gorgeous and curvy green velvet sofa is constructed from a kiln-dried eucalyptus frame and has removable back cushions. They also have a pretty matching chair which you can see here.
The price right now on this one is amazing!! Affordable to the max.

---
This tapered leg blue velvet beauty comes in a variety of lovely shades, including dust blue (pictured below), dark blue, rust, dark gray and light gray.
Also be sure to check out their club chairs!
JULY 2021 UPDATE – BONUS! THIS SOFA NOW COMES IN WHITE BOUCLE'! 😍😍😍😍 *swoon*
---
A true stunner of a sofa right here, the West Elm Bradford tuxedo styke sofa literally takes my breath away! Especially in this color (port blue).
I could see this sofa looking mighty fine in a midcentury modern style living room.
Picture clean bright walls, woven textures, wood accents and a beautiful rug to accentuate the watery turquoise velvet of this couch.
LOVE.
Update July 2021 → Since the initial time of publishing this post, the price has gone up on this sofa 😥
It now starts a smidge above $1000 so I left it on the list for now… boo!
---
The Chamberlin 3 seater pictured below was gone for a long time from the Urban Outfitters US website, but IT'S BACK!! This gorgeous piece of velvet goodness comes in 2 colors: lavender, green and gold.
The velvet loveseat comes in 2 colors: rose and gold. The dark grey velvet sofa is no longer available.
Act fast as these sofas sell out SO FAST!
---
If you're looking for a classic tuxedo style sofa in tufted velvet, then this might be a good option.
This green knockout comes in beige, grey, black, light blue, navy, green, and pink.
Since first publishing this post, the price has come up significantly on this sofa 😥. It can stay on the list for now but if it goes up again it's coming off!
It's worth noting that this sofa also has over +1000 excellent reviews on Wayfair.
---
This is the closest lookalike I can find to the beautiful velvet Sven Sofa which is made by Article. I don't think it looks quite as plush as the original counterpart, but it does a pretty good job of imitating the overall shape of the Sven.
Wayfair changes their product names all the time, this sofa used to be called the Derry, but is now called the Lark.
It comes in 6 beautiful velvet colors: blush, copen blue (like a light teal), dark sapphire, emerald, olive green and platinum. All colors are currently available!
This sofa also has over +2000 stellar 5-star reviews on Wayfair.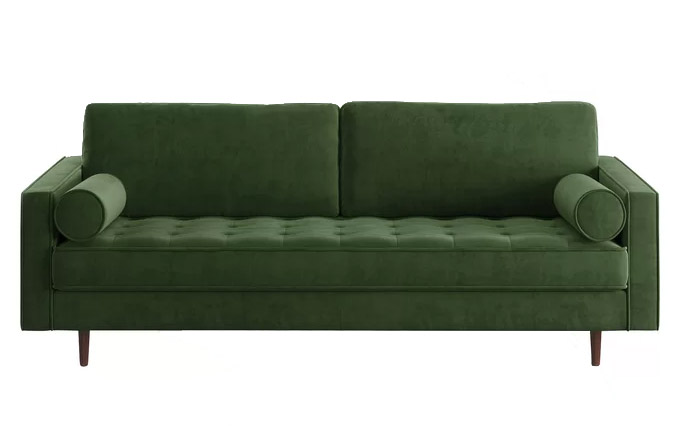 ---
A velvet blush beauty right here, the Adedapo sofa has a solid wood base and seats 4 people.
I'm loving the big, wide back pillows, which soften the rather geometric frame of this sofa.
Bonus: the two throw pillows are also included. ♥
The Adedapo line also carries an ottoman, a loveseat, a reversible sectional and an armchair. All are spectacular! Do yourself a solid and check them out.
---
Update July 2021 – this sofa now costs $1159.99 so it's coming off the list! It's also been renamed as the "Harrell" and is no longer available in pink…
Another curvy, elegant option that in the right setting, would look simply stunning!
If you are wanting to embrace the Art Deco trend that is beginning to take off in the interior design world, this creamy velvet sofa may be the perfect fit for you.
The Hewitt sofa has gleaming gold legs and comes in Champagne, Gray, Green, Navy and Blush.
---
This is a gorgeous modular velvet sofa from Urban Outfitters. You can buy each piece separately to create whatever kind of sofa configuration you need!
These comfy, bulky modular sofas are totally in style right now so this would be a great option if you're looking to save *and* be on-trend!
Comes in 5 luscious colors: rose, dark grey, green, blue and lavender.
---
Update July 2021 – sadly, the price on this white velvet sofa has gone up yet again. As it now costs $1655, this one is coming off the list.
If you're feeling super brave, this white velvet couch from APT2B is beautiful. *UPDATE JAN 2020 – the price has gone up on this one now, and now costs $1498. I'll leave it on this list in case they put it on sale.
It's apartment-sized, coming in at 74″ wide, so it would look great in a smaller home or a space like an office.
Possibly an option for those who never spill their wine, have no kids or pets, and don't actually ever sit on their sofa much … especially not with dark blue denim jeans 😅
---
If you're looking for a velvet accent sofa or something a little more compact, this one might be for you. This seashell-backed velvet settee is a lovely combination of art deco and midcentury modern.
This velvet sofa has a birch frame with a walnut finish.
They carry this sofa in black, blackberry, cobalt, pewter and seafoam blue. Black is out of stock right now, but all other colors are available.
That's a pretty amazing price for such a cute little sofa!
---
The sofa that's both comfortable and practical! This one is more of an extra-wide armchair, that can be turned into a sleeper in just seconds with its sturdy frame material. I included it because I think it would be just great for anyone that is living in a really small space situation.
The soft foam lining will give you optimum comfort, while the couch is made of velvet-soft fabric for extra coziness. Casual yet classy enough to match any décor style, this piece could be perfect for your home.
This sleeper also reclines into 3 different positions – check out the second photo below to see what I mean!
---
Have you spotted any other awesome cheap velvet sofas that you think should be on this list? I'd love to hear about it in the comments!
In the meantime, I hope this post has helped you to find something that you would love to put in your home!
I would buy any one of these without hesitation and then lie on it pretty much 24/7. Yep!