How to Decorate a Christmas Tree in 7 Easy Steps
I was not paid to write this post, however, it may contain affiliate links. If you make a purchase through one of my links, I may make a small profit at no expense to you. For further information, please view my policies.
When it comes to choosing and decorating your Christmas tree, the options are endless!
If you're close to my age, you might remember the Christmas decorations from the 80s and 90s.
Think foil flowers, bushy metallic garlands in red, gold and silver (they looked like giant sparkly caterpillars), tinsel overload😱, popcorn garlands and multicolored lights.
While those things were all AWESOME (ok, that might be nostalgia speaking), we've come a long way with Christmas tree decorations since then!
Nowadays we have an infinite amount of Christmas tree decorations available to us, enabling us to create a tree of any color or style that we could possibly desire!
So let's get right into it and take a look at how to decorate your Christmas tree!
Later in the post, I also talk about what different types of Christmas trees you can get.
How to decorate your Christmas tree in 7 steps
Once you've picked your tree (more on that below), how do you trim it?
Well, this is where it gets fun!
If you don't own any Christmas tree decorations and this is your first year decorating your tree, you will probably have to buy a few things.
The great thing about Christmas decorations is that they can be saved and reused year after year.
The more ornaments you collect over time, the more possibilities you will have to mix and match and create new looks.
---
STEP 1 | Choose your tree (faux or real)
You could say that your tree is your canvas, so try to pick a beautiful tree as your base.
All your pretty ornaments will have a hard time shining if you have a scraggly tree (unless that's the look you are going for).
For faux tree users, make sure you spend a LOT of time fluffing up the branches.
Separate all the needles as best you can to get a nice, full look.
When you think you're done fluffing, fluff a little bit more!
The more sparse your base tree is, the more garlands and ornaments you will need to pile on to get a professional and full look.
Once you've chosen your tree, pick a location for it in your home. Real trees should be kept as cool as possible so that they don't dry out (so away from radiators and fireplaces). More on that below.
A plug should be handy for your lights.
→ TIP: If you don't want a large tree or don't have enough space for it, you can always get a smaller one and put it on a table to give it some height in your room. This is what designers Eddie Ross and Jaithan Kochar opted to do in the photo below. I think it looks more than great!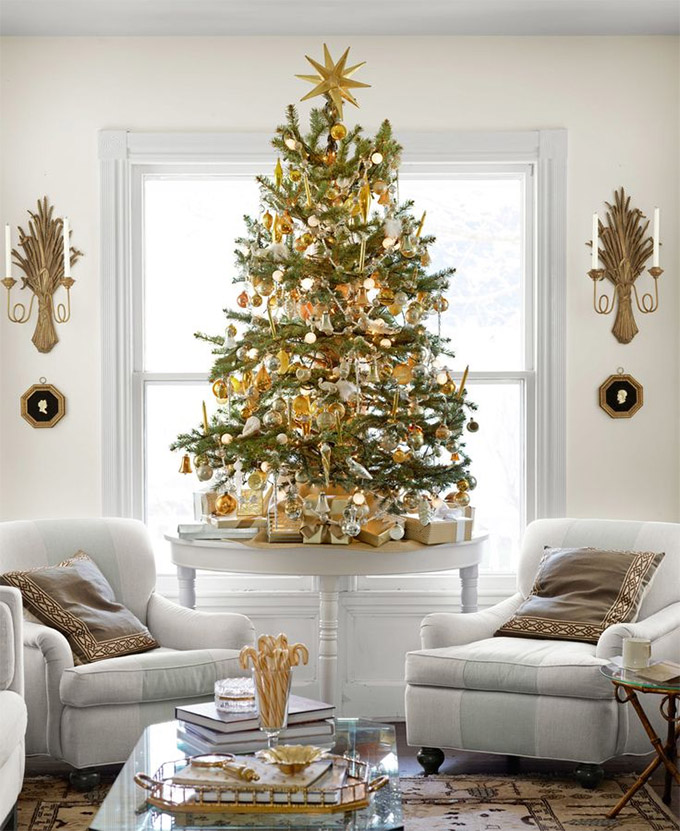 STEP 2 | Pick a color scheme
If you have a color scheme in mind, it will make things easier.
Staying within a chosen palette of just a handful of colors will not only make it easier to choose ornaments and decorations, but it will lend itself to a more professional finish.
Check out these 76 Beautiful Ways to Decorate Your Christmas Tree over at Country Living for some inspiration. You can also check Pinterest for lots of Christmas tree decoration ideas.
Some lovely Christmas tree color schemes to consider are:
silver and gold
bronze, gold and turquoise
red, white and peppermint (beautiful on a white flocked tree!)
white and silver
black and white
STEP 3 | Choose your Christmas lights
A lot of faux Christmas trees have lights already attached to the tree when you buy them. You could add even more if you want, or just leave the ones that come with the tree.
Lights are really what create that magical Christmas feeling, so I would advise to always add more than you think you'll need!
In fact, the general consensus with lights is the more you have on the tree, the better.
One guideline that you could follow is to use at least one 100-light strand per vertical foot of tree.
The lights are always the first thing I hang. I feel like it's the easiest way to position the lights the way you like them, without the risk of disturbing or breaking other ornaments.
When you connect multiple strands of lights, you will want to hide the plug-in connectors. You can do this on a faux tree by pushing the connector deeper into the tree and twisting a branch around it. If you have a real tree, you could tie a ribbon around it or hang an ornament in front to hide it.
Try to spread and arrange them evenly along the branches. I like to arrange them with the lights turned on, so I can see what I'm doing.
Make sure the lights are both on the ends of the branches but also deeper within the tree.
Remember to look at the warning labels on the box when you are purchasing your lights! Some strands of 100 bulb Christmas lights can only have up to 4 strands connected together. If you need more than the allowed number indicated on the box, you might need to use an extension cord to attach further strings of lights.
Lastly, remember to turn your Christmas lights off at night before bed. 😊
Some favorite Christmas tree lights:
STEP 4 | Pick a Christmas tree skirt
If you are working with a color scheme, you might want to try and get a tree skirt that coordinates in some way.
Don't want to buy a tree skirt? No sweat. You can use a ton of other things that you might already have around the house instead!
Instead of tree skirts, you can use:
Anything you like that covers the base will do. Even throw pillows!
My dog likes to pee on my tree skirts 🙈 so I might go with the basket option this year! 🤣
Here are some beautiful neutral Christmas tree skirts – these would look especially gorgeous with a gold and silver tree:
RELATED POST – EVERYTHING YOU NEED TO KNOW ABOUT CHRISTMAS TREE COLLARS!
STEP 5 | Add the Christmas tree garlands
It's a good idea to put your garlands on the tree before placing ornaments.
Garlands are great for filling up space on the tree quickly. Once the garlands are placed, it will be much easier to see where you need to fill in the gaps on your tree with ornaments.
There are so many things you can use as garlands! Ribbons, pom poms, beaded strands, flowers, stars, berries, faux foliage … the sky is the limit.
Ribbon can be draped vertically down the tree, or tied into bows.
If you can find a garland that is made of artificial foliage, that will add beautiful fullness and variety to your tree. Try draping it diagonally around your tree for a dynamic effect!
I love all the suggestions from House Beautiful – go check this gallery out if you are in need of some Christmas garland ideas and inspiration!
You can also easily DIY your own garlands.
→ TIP: Fancy garlands can get pricey! If you are decorating your Christmas tree on a budget, and your tree is in a corner, you can save money by using garlands only on the visible sides of your tree.
Current favorite tree garlands:
STEP 6 | Personalize with ornaments
Ornaments are really how you are going to make your tree shine.
Here are some tips to keep in mind about Christmas ornaments:
Stay within your color scheme.
Pick an assortment of large, medium and small ornaments. Buy a pack or two of cheap solid colored baubles and use those as a base. Then you can get a few really nice big ones that will feature.
Hang larger ornaments deeper inside the tree, and the smaller ones closer to the tips of the branches. This will create a nice balance. Remember to always decorate deep inside your tree – don't reserve ornaments just for the tips of the branches. This will give your tree dimension and interest!
Start by hanging large ornaments first, so that you quickly fill in more gaps. Then hang your mediums sized ornaments, then your small ones, filling in all the gaps as you go.
If you are concerned about breakage, stay away from glass ornaments and look for shatterproof ornaments instead.
Make sure your ornaments are always hanging vertically, and not crooked or askew against the branches. If they don't fit, just push them in between the branches until they hang properly.
If you have a lot of different ornaments that you've collected over time, you can still use them all and achieve a uniform look! The trick is to purchase packs of inexpensive baubles that are all the same color. This will balance out all the different styles and colors of your pre-existing ornaments and tie everything together. A cheap and easy fix!
Some of my favorite ornaments:
STEP 7 | Top it off!
By far the most popular tree toppers are stars and angels. But you can also get other things like the adorable tasseled ferris wheel topper featured below (#3), mercury glass spires. reindeer / stag themed toppers (#1 and #6), and snowmen.
There are toppers that can light up, natural rattan toppers like the star featured below (#5), glittery toppers, metal, paper, glass … you get the idea!
Try to pick one that matches the rest of your color scheme, and whatever you choose will look great! Wayfair has a ton of tree toppers, but of course Amazon never disappoints either.
Kurt Adler also makes a ton of wonderful tree toppers, you can check out the ones available on Amazon here or on the official website here!
Here are some of my current favorite tree toppers!
Depending on how crazy far you want to go with decorating your Christmas tree, you could even plan to coordinate your wrapping paper with your tree decor. The end result will be stunning!
Don't forget to continuously step back and look at the tree as a whole. It's ok to keep tweaking things until you think they're perfect! It takes time to trim a beautiful tree, but that's part of the fun 🙂
Pick the tree that's best for you
I never really realized it, but there are a ton of different options for Christmas trees!
Whether you are a fan of the wonderful smell of fresh pine, or want a tree that sheds as few pine needles as possible, there are choices!
As a shopper, I like choices 😬. But it can become a bit confusing too!
Here is a list that breaks down all the main characteristics of each type of the most popular Christmas trees.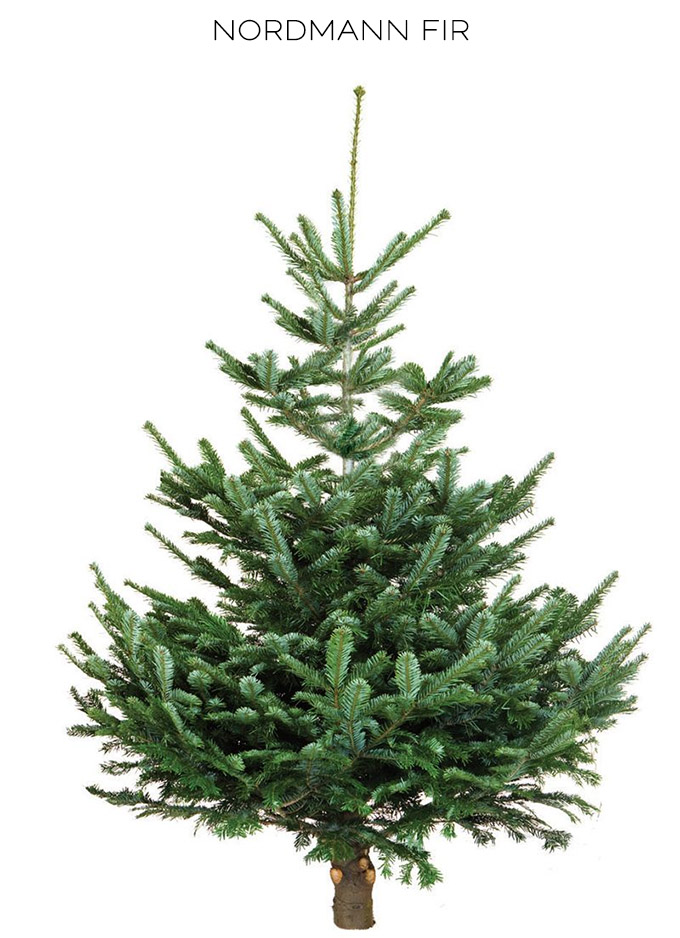 ↑
NORDMANN FIR
▲ Good needle retention ▲ Very little fragrance ▲ Soft and glossy foliage aka CHILD-friendly!
---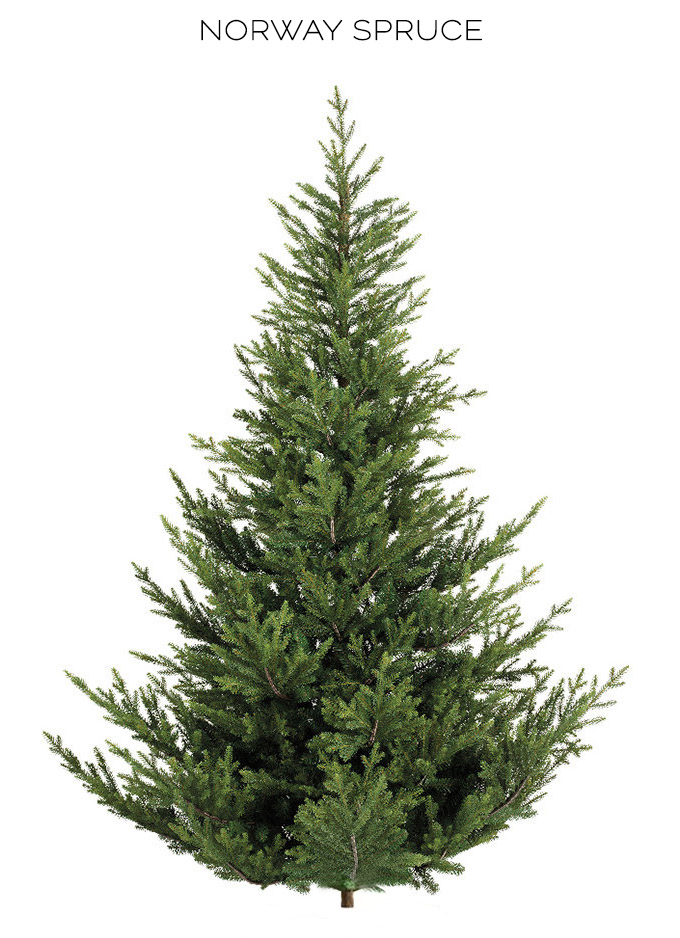 ↑
NORWAY SPRUCE
▲ Great fragrance ▲ Very poor needle retention ▲ Spiky needles
---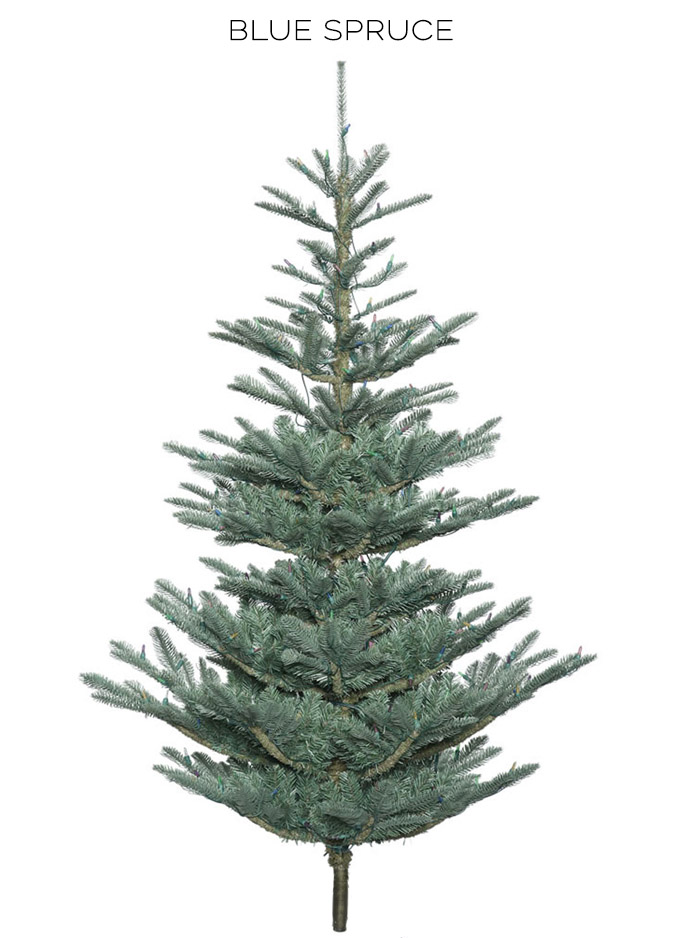 ↑
BLUE SPRUCE
▲ Prickly needles ▲ Good needle retention ▲ Classic shape ▲ Strong branches
---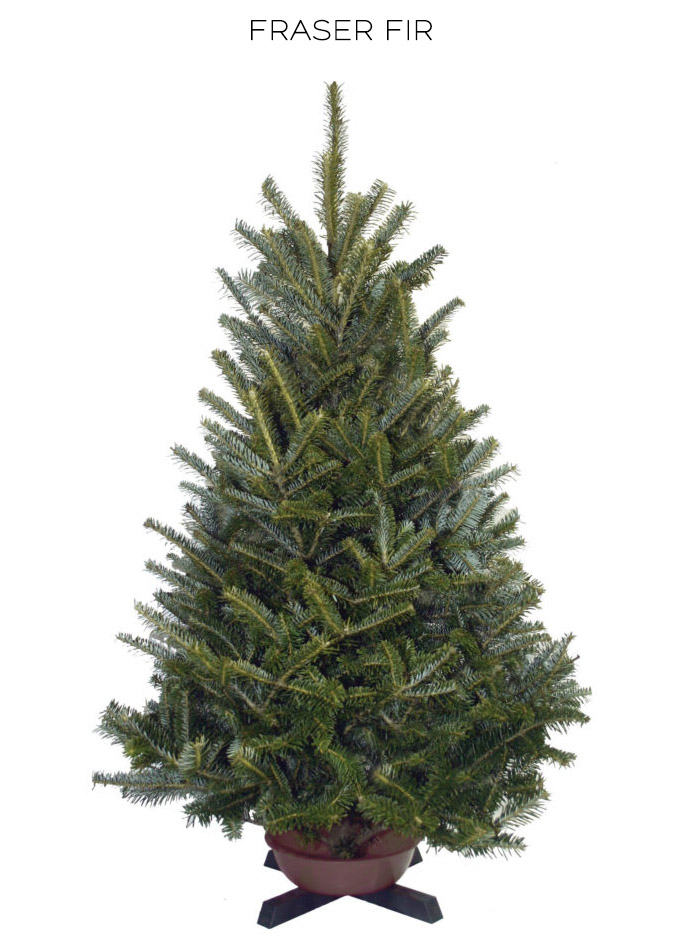 ↑
FRASER FIR (aka Frasier)
▲ Strong branches▲ Good for small spaces ▲ Good needle retention ▲ Great fragrance
---
↑
DOUGLAS FIR
▲ Soft foliage ▲ Good for small spaces ▲ Good needle retention ▲ Great fragrance
---
↑
LODGEPOLE PINE
▲ Good needle retention ▲ Great fragrance
---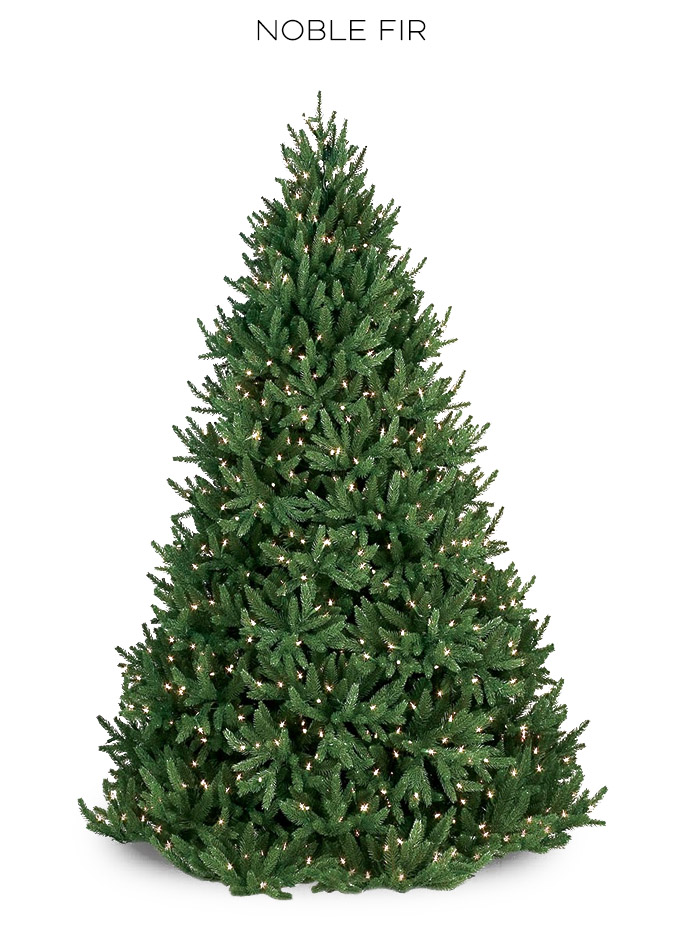 ↑
NOBLE FIR
▲ Excellent needle retention ▲ Strong branches
---
↑
SCOTS PINE
▲ Infinite needle retention! Needles do not fall out even when dry ▲ Great fragrance ▲ Sharp needles
---
How to make your real Christmas tree last as long as possible
If you are using a real tree, here are some tips to keep it fresh and wonderful for the whole season.
If you're not bringing your Christmas tree inside straight away, leave it outside or in a cool place until you are ready to decorate it.

When you're ready to decorate your tree, cut 2 or 3 centimeters off the stump.

Put it in water before you place it in the tree stand.

Position your tree away from radiators and open fires.
Water your tree every day.
Now that you know all about the different types of REAL trees, what about faux Christmas trees?
What if you're using an artificial Christmas tree?
These are some of the benefits to getting a faux Christmas tree:
Faux trees hardly shed any pine needles
Easy transport when you buy it, since it comes in a box – no need to tie it to the roof of your car!
You don't need to water it.
Reusable for several years.
At the end of the season, you can just fold it up and stash it in a closet until Christmas rolls around again the year later. That means not having to worry about disposing of a big tree in January.
You also save money in the long run with a faux tree because real trees can get pricey year after year.
You can get flocked faux trees and they are stunning – they will literally make your room glow when the tree is all lit up. Truly a Christmas miracle! 😄
There are also some drawbacks though:
A faux tree's lifespan is about 6/10 years after which time it begins to look a bit ragged and usually gets chucked (into a landfill). Faux trees are usually made out of PVC and are not bio-degradable, whereas real trees are biodegradable.
85% of all artificial trees are made in China and need to travel thousands of miles to reach us and have a significant environmental footprint.
The lack of that beautiful fresh pine scent so typical of the Christmas season (trivial, I know! But I love that smell!).
I won't get into the whole debate about which is better (real vs faux). I will leave that up to your own judgment!
Here are some of my favorite affordable faux Christmas trees from Amazon (under $100)!
So there you have it! How to pick your Christmas tree and decorate it in 7 easy steps 🙂
I hope this guide will help you to create a beautiful and memorable Christmas tree this year!
Please tag me on Instagram @poshpennies to show me your beautiful tree!
UP NEXT: Want to decorate with a Scandinavian Christmas theme this year? Then check out these beautiful minimalist Scandinavian Christmas DIYs that you can easily make in an afternoon!
Also: Find out how to store your Christmas decorations with some low-cost storage options!
I was not paid to write this post, however it may contain affiliate links. If you make a purchase through one of my links, I may make a small profit at no expense to you. For further information please view my policies.