Stunning Green Bedroom Ideas – Tips & Inspiration for 2023
This post may contain affiliate links. If you make a purchase through one of my links, I may make a small profit at no expense to you. For further information, please view my policies.
From the earthy tones of sage and seaweed to the lavish hues of emerald and the spring vibes of mint and seafoam, there is a shade of green for every bedroom.
Green can be a wonderful color for a bedroom, with its darker tones being more cozy and traditional and its lighter tones, feeling bold, whimsical, and fresh.
Color Family: Green
Complementary Color: Pink
Pairs well with: brown, gray, yellow, blue, pink
Moods: refreshing, peaceful, security, abundant
Where to use: Bedroom walls, ceiling, furniture, upholstery, curtains, bedding, wallpaper, rugs
Looking for a way to add a dreamy touch to your bedroom? Then check out these stunning green bedroom ideas.
Is Green A Good Color For The Bedroom?
Absolutely! Green brings on feelings of peace and refreshment and can remind people of new growth and abundance. This is why green is the perfect color for your bedroom. You can't go wrong with a bedroom that helps you feel refreshed and full of life.
Shades such as sage and olive green can add a sophisticated vibe to your bedroom or add a fun whimsical touch to a room with brighter hues such as kelly green.
Being such a versatile color, it's no wonder so many people choose to decorate their bedrooms with green! No matter what style you're going for, there's a green bedroom design that will fit your needs, so I hope you enjoy these beautiful green bedroom ideas!
Tips For Bringing Green Into The Bedroom
If you want to add green to your bedroom but aren't sure where to start, here are some tips and inspiration! There are multiple ways in which you can add green to your bedroom.
Obviously, you can paint your walls green, but there are other ways to add green as well. Green is a great accent color and can be added to your bedroom through artwork, furniture, bedding, and even wallpaper.
You add green curtains to a cream room to add a sense of soothing elegance to your bedroom.
A green velvet headboard paired with vintage artwork and nightstands is basically never a bad idea…
Consider using two different shades of olive or sage green, on connecting walls. Or, create a two tone effect with two different shades of green paint. This will create a soothing, earthy vibe that feels cozy and immersive. You can bring in even more feelings of being immersed in nature by adding plants, natural wood, and wood tones in your fabric and decor.
If you want to keep your room feeling fresh and bright, consider painting the walls white, using emerald bedding, and sprinkling in some green decor (including plants!). Then add pops of black through a headboard or other decor to add a bit of contrast.
→ Looking for a gorgeous mid century bed? Check out the best ones right here!
And here are the best boho-style beds! ←
Choose a green paint color with gray undertones and pair it with sage green and mustard yellow bedding for a modern boho look. Light wooden floors and brown and tan accents will keep the room from feeling too dark. The pampas grass on the round rattan table adds a nice textural element to this muted green bedroom!
Bringing in a dark green piece of furniture into your room can add sophisticated look without having to actually paint the walls.
Use a green patterned wallpaper for a traditional and textured look. Using solid bedding will add to the drama of the wallpaper making the walls stand out as a work of art. Add in some solid throw pillows to tie it all together. I have a ton of suggestions on how to mix and match throw pillows right here!
I'm loving the idea of a dark, moody green maximalist bedroom – what do you think? Wallpaper, pattern upon pattern, brass accents and velvet bedding. SWOON!
Moody Green Bedrooms
Green bedrooms most commonly come off as very moody. In my opinion, moody green rooms are also very sophisticated and cozy at the same time.
Pair your moody green with creams and tans to keep the room from getting too dark.
Add in a dramatic headboard or four-poster bed, statement lighting and your moody bedroom will feel super luxurious.
→ Check out all my fave beds right here! ←
Dark Green Bedrooms
If you love the color green and want to go bold then why not fully embrace the color and paint the wall and ceiling a rich, saturated green?!
This beautifully designed bedroom below is perfect for those who love a traditional style and the color green. Plus, I think the dark walls and ceiling make the space feel super cozy.
Dark green bedrooms can be daring and give off the moody vibes that we already talked about.
However, dark green bedrooms can also be energetic and fun. Pops of color through the artwork on the wall is a fun way to brighten up a bedroom with dark green painted walls.
Monochromatic Green Bedroom
Going all green may seem a bit risky, but since green can evoke feelings of abundance and peace, why not try it out? You can always paint it another color if after awhile you decide it's not for you 🙂
You could go for a bright look by using lighter green tones and adding variations with different patterns in your bedding or even with a green mural.
Go all in (hello green carpet in the picture above?!) or dial it back a bit by keeping your floors a neutral color.
Recommended Green Bedroom Palettes
I love this pastel pink bedroom paired with a sage green velvet headboard! The rich brown velvet bolster pillow and the dark nightstand help ground the room.
Light sage walls paired with natural woods and tans will give you that peaceful feeling of being outdoors. Decorate with plants and add woven features making the room even more snug and comfy. The bedding matching the wall color helps add to that sense of serenity.
Olive and hunter-greens paired with terracotta accents is an alluring combination. Use this color combo with natural sanded floors and your own personal touches for a cushy contemporary look. The white headboard below is an unexpected choice and works really well as a neutral backdrop for the color palette.
Modern Green Bedroom Ideas
Try a more minimal look with color block white and sage walls, modern art and light fixtures. Keep the bedding neutral while adding in a gray throw blanket for texture. Sage throw pillows that match the wall will tie it all together.
If you want a clean modern look, include light wooden floors and furniture that matches.
Clean lines, like in the picture below, will also help you obtain that classic modern look.
Maybe you can't decide if you want a green bedroom or if blue would be more your style. Make sure you check out my post on Beautiful Blue Bedroom Ideas to see if a traditional blue bedroom would be more your style.
Traditional Green Bedroom Ideas
If you want a traditional green bedroom, or a vintage green bedroom, the furniture that you bring into the room is going to make a huge difference in how the style of your room will turn out. The patterns you choose will also make a big difference in whether or not you end up with a traditional style bedroom.
Dark green walls, perhaps a four poster bed, lots of textured throw pillows, and cotton and velvet fabrics, are some of the elements that create a perfect traditional green bedroom.
The bedroom pictured below has traditional architecture but modern furnishing – a great balance! I love the dark muted green painted doorway that leads you into the gray and green bedroom.
Popular Green Paint Colors
If you are ready to paint your bedroom green but aren't sure which green to pick, then read on! I've got just the green paint color for you.
Picking the perfect color can seem daunting. I've gone through all of the popular paint manufacturers and selected the green paints that designers choose over and over again.
You are sure to love your stunning green bedroom if you choose one of these colors.
Popular Benjamin Moore Green Bedroom Paint Color
Sherwood Green
Saybrook Sage
Gloucester Sage
Guilford Green
Kennebunkport Green
Louisburg Green
Backwoods
Hunter Green
Salamander
Popular Sherwin Williams Green Bedroom Paint Colors
Clary Sage
Coastal Plain
Acacia Haze
Sea Salt
Escape Gray
Evergreen Fog
Ripe Olive
Cascades
Rosemary
Popular Dulux Green Bedroom Paint Colors
Green Spruce
Lush Hosta
Armada
White Cabbage
Eaves
Misty Moore
Backyard
Herb Planter
Equatorial Forest
Popular Behr Green Bedroom Paint Colors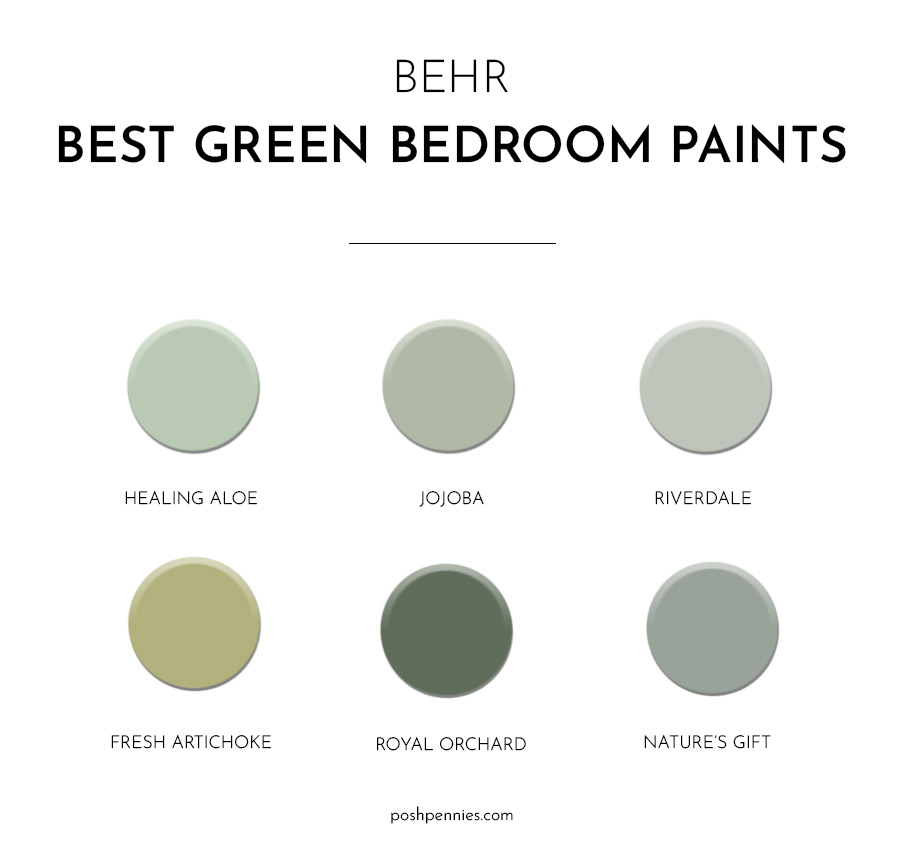 Healing Aloe
Jojoba
Riverdale
Fresh Artichoke
Royal Orchard
Nature's Gift
I hope these green bedroom ideas gave you some inspiration. I'd love to hear how you plan on adding green to your bedroom in the comments below!