Free Printable Christmas Gift Tags – Beautiful and Easy to Make!
I was not paid to write this post, however, it may contain affiliate links. If you make a purchase through one of my links, I may make a small profit at no expense to you. For further information, please view my policies.
These Printable Christmas Gift Tags are So Chic and Easy To Make!
And did I mention that they're free?!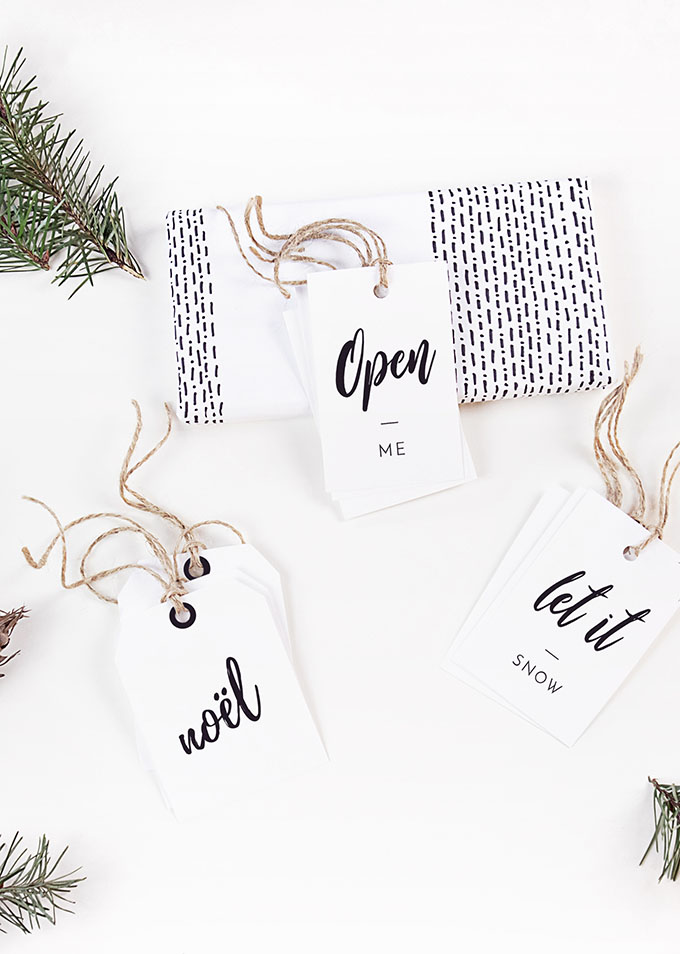 Grab the gift tags at the bottom of the page!
Who doesn't love fast and affordable solutions, especially during the busy holiday season? 🙂
And with everything you need to think about, remembering to buy Christmas tags might not be at the front of your mind!
If you're like me and often forget to buy them, then today you're in luck: I just so happen to have created some lovely minimal printable Christmas tags and I'd like to share them with you!
Actually, it's almost embarrassing how easy these gift tags are to make 😳 but you wouldn't know it when you look at them! I don't think they look homemade at all.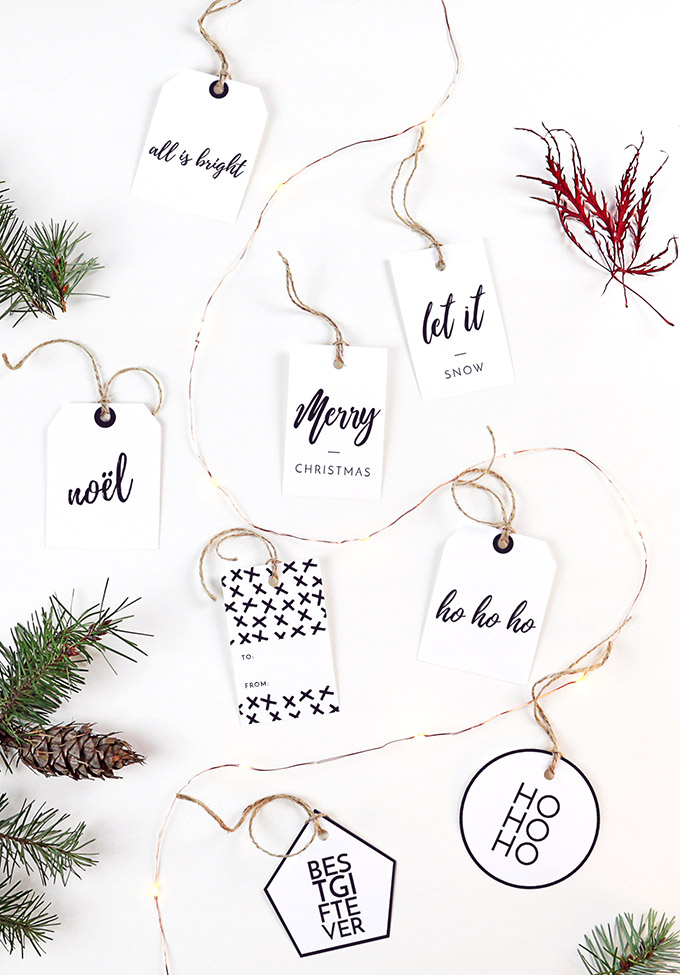 You can download these free Christmas gift tags RIGHT NOW, print them at home and add 'em to all your presents!
Printables are awesome because they are convenient *and* cheap.
Fun fact: back when I first quit my 9 to 5 job (actually it was more like a 9 to 7:30/8 job😒) and started trying to make a living online, my first venture was creating inexpensive printables and selling them on Etsy.
---
I couldn't resist taking a few photos of the gift tags with this vintage Persian rug as a backdrop- doesn't it look so festive?!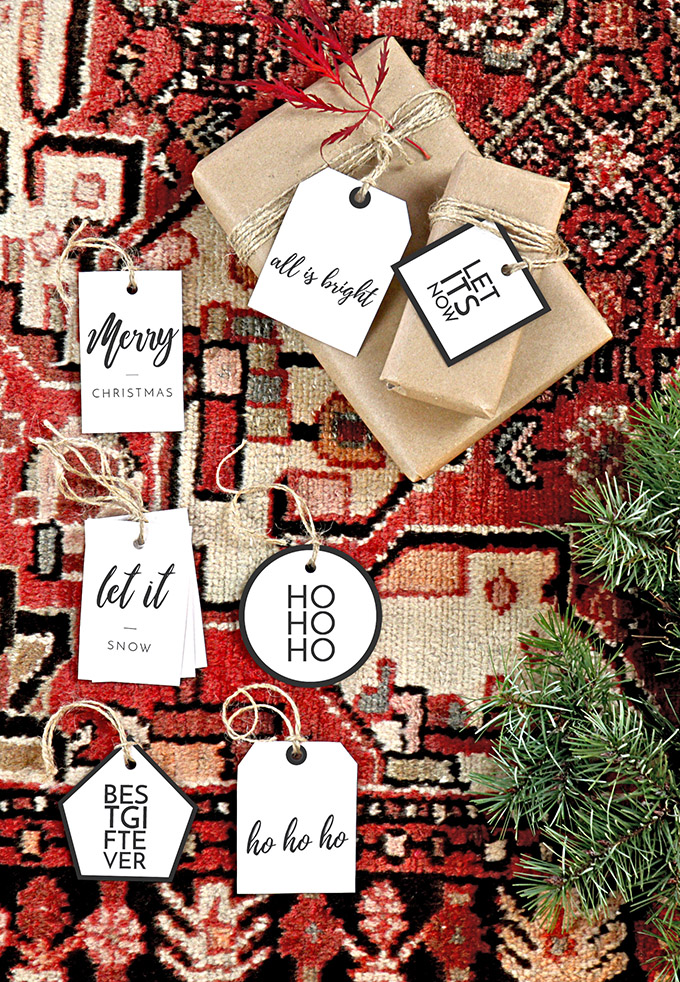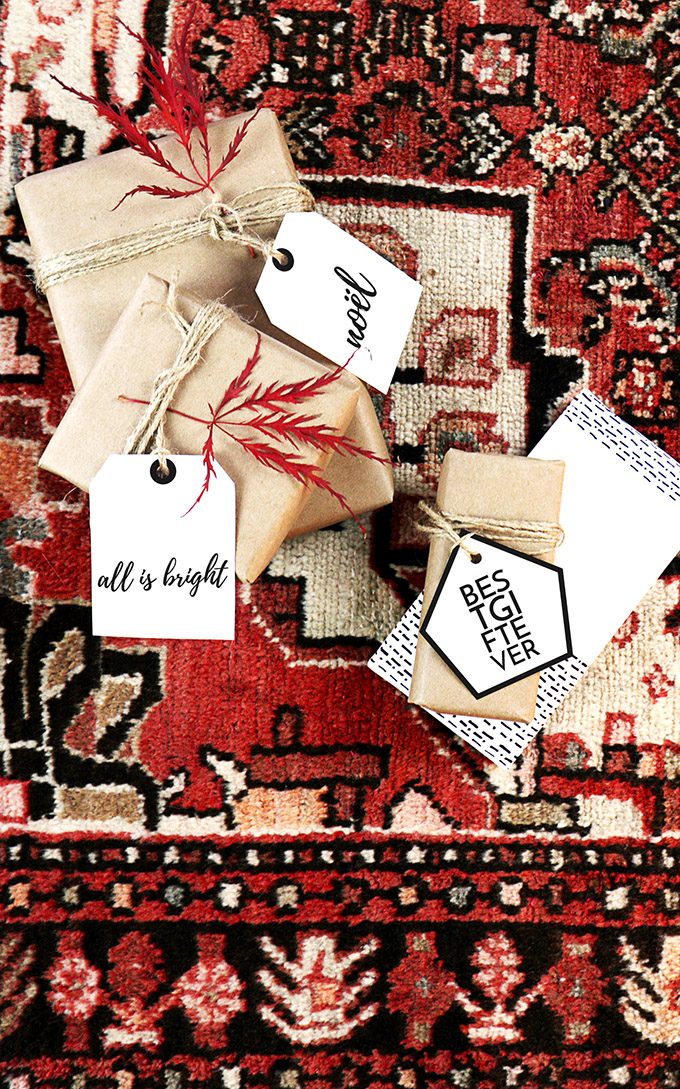 Minimalist Free Printable Christmas Gift Tags
So ANYHOO, this year, I was looking for an affordable way to label my Christmas gifts, but I still wanted my gifts to look good!
I designed 12 printable Christmas tags in a clean minimalist, Scandinavian style so they (hopefully!) look nice with any kind of wrapping paper that you use.
I also made sure to stick to black and white design only. This was because I wanted to avoid needing to do any fussy color printing (I don't even own a color printer, lol).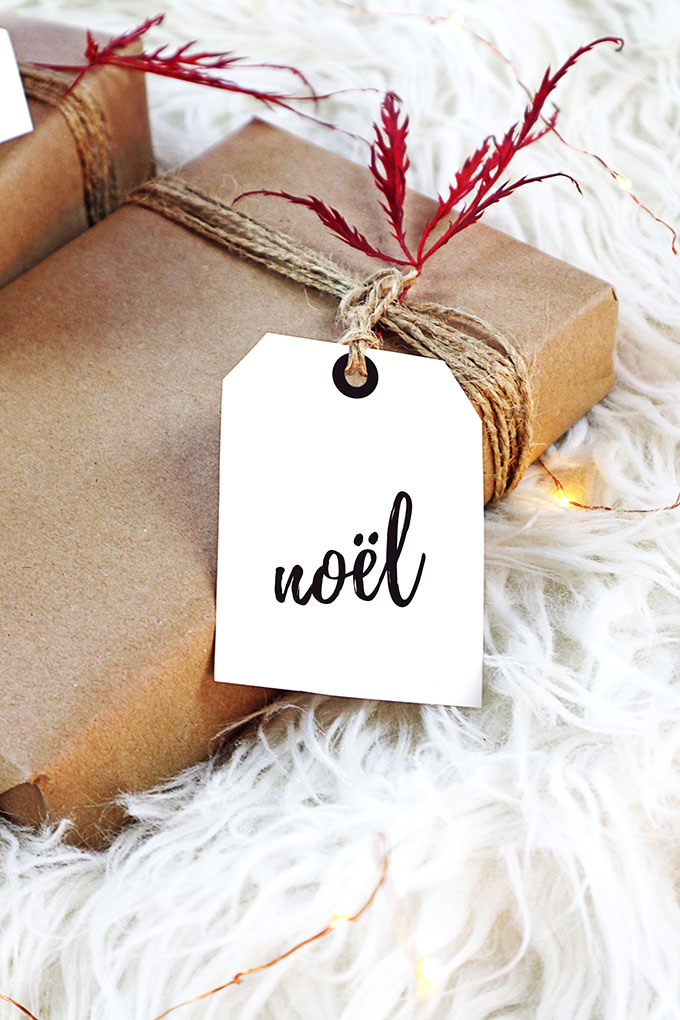 ---
WHAT YOU NEED:
The downloadable PDF with the graphics (get it below)
A printer that can print on cardstock
White card stock (about 90 lb/190 gsm is fine)
Scissors
Hole puncher
Fresh greenery (like pine sprigs!)
Once you've got your tags printed and cut out, just wrap your presents however you'd like.
As you can see in my photos, I normally like to wrap my Christmas presents in simple brown kraft paper, or in plain white paper which I will sometimes decorate with a sharpie!
A 100ft roll of brown kraft wrapping paper on Amazon is only $20 and will last you for years. On eBay it might be even cheaper!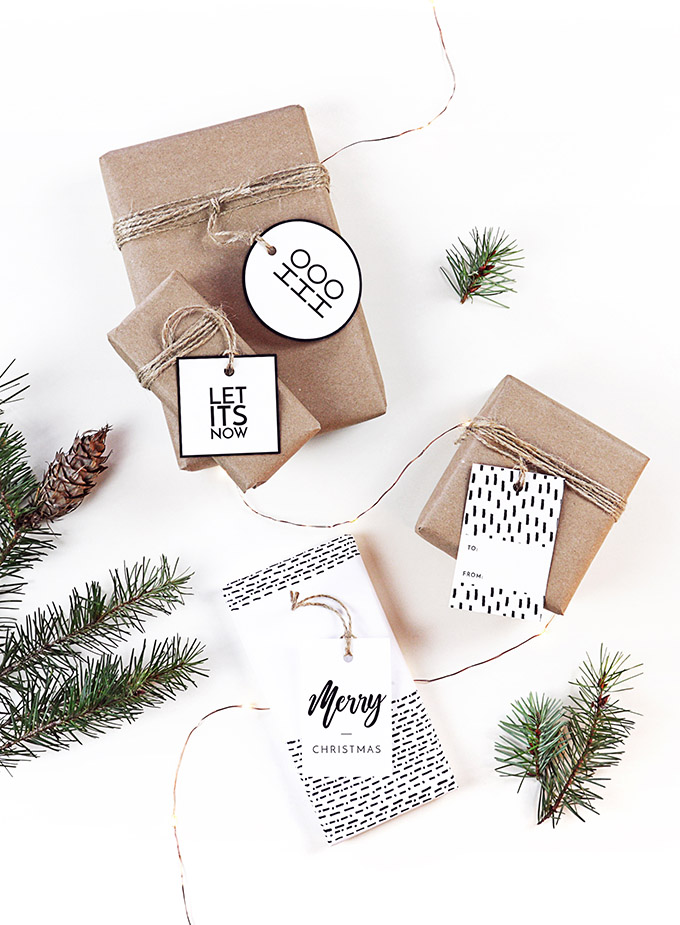 Then use some natural jute twine and some fresh greenery and voilà! Some seriously chic and affordable gift wrapping.
If you don't have jute twine, you could use some colored yarn, ribbon or even embroidery floss.
Of course, there are a million different and creative ways you could wrap your gifts, but I prefer this way because it's inexpensive AND it looks beautiful!
That's it my friends!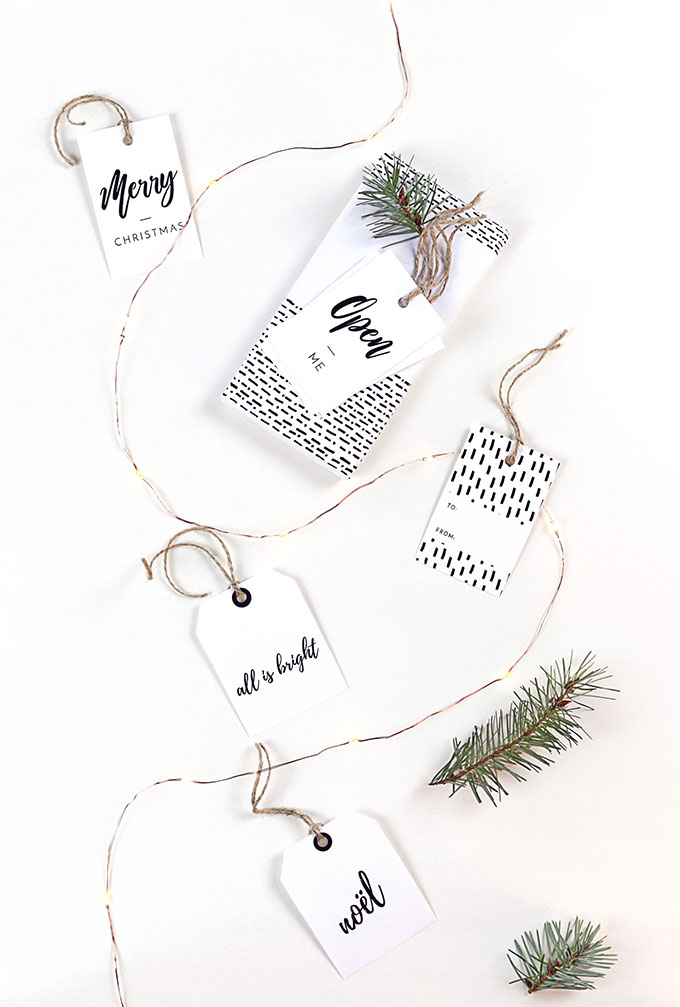 Hopefully, these free printable Christmas gift tags will help avoid some last-minute flailing and holiday panic!
So that we can all focus on actual Christmas priorities … like not missing flights, making sure the family is all packed, not forgetting any children behind … KEVIN !!!! 😂
How do I get the gift tags?
Easy! Just put your email in the box right here and I'll send them to you immediately. You will receive a direct link to download a PDF that contains 12 different gift tags.

PS: I would LOVE to see your beautiful creations! Be sure to tag me on social media if you make these and upload any photos! I'm on Insta ▶️@poshpennies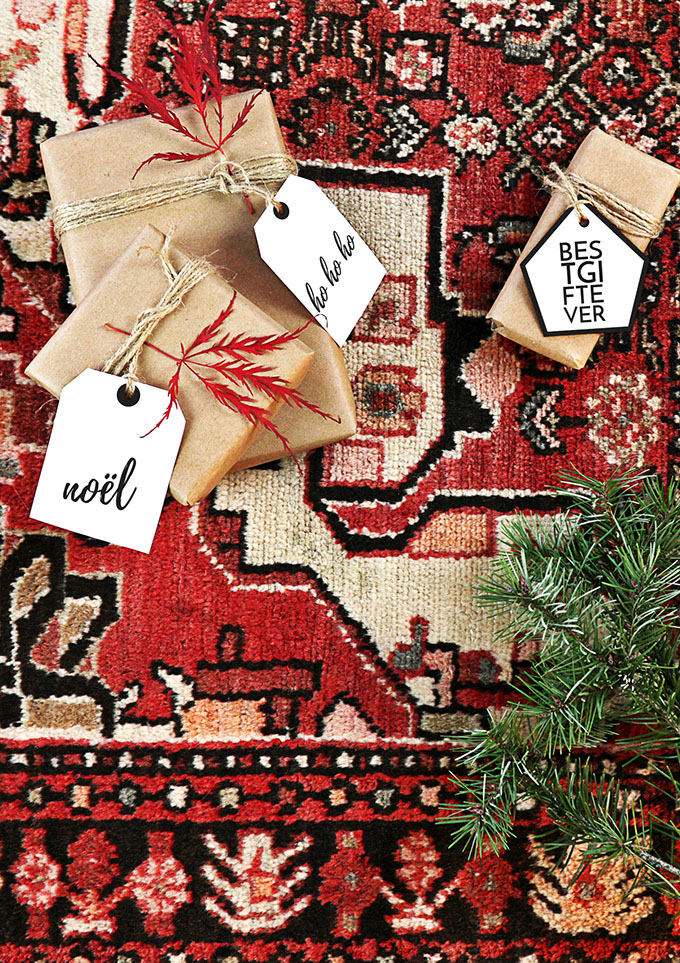 If you haven't already, be sure to check out some of my other Christmas posts while you're here!
10 Stunning Minimalist Scandinavian Christmas DIYs
How to Decorate Your Christmas Tree In 7 Easy Steps
Everything You Need To Know About Christmas Tree Collars
Get The Look: Black & White Rustic Christmas Mantel
Genius Storage Ideas For Your Christmas Decorations
Please note: these Christmas tags are strictly for personal use. If you are kind enough to share, please link directly to this page (not to the downloadable file). Thank you!